Best of the Best 2017: Cheapest Home Loans
GOLD WINNERS: UBANK (BANK), REDUCE HOME LOANS (NON-BANK)
Interest rates are the lowest in memory, leaving home buyers well placed to scoop a great deal. As our winners show, if you're paying more than 4% on your home loan you're being ripped off.
In the non-bank category, Queensland-based Reduce Home Loans has picked up the top award for cheapest home loan the second year in a row. The Rate Buster permits unlimited extra repayments and redraw, and borrowers who maintain a good repayment record may be eligible for a discount after five years. You will need a 20% deposit.
If that's a challenge, our second placegetter, Reduce's Rate Buster 100% Offset loan, could be the solution.
The maximum lend is 90% of your property's value, though a loading of 0.25% applies for borrowings between 80% and 90%. Still the Rate Buster 100% Offset loan remains a low-cost option for home buyers with a 10% deposit.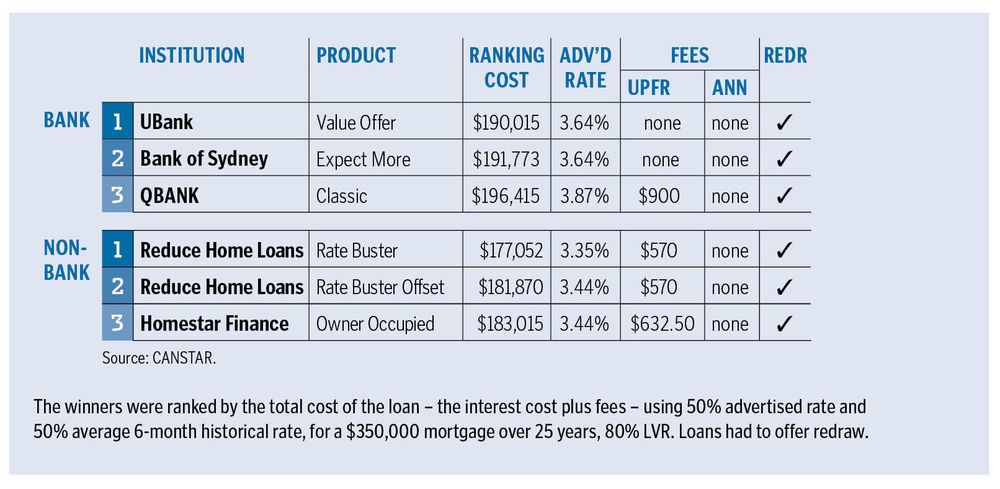 Among the banks, UBank, NAB's online lender, maintains its track record for red-hot deals, having taken out this award for five consecutive years.
Along with a low rate, borrowers enjoy the flexibility of unlimited extra repayments plus redraw ($1000 minimum each time), and a 0.10%pa loyalty discount may be applied if you keep up a healthy repayment record for three consecutive years.
Choose weekly, fortnightly or monthly repayments, and if you can't decide between a fixed or variable rate, there's a split loan option. Borrowers need to be PAYG employees and have a minimum deposit of 80% to apply for the UBank loan.
Get stories like this in our newsletters.