Six young entrepreneurs share how they started making money
When your kids come up with an idea, be sure to listen carefully because you never know where it will lead.
Take the American eight-year-old Abbey Fleck, who was cooking bacon in the microwave with her dad, Jon.
They were running out of paper towels to soak up the fat and Abbey suggested that they drape the bacon over a plate-like washing on a stand.
They made a T-shaped rack out of wooden dowels and bits of plastic coat hangers, attaching them to a plastic plate. It worked. The bacon cooked in the air rather than in fat.
Jon thought it was a great idea and found a factory to make microwave-safe plastic dishes that they called Makin Bacon. They have sold 2.7 million Makin Bacons through Walmart.
This shows that your kids are never too young to become entrepreneurs.
There are plenty of other examples of how entrepreneurial children grow up with a head for business.
For example, at the age of seven, Warren Buffett, now a renowned investor, borrowed a book, One Thousand Ways to Make $1000, from the Omaha public library.
It sparked many entrepreneurial ventures, such as selling chewing gum, cola bottles and weekly magazines door to door. He worked in his grandfather's grocery store. In high school he delivered newspapers, sold golf balls and stamps, and cleaned cars.
On his first income tax return in 1944, Buffett made a $35 deduction for the bicycle he used on his newspaper run. Perhaps his best early business was buying a used pinball in high school with a friend for $25 and setting it up in the local barber shop.
Within months they owned several machines in three barber shops before they sold the business later in the year for $1200.
Kids who earn money from their own business endeavours are learning valuable skills. For a start, they learn about budgeting, by tallying up the costs and the sales revenue and working out the profit and loss.
It teaches them about saving and planning, not to mention the art of selling. There are tax file numbers to track down, business names to register and payment systems to master.
While some go all the way and build sophisticated websites, in many cases their business venture has the added bonus of getting them away from screens, with many making their own products and spending time communicating with customers.
What motivates kids to make money
For Melissa Nicholson, who spent most nights as a child counting up the cash takings from her father's shop, understanding how a business works provided her with a multitude of life skills.
It is one of the reasons she has set up a Kids Community Market on the Fleurieu Coast in South Australia, a market organised and hosted by kids.
A mother of two children, aged seven and one, Nicholson runs compulsory financial literacy and business workshops for the kids who sign up as well as organising courses on food safety standards.
"Kids learn by doing, not by being told," she says. "They pick up life learning skills."
The former baker, who now works as a mortgage broker, says she often sees young people struggling with "a whole lot of debt".
Nicholson's first community market attracted 30 stalls with kids selling products such as soaps, hair scrunchies, cupcakes, cards, macrame, tie-dye T-shirts, dreamcatchers, potted succulents, toasted sandwiches, dukka, pedicures, waffles, honey crackles, using honey from the family's beehives, and much more.
Nicholson spread the word about the market to a wide area and it attracted 800 visitors - not bad for a town of 4000. The local post office donated $200 and there were prizes. Nicholson has held three kids markets so far and is gearing up for more this year.
Motivation for starting a business varies from child for child.
For Aiden Rayner, who runs an egg and chicken business, it was buying a barn to house more animals on his family farm.
For Lilly Wenham, who sews scrunchies, it was to buy tickets for a Katy Perry concert.
Paris Ramsay, who sells ethically sourced jewellery from Thailand, wanted to pay for a school trip to Cambodia to help in a small village by teaching English and building tables.
For Kate Barry, also a maker of scrunchies, it was to buy tickets to the stage version of Harry Potter and the Cursed Child. Riley Armstrong, who sells customised necklaces, wanted a PlayStation, and now he has set his sights on a virtual reality headset.
Rio and Bon Withyman want to spend the earnings from their egg business on experiences rather than things.
They have been to the Coolum Aqua Park and the movies and are saving up for a GoPro camera to put on their boards to record their surfing adventures.
Parents play a big role in their kids' entrepreneurial endeavours.
There is a fine line between supporting them and taking over. While it is tempting to step in, you don't want to stymie their enthusiasm. Give them the freedom to develop their idea but talk to them about it along the way.
Rather than handing over the money when they need to set up their business, it is best to draw up a loan on a spreadsheet setting out income, costs and expected profits.
Help them draw up a budget that will stand them in good stead for the future.
Farm fresh eggs: Rio and Bon Withyman
When the price of a 20kg bag of chicken feed went up, brothers Rio, 12, and Bon, 9, decided that the price of their eggs needed to rise too, from $5 to $6 a dozen.
The boys keep a ledger (inset) setting out the costs and earnings from their nine laying hens.
They collect between five and seven eggs a day and sell around three dozen every week to regular customers and their mother's work colleagues, who love farm fresh eggs.
Their business teaches them the importance of caring for the birds on their nine-hectare farm.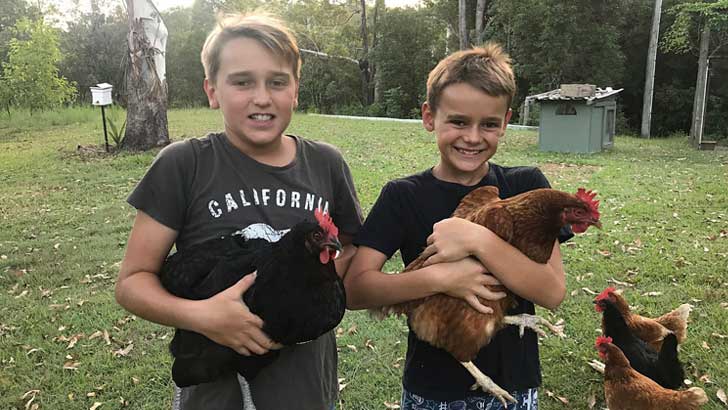 They built the henhouse with their dad Rod. Rio changes their water while Bon feeds them.
One important responsibility is to shut them away each night so that the prowling diamond pythons don't get them.
The boys keep their earnings in a jar and their mother Cathie is about to introduce a three-jar system. She says it comes in handy when she runs out of cash and needs some in a hurry.
The one condition is that they don't buy toys with their earnings and instead spend it on experiences such as movies and aqua parks, and they're considering a GoPro camera for around $300, to attach to their surfboards.
Next year they plan to spend some of their money on a trip to Fiji, where they once lived.
Scrunchie Munchies: Kate Barry
Kate Barry wasn't the only 11-year-old running a small business in her Year 5 class last year. One friend sold "slime" and another cupcakes.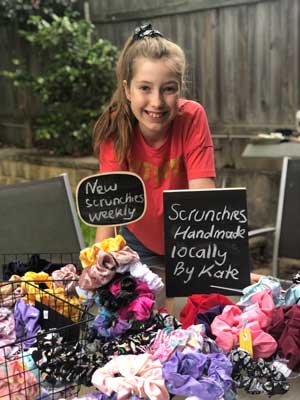 Her grandmother, a dressmaker, taught Kate to sew and so she launched Scrunchie Munchies.
"Back in my mum's day, scrunchies in your hair were all the rage," she says.
"I saw the cost of the hair scrunchies in the stores and at the school uniform store and was astounded by the prices. Most were over $10 and were mass-produced offshore."
Kate originally had a short-term goal of buying tickets to the Harry Potter musical in Melbourne but realised there is a genuine demand from local girls and some long-haired boys who wear scrunchies to school.
"I've also launched a specific range that I sell on a weekend at Little Athletics, with club colours. It's led to lots of enquiries about custom ranges for schools and other sporting events."
Kate makes the scrunchies after schooI and on the weekend. "It takes a while to make the tubes and then stuff them with elastic and I spend a long time looking for the latest fabrics," she says.
The profit margin is good at 30%-50%.
She says it hasn't always been easy.
"I made the website myself on Wix in the last school holidays and it took ages for me to get an ABN and tax file number before I was able to launch it."
Setting up the website and taking the right photos was fiddly: she had to reshoot pictures and get the design right. She learnt that it's OK if things don't go to plan.
Kate has dropped off flyers in letterboxes to promote her three ranges, which are popular with different groups.
The chicken and the egg: Aiden Rayner
Aiden's Eggs, a farm fresh business, was set up by Aiden when he was five. He wanted to buy a barn to house his family's animals and needed around $400.
His grandfather, a farmer at Mudgee with whom he spends school holidays, loves his flock of 200 chickens.
When the drought hit his grandfather's property, he survived financially by selling eggs. Aiden thought up the idea of keeping chooks and selling eggs too.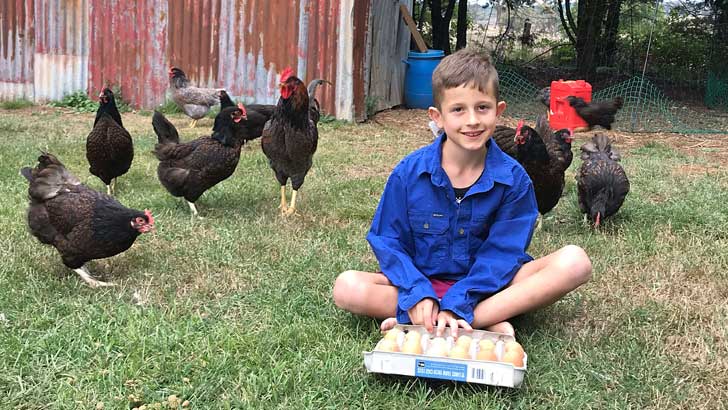 Aiden's family bought half a dozen gold and blue laced red Wyandotte hens.
Aiden feeds them by laying pellets and vegetable scraps and collects the eggs after school - sometimes six to eight, although in winter there are fewer as it's too cold.
His mother Sarah, a nurse, posts an "Eggs for sale" message on her Facebook page and at $4 a dozen, based on what caged eggs sell for, she says they are easy to sell at her work or at Aiden's school.
Aiden says he has saved every cent that he raised from selling eggs. He bought the barn that houses bulls, calves and horses. Now he wants to buy a henhouse to protect his much-loved chickens from the foxes.
To ramp up his savings he is incubating his eggs and has hatched around 50 blue laced chickens, which are in demand.
"The blue lace chooks and roosters are easy to sell when you put them up on chook websites."
Aiden admires the different personalities of his chooks and says they are clever birds.
Coco Lou jewellery: Paris Ramsay
There are courses to help kids run a business. For example, at 14, Paris Ramsay had a choice of looking for a part-time job or starting her own business.
The daughter of entrepreneurial parents, she got into a weekend course at Bruce Campbell Business School for Kids.
It sparked her imagination and motivated her to come up with a product with a story that people can connect with.
Part of Bruce Campbell's course involves meeting up after six months to check in.
"Each time you come back you are meant to have a set goal and report what you have achieved," says Paris.
She set up a dog walking business and worked on her school's farm but it wasn't until a trip to Thailand's Chiang Mai that she came across a local woman selling ethical beaded bracelets and other jewellery.
She bought 47 pieces, set up Coco Lou (named after her sister) and sells them at market stalls and business events as well as through Facebook under cocolou.life.
"I wanted to find something I liked doing that could also make me money," says Paris, who continues to receive stock from her source in Chiang Mai. "I'm always on the lookout for special products."
She uses the Square Point of Sale system for cashless sales and Google Sheets for accounts and stock.
She has set up overseas banking. Last year Paris won an award for Young Entrepreneur of the Year at the business school.
Paris made the $3000 she needed to pay for a service trip to Cambodia with her Montessori school to work in a school there.
She found the trip so rewarding that she has her sights set on a trip to Uganda to work in a rehabilitation centre for children, particularly girls who have been mutilated. It could cost around $20,000 for her and her mother so that is a lot of jewellery to sell.
Paris's top tips
1. Treat your business like a job and set aside time to work on all aspects such as the accounts.
2. Don't get stuck on the "drama hook" of running your business.
3. Word of mouth is key to a successfulbusiness.
4. If you have a supplier, keep communication going and create a friendship.
Not So Scrunchie: Lilly Wenham
Having a dedicated kids market has been inspirational for 11-year-old Lilly. She started off making cupcakes but switched to sewing hair scrunchies after receiving a sewing machine for her birthday.
Motivated to earn enough money to buy a ticket to see Katy Perry in concert, Lilly learnt how to sew with the help of her godmother's mother. She gave Lilly materials, threads, scissors and a stitch remover to get her started.
Lilly attended the business workshops for the market and now works out her costs, sales and profits. She loads up the money on her Spriggy debit card.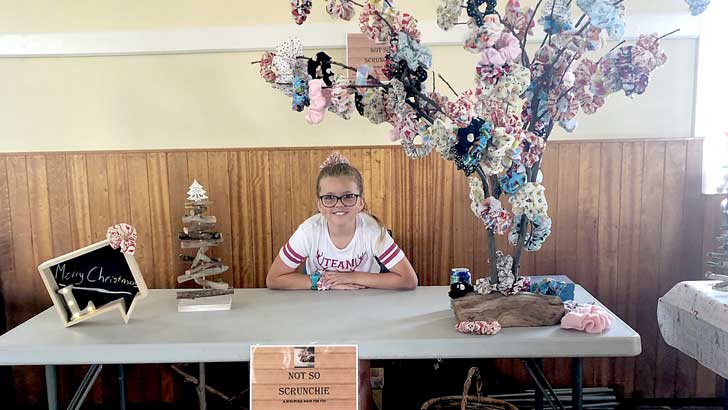 Themed fabric or school materials are popular with Lilly's clients. For the Christmas kids market, Lilly made Christmas scrunchies that boosted her sales to 67 items. At around $3 profit per scrunchie, she made $200.
Lilly won the kids market's overall encouragement award last year.
Lilly is expanding her client base and has asked nearby shops to let her display her scrunchies and is starting to produce headbands to see how they will sell. She is saving to pay for a trip to Queensland and a Nintendo Switch.
But it is not only about the money. One of the benefits of sewing scrunchies is spending time with her mum Katie when they sit down to cut out the materials and set up the sewing machine.
Custom necklaces: Riley Armstrong
When 11-year-old Riley came up with his business idea of making customised necklaces to sell at the Kids Community Market he worked out he wanted to earn $8 an hour to make his enterprise worthwhile.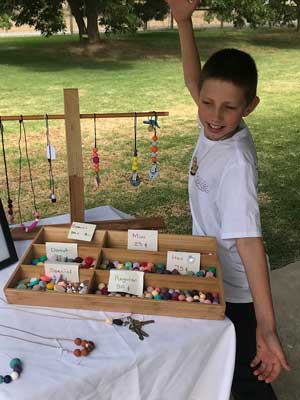 Riley's parents, who run an earth-moving business, regularly discuss their business and the subject of overheads at the dinner table.
So it was natural for Riley to work out his own finances by setting out a fairly detailed list of his expenses: beads, cords and clasps.
Then he set his prices. He didn't know how many necklaces he would sell but the first market was a success and he made a $124 profit.
After three markets he estimates his profit margin is a healthy 30%.
How did he come up with idea of a customised necklace?
His mother Tia likes to make, rather than buy, presents and uses Australian-made silicon beads that are safe for children as they are BPA free.
Riley likes people to choose their own beads and he threads them up, knowing he is offering a unique product.
After the third market, Riley decided to plough his profits back into the business and took advantage of cheaper prices for bigger quantities of beads.
Realising that he needs to expand his range he now makes dummy chains, tassels, keychains and lanyards as well as necklaces.
Helped by the business workshops run by the market, he is relishing the problem solving that comes with running a small business.
Riley's top tips
1. Pick something you enjoy and you can do rather than what you think people will like.
2. Research your pricing.
3. Understand customer service and talk to your customers even if you are shy.
4. Don't sell hot food on a boiling summer's day; think about selling snow cones instead.
Get stories like this in our newsletters.