How much your Christmas lights actually cost you
December is here, and for many Aussies this means it's time to deck the halls.
One of the greatest things about Christmas is the twinkling light displays, but these can also signal dollar signs for your energy provider.
Last year, Aussies spent around $171 million on electricity over the four-week Christmas period. That's an extra $69 per energy bill on average.
While this may not seem overly high, this additional cost comes during a time when many Aussies are also running their air conditioning - not to mention forking out for gifts, festive meals and a holiday.
Between Christmas lights and air con usage, many Aussies are suddenly faced with energy bill blow out come January. This only adds to the post-Christmas financial pinch.
Below are some tips for dimming the switch on your festive electricity spend.
Opt for energy-efficient lighting
Energy-efficient Christmas lights are not only better for your bank balance, but for the environment too.
A Finder Christmas light analysis shows that, on average, a string of 100 mini incandescent light bulbs has a wattage of 41. A string of 100 mini LED light bulbs has a wattage of just 7 in comparison.
LED or fibre-optic bulbs consume up to 75% less energy than incandescent ones, and last up to 10 times longer. They also don't produce heat, making them less of a fire hazard during the summer.
Solar lighting is also a good option for outdoor displays. They're quick and easy to set up, and you don't need to worry about setting a timer.
Use a timer
Whether you're using LED or incandescent lighting, you should always have a timer for your displays so they're not running unnecessarily.
Your energy charges are calculated based on the number of hours per day you use electricity for, so leaving the lights running 24/7 over Christmas will blow up your bill.
Try and stick to a set number of hours during the evening, and don't leave displays running all night.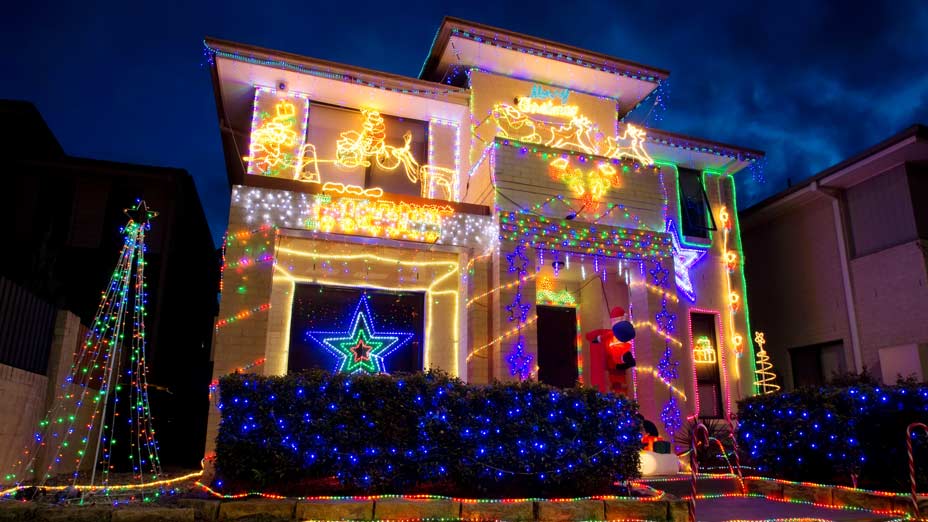 Choose battery-operated decorations
You don't have to ditch the decorations entirely to save on energy and stick to your Christmas budget. A simple trick is to shop for ones that are battery operated rather than electric.
Chain stores like K-Mart and Target are a great place to stock up on cheap, battery-operated lighting that won't blow the budget. Best of all, you won't need to worry about accessing hard-to-reach power sockets.
Battery-operated lights can be purchased for both indoor and outdoor use, but make sure you check the packaging first.
Switch to a cheaper provider
If energy costs have you hot around the collar, it might be time to look for a cheaper provider. If you find a better deal online, contact your current provider and see if they'll match it. If they don't, then it's time to make the switch.
Your electricity won't be interrupted during the switching process, which can take between one and three months to complete.
You don't have to be a total Grinch if you want to save money on your Christmas power bill. Choosing energy-efficient lighting and using batteries where possible can help keep costs under control.
Get stories like this in our newsletters.