Is the first home buyer dream over for young Aussies?
After a run of good fortune for first home buyers, the great Australian dream may be about to slip out of reach.
Things have been on a steadily improving trajectory for first home buyers.
"First home buyer activity continues to surge with monthly results now approaching the record levels reported in 2009 during the post-GFC stimulus period," Dr Andrew Wilson, Chief Economist at AI property platform Archistar.
"The ABS reports that 15,205 loans seasonally adjusted were approved for first home buyers over December - an increase of 9.3% over the month."
This year first home buyer activity has risen over 31% compared to 2020. Ironically first home buyer loan affordability seems to peak whenever there's a global economic catastrophe.
In 2009, during the global financial crisis, first home buyer loans hit a record 173,153 before falling off a cliff by about 50% in 2010.
"Recent strong lending activity by first home buyers has resulted in the overall residential loan market share for this group soaring to 21.0% - again the highest levels recorded since 2009."
Victoria saw the most first home buyer activity over 2020 with 41,436 loans approved. Next came New South Wales with 32,886 followed by Queensland (28,452), Western Australia (18,956) and South Australia (7,982).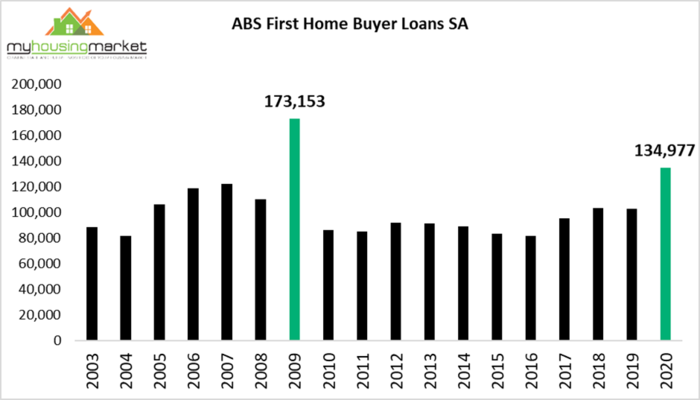 That said, New South Wales was the priciest state for first home buyers with an average 2020 loan of $510,880, followed by Victoria ($428,709), Queensland ($373,014), Western Australia ($353,181) and South Australia ($327,575).
This paints a good picture for first homebuyers, but headwinds are on the way.
"With home prices set to rise sharply through 2021, diminishing government incentive and support packages, flat interest rates and low incomes growth - recently strong first home buyer activity is likely to decline sharply."
"The outlook over the foreseeable future for flat interest rates works to support higher prices in undersupplied housing markets," says Wilson. "Higher prices reflect the trading amongst existing home owners that generally have higher income profiles that can support the capacity of bidding up property values."
While 1800 additional guarantees for the first home loan deposit scheme, the door for new applications will close on June 30, 2021.
What's more, according to CoreLogic, January housing values have surpassed pre-COVID levels by 1.0%, and the index is 0.7% higher than the previous September 2017 peak.