Hottest suburbs of 2020: two experts reveal the top areas for investors
When looking for a property, whether as an investment or to live in, it's easy to get lost in the what's-hot-and-what's-not echo chamber.
But it's really horses for courses. Suburb recommendations vary as much as the experts providing them.
With today's rock bottom interest rates, it's more a case of what's-hot-and-what's-hot.
We asked two experts for their best investment suburbs in 2020, and there's a lot to choose from.
RiskWise Property Research CEO Doron Peleg
RiskWise CEO Doron Peleg has focused his choices on the lower end of the market, saying that low-end properties are a more stable option than high-end properties because they're less susceptible to macro factors such as lending conditions and has named his picks for Melbourne and Sydney investment.
"The market has materially improved with affordable areas that have shown resilience recovering well. Other areas, including lucrative ones that experienced strong price reductions, are now leading the way to this recovery," says Peleg.
"Lower-end properties are less subject to credit restrictions and investor activity which actually make them a great buying opportunity.
"In fact, in some cases areas, such as Geelong, even benefited from the lending restrictions as buyers looked for more affordable options."
NSW
Miller
"This older residential suburb has a median house price of $519,068 compared to that of Greater Sydney of $877,220. There are a number of major infrastructure projects under way in the region including the Western Sydney Airport set to open in 2026, the 10-year Western Sydney Infrastructure Plan and the new M12 Motorway," he says.
Rossmore
"According to the 2016 ABS Census, 45 per cent of houses, with a median price of more than $2 million, are owned outright and close to 20 per cent were owned with a mortgage. Many of the properties are on acreage and there are also a number of heritage-listed sites."
Wallacia
"With a median price of $656,173, it is characterised by prestige homes on acreage and older-style houses on smaller blocks," says Peleg.
Birrong
"Situated in the city's middle ring, it offers good public transport and a convenient lifestyle. While many of its homes are older style, there are also newer prestige ones throughout the suburb."
Sadlier
"It's enjoying the benefits from the same infrastructure boom in the South West."
Victoria
Wheelers Hill
"It is well serviced by public transport and conveniently close to all amenities. Many of its properties are prestige houses on large blocks."
Noble Park North
"It is close to major roads and other amenities, and characterised by older-style houses, many of them renovated."
Campbellfield
"Many of the houses, which have a median price of $476,458 are older-style renovated homes."
Oakleigh
"The median house price is more than $1 million, many owned by members of the strong Greek community which thrives in the suburb."
Vermont South
"It's 20km east of the city and has a median house price of $1.1 million. It is well serviced by public transport, shops and parks.
Douglas Driscoll, CEO of Starr Partners
Choosing suburbs that are close to the city and then moving outside into areas which will benefit from infrastructure and a boost in spending, to suburbs which have been perhaps a little overlooked, Starr Partner's CEO Douglas Driscoll's picks include: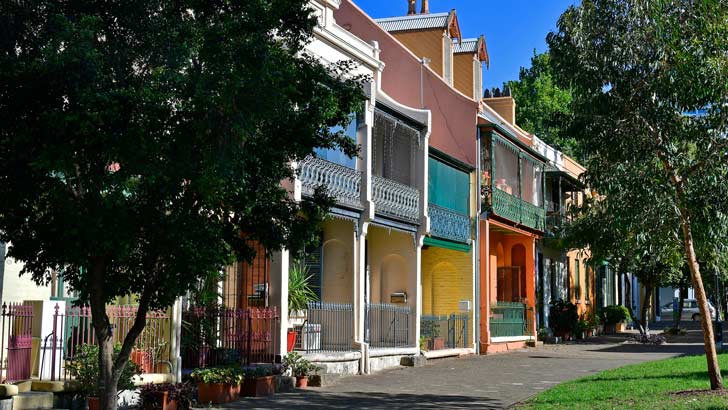 Kensington
"Just a stone's throw away from the CBD and Centennial Park, and with the University of New South Wales on its doorstep, Kensington ticks all the boxes for buyers looking to live near the city and Sydney's eastern beaches," he says. "The long-awaited light rail network, set to open this week, will see interest in the area grow exponentially."
Crows Nest
"Known by locals as 'Crowie', many Sydneysiders dream of living in a suburb with a village-feel, and Crows Nest offers just that, with popular restaurants, trendy bars, a variety of eateries and a family-friendly atmosphere."
Pagewood
"Arguably one of Sydney's most overlooked south-eastern suburbs, Pagewood, like we've seen with Mascot, Rosebery and sections of Botany, is about to undergo a major transformation. Pagewood Green, next to Westfield Eastgardens, and the former Holden manufacturing site are two previous industrial sites under development."
Oran Park
"I recently forecast that the Sydney property market will soon witness the continued growth of three 'exurbs' - and Oran Park will be one of them. Despite being a relatively new suburb, it has a fairly self-sufficient population with good infrastructure, low housing density and reasonable commute times to the city and is fast developing its own personality. Part of Sydney's emerging Aerotropolis, and just a short distance from the $35 million Gregory Hills Health and Business Centre, transport links - and jobs - won't be hard to come by."
Merrylands
"It has some of Sydney's best value for money freestanding dwellings. The more the Cumberland Council spends on the Merrylands town centre, the better it will become. Should it go ahead, a $292 million masterplan to redevelop Merrylands RSL will include more than 400 apartments and over three sleek, high-rise buildings, drawing European-style eateries and trendy alleyways to the area."
Bellevue Hill
"This classy pocket of Sydney will continue to skyrocket in value due to its appeal to families looking for a quieter eastern suburbs enclave that is just 10-minutes from Bondi Beach and even closer to the upscale boutiques and restaurants of Double Bay."
Summer Hill
"Once seen as an industrial node, Summer Hill, I believe, is the inner west's new hidden gem. There's soul and character, and everyone loves the charming village environment it has to offer - good schools, a cool cafe culture, a supermarket, fruit shop, butcher and restaurants all walking distance from the train station."
Offering opportunities in the first-home buyer market, Driscoll looks further out of the city.
Lalor Park
"For buyers looking within a 20-30 kilometre radius of the CBD, Lalor Park, where the median house price is $611,000,[4] is one of the most affordable. I see it really taking off among first-home buyers."
Busby
"With a median house price of $557,500 - $250,000 cheaper than neighbouring Elizabeth Hills, and well within the cut-off for the Government's First Home Loan Deposit Scheme - Busby is an excellent long-term investment for young professionals and families looking to get their foot on the property ladder."
Blaxland
"Nestled at the foot of the Blue Mountains, Blaxland has a genuine country feel despite being just eight minutes from the M4 motorway, and less than 10 minutes from the larger neighbouring suburbs of Penrith and Emu Plains. While this area has become part of Sydney's greater west, large family homes are available for well under $1m and on large blocks with plenty of greenery."
Get stories like this in our newsletters.