Why now may be the time to invest in your slice of Domino's
Key statistics: ASX: DMP
Closing share price: $40.160
52-week high: $67.050
52-week low: $38.110
Most recent dividend: 58.100c
Annual dividend yield: 2.55%
Franking: 40%
The share price of Domino's Pizza Enterprises has almost halved since July 2016. But it's a remarkable business and a buying opportunity beckons.
Domino's aims to reduce waiting times to three minutes for takeaway and 10 minutes for delivery.
It's an ambitious goal but super-fast service is just one way Domino's differentiates itself from competitors.
The company's impressive business model has driven earnings per share from 18 cents to 134 cents over the past decade.
While Domino's does run some company-owned stores, the business model is less about selling pizzas than selling franchises. Revenue comes mainly from the fees and royalties it charges - and the food it sells - to franchisees. Network sales will exceed $2.5 billion in 2018.
The business model is tremendously powerful. Domino's devises crowd-pleasing menus, adopts standardised systems and technology, and saturates the market with stores. This results in lower costs, so Domino's franchisees can sell pizzas for less than competitors.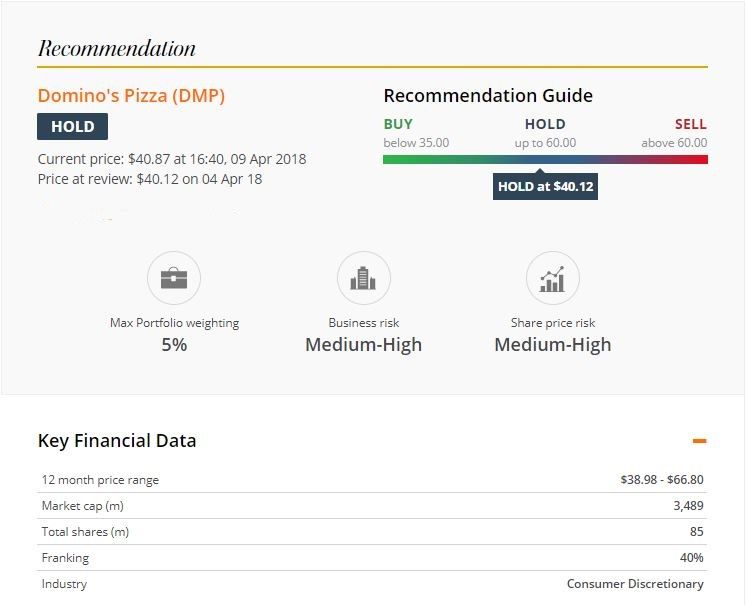 With about 800 stores, Domino's business in Australia and New Zealand is starting to mature.
Domino's is repeating overseas what it has already done in Australia with a grand tour of Europe. In 2006, Domino's acquired around 150 Domino's stores in France, Netherlands and Belgium from Domino's Pizza Inc (the NYSE-listed brand owner and franchisor).
Since then, Domino's has acquired other pizza chains in all three countries plus Germany. The company now has around 900 stores in Europe and aims to have 2600 by 2025.
With a much longer growth runway in Europe than Australia, it's a particularly exciting period.
Despite underlying net profit growth slowing to 7% in the first half of 2018, management is forecasting a much stronger second half. However, market expectations for 2018 earnings per share of $1.56 - up from $1.34 in 2017 - might be a little high. There's some chance of a downgrade or earnings disappointment - and we'd like to be ready if an opportunity arrives.
Unlike your pizza, a buying opportunity in Domino's is probably more than 30 minutes away. With a bit of luck and patience, however, one could arrive this year - so put the stock on your watch list. Existing shareholders can HOLD.
Get stories like this in our newsletters.