Should you invest in gold this year?
The gold price, after peaking earlier this year along with the prices of gold mining stocks, has been weighed down by a strong US dollar.
But VanEck expects the gold price to rise by the year's end given high inflation, ongoing geopolitical tensions and the threat of recession. Gold miners stand to benefit too, as their balance sheets remain strong and they offer investors a key attribute sought during an economic slowdown: cash flow.
Importantly, gold miners have become more profitable as the price of the yellow metal has appreciated and since the global financial crisis (GFC), gold companies have been implementing changes to address mistakes of the past, which in our opinion, should lead to outperformance by gold equities relative to bullion in a gold bull market.
The additional advantage of gold miners is that many pay dividends.
If inflation remains elevated for several years, the financial system will not be able to return to normal for an extended period. This could create a favourable environment for gold and for gold miners to shine.
Recession risks grow
With rapidly rising interest rates, financial markets and the US economy are beginning to show signs of an imminent recession. In markets, crypto assets and technology stocks have been in crash mode all year.
The S&P 500 has entered official bear market territory. The chart below shows gold falling below its bull market trend-line that has been in place for three years now and an imminent recession could see the gold price get back on trend.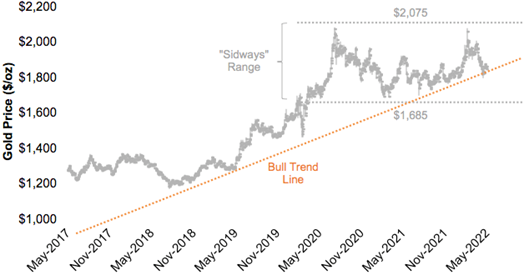 During the last four recessions since 1990, the US Federal Reserve aggressively stimulated the economy. However, those downturns occurred in a secular disinflation environment, where each recession began with an inflation rate that was lower than the last.
Today, unless inflation miraculously comes under control, the US Federal Reserve will have to choose between lower inflation and higher growth. It can't have both, and it might get neither if stagflation (that is, high inflation and no growth) sets in. Stratospheric debt levels compound the challenge.
Either way, high inflation may endure and that supports gold. Inflation is likely to persist into the end of the year. Traditionally, to hedge against inflation investors have used gold. In the face of the recent inflation spike, the gold price did not respond as it has in the past.
Earlier in the year, driven higher by the Russian invasion of Ukraine, the gold price touched its all-time high price of US$2075/oz. Since then, however, it has fallen.
The strength of the US dollar has been a headwind affecting the price of gold, rising to a 20-year high in May, benefiting from rising interest rates, the US Federal Reserve's tough talk on inflation and a favourable economic outlook compared with Europe and China.
But we see the gold price re-gaining momentum this year as the risks of recession grow as central banks around the world continue to raise interest rates, which will inevitably depress economic activity. That will support the gold price as well as gold mining companies.
The advantage of holding gold miners in such an environment is that their price typically rises more than the gold price itself, as gold miners will add their own margins to gold production.
Many miners pay dividends too, adding to the potential return. Gold companies have been becoming more profitable as the yellow metal has risen in value since the GFC.
Since that time gold companies have been implementing changes to address mistakes of the past that, in our opinion, should lead to outperformance by gold equities relative to bullion in a gold bull market. Gold miners' balance sheets are strong.
In addition to debt reduction, a focus on cash flow has transformed the valuation of gold miners. More miners have positive free cash flow than ever before, and this is leading to more businesses that are profitable with the ability to reward shareholders.
Many gold mining companies are holding their costs below US$1000 an ounce and are returning the cash to shareholders via increased dividends and share buybacks.
Get stories like this in our newsletters.