How to stay warm and keep your energy bills down this winter
With the polar air blasting much of Australia, it is only natural to turn up the heat and use a lot more power.
But freezing weather means big power bills. If you live in the coldest parts of Australia such as the ACT or Tasmania expect to pay a whopping $1967 and $1945, respectively, per annum, according to the Australian Energy Market Commission's residential figures for the 2019-2020 year. Heating can account for 50% of the bill.
The key to limiting your heating costs is to keep the heat in and choose the most efficient heater.
Also, there are expensive measures such as double-glazing windows. I recently got a $40,000 quote to double glaze my back windows which equates to many years of power bills, so I am sticking to these 10 steps to stop my power bills from blowing out.
Use an efficient heater
Weigh up the efficiency of your heaters. Are they old and need to be upgraded? Examine how much they cost to run.
According to the Government's energy.gov.au website electric reverse-cycle air conditioners, wood fireplaces and electric in-slab floor heating are a medium- to high-cost option while electric or gas portable or installed heaters are low to medium cost.
Not surprisingly ducted gas heating is a high-cost option.
Ratings house Finder has run some numbers (see table) and found that a reverse cycle air conditioner is the most expensive electric heater to run for four hours a day during the 90 days of winter. It found and a panel heater is the cheapest electric heater to run, while a radiant convection heater is the cheapest option when it comes to gas.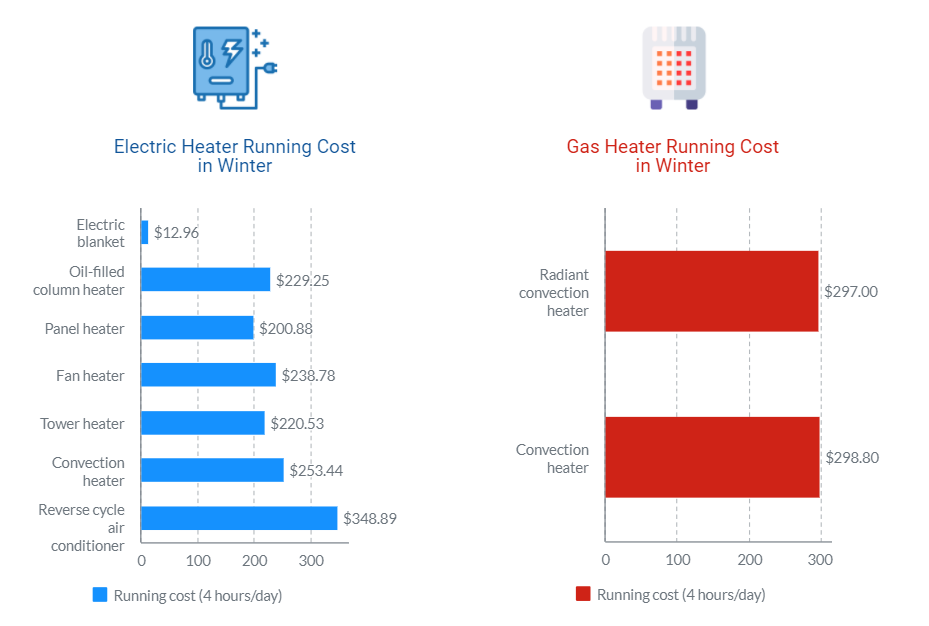 Choice reviews different heaters, giving you a rundown on their price and running costs. It is essential if you are shopping for a heater.
Keep the heat in
Close doors to any rooms you are not using. Only heat the room you are in.
Plug any leaks from windows, doors, skylights, skirting boards. cornices and gaps in the floorboards with window sealing tape and door snakes. This is a cheap and easy way to help hold in the heat.
Ceiling insulation
Ceiling insulation can cut heat losses (and keep the summer sun out) by around 15%. Ideally, walls and floors should also be insulated. Rugs can provide some useful insulation on a hard floor.
Improve window efficiency
Prevent heat loss with well-fitted curtains and blinds to trap a layer of air next to the window. The most effective curtains are full-length double lined, hanging off a track with a closed, snug top pelmet. These can have the same impact as double glazing but can be costly.
Open curtains in winter to let the sun in during the day and close them before it gets dark.
Hot water
Hot water makes up about 25% of household energy use. Long hot showers can blow out your energy bills so resist the temptation and keep your showers short.
The truth about fireplaces
I have a fireplace but unless I sit next to it, it isn't warm. This is because around 85% of heat disappears up the chimney. A slow combustion wood heater is six times more efficient than an open fireplace.
Size of the heater
When choosing any heater, it is important to pick the right size for the space it has to heat and make sure it has a high star, energy efficiency rating. An oversized heater is not only more expensive, it means you will be wasting money on operating costs.
I recommend heaters with a timer, so you don't accidentally leave it on. Plus buy one with a thermostat so that you can keep at 18 to 20 degrees.
Don't overheat your home
A one-degree increase in temperature can increase your heating costs by 5-10%. Set the temperature between 18 and 20 degrees.
Rug up
Wear warmer clothes in the house. Layers including thermals can keep you warmer so you can keep the thermostat on the heater down a degree or two.
Switch providers
It is always a good idea to compare energy offers. I am constantly being called with a 'special' offer but rather than taking the word of the spruiker on the other end of the phone, look at the free and independent government energy price comparison tools and websites.
They can compare the offers from all of the energy retailers operating where you live (some states such as Western Australia don't allow various power prices) so you can see which ones offer you the cheapest energy.
Energy.gov.au publishes this list:
Comparing energy retail deals isn't as straightforward as it seems. The Government's Energy department warns consumers to carefully check the terms and conditions before agreeing to a contract. It recommends:
You can talk to your retailer and ask questions to find out whether you would benefit by switching. Compare costs accurately by looking at the price is in cents per kilowatt hour (c/KWh).
Ask what the daily supply charge is and check if the charge is for the same number of days as on your existing electricity bill.
Check if there are any extra fees such as for late payments or early contract termination.
Ask if anything extra is included in the offer, such as bonuses or savings.
Conditional discounts may not be worthwhile if you can't meet the condition. For example, a pay-on-time discount may not be beneficial if you often struggle to pay your bill on time.
Check billing and payment arrangements, including how and when you're billed and payment options.
Check contract conditions and ask what happens at the end of the contract period. How do you renew? What happens if you wish to change retailers?
Before agreeing to a new energy offer, read the terms and conditions on the contract. Asking a friend or family member to review the details can be helpful.
Laws are in place for customer protection on energy matters. Your retailer must provide a printed summary of any contract. The energy price fact sheet must include:
all prices and charges
early termination payments and penalties
date and duration of the contract
billing and payment information
your rights and obligations.
After agreeing, you can change your mind within 10 business days without penalty.
Get stories like this in our newsletters.