5% deposits for 10,000 regional first-home buyers
Super Saturday for 10,000 regional first home buyers, one in 10 dial down super risk, and the struggle to save is real. Here are five things you may have missed this week.
Regional First Home Buyer Guarantee fast-tracked
Saturday, October 1, sees the launch of the new Regional First Home Buyer Guarantee, three months ahead of schedule from its previous launch date of January 2023.
The Guarantee offers an opportunity for up to 10,000 first home buyers in country areas to buy a home with as little as 5% deposit and pay zero lenders mortgage insurance (the federal government guarantees the remaining 15%).
To be eligible, home buyers must have lived in the regional area or adjacent regional area they are purchasing in, for the 12-month period prior to signing their home loan.
Income caps also apply. Singles can earn up to $125,000 annually, or $200,000 for a couple combined.
Property price limits for the Regional First Home Buyer Guarantee are shown in the table below.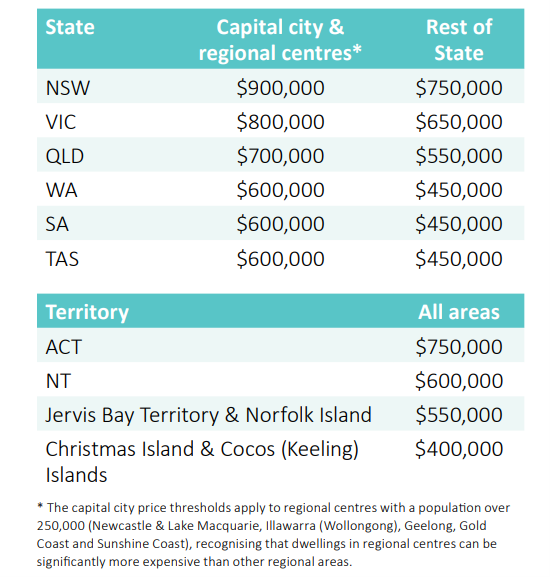 One in 10 Australians dial down super risk
The past six months have seen over one in 10 (11%) Australians switch their super to a more conservative risk profile in a bid to safeguard their nest egg against sharemarket falls according to Finder research.
Finder's Alison Banney, says the pandemic and recent sharemarket turmoil has made members assess the risk/return profile of their fund.
She adds, "A lot of people are looking for less volatility due to macro-economic factors such as inflation and a looming recession."
However, it pays to remember that super is an ultra-long term investment, and opting for a more conservative investment style can mean missing out on healthy returns over time.
Figures from SuperRatings show that over the last 10 years, growth style funds achieved returns averaging 10.1% annually. Balanced funds notched up annual gains averaging 8.9%, and capital stable funds delivered returns averaging 5.2% annually.
As a guide to the difference these returns can make over a working life, MoneySmart's super calculator shows that a fund member aged 30 today, could retire at age 67 with the following super savings:
$972,000 if they opt for a growth style fund,
$708,000 with a balanced fund, or
$287,000 with a capital stable fund.
As Banney notes, "Downturns don't last forever - sharemarkets have always recovered and gone up over the long term.
"If you switch your super to a more conservative option after the market has already fallen, not only are you locking in that loss, but you also risk missing out on the rebound when the market recovers."
One in five don't save regularly
Higher living costs are making it harder to save, and it's taking a toll on the nation's household savings ratio, which shows the percentage of disposable income we're tucking away.
The savings ratio has plunged from 23.7% in the early days of the pandemic to 8.7% at present.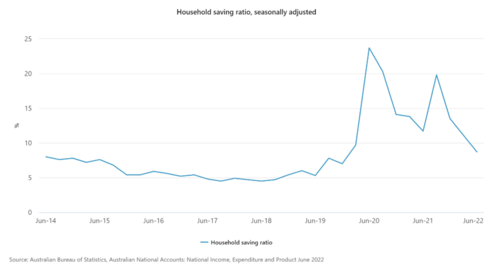 A survey by Savvy shows one in five Australians don't save regularly, and one in four people manage to save just $250 a month or less.
Savvy's Bill Tsouvalas notes that even in times of rising living costs, putting money aside is as important as ever.
"Though everything seems to be getting more expensive, now isn't the time to stop putting money away for the future," he says.
Could credit unions be facing crunch time?
The past week saw Federal Treasurer Jim Chalmers approve two proposed mergers of customer-owned financial institutions - Heritage Bank and People's Choice Credit Union, and Greater Bank and Newcastle Permanent Building Society.
More couplings could be on the way with Community First Credit Union and Australian Mutual Bank in talks over a potential merger.
It's an ongoing shrinkage in the number of credit unions in Australia, which stood at over 120 in 2004, but were down to half that number by 2018.
A key driver for the mergers is rising regulatory compliance costs.
While the number of credit unions is on the wane, customer numbers are not. Five million Australians bank with a customer-owned bank according to the Customer Owned Banking Association.
Millionaire? Let's talk 'multi-millionaire'
The latest Credit Suisse Global Wealth Report shows an extra 400,000 Australians became millionaires in 2021, thanks largely to higher property values.
It means 2.18 million Aussies are now millionaires - not bad for a population of 26 million.
But a million bucks is small change to a select few.
Data from Frank Knight Wealth shows the world's population of 'ultra-high net worth individuals' (UHNWIs) - people with net assets of $US30 million-plus (over $A46 million), rose by 9.3% last year.
Even so, only 610,569 people globally have achieved 'ultra-wealthy' status.
North America dominates the list of UHNWIs, accounting for over 12% of their global population. But here too, Australia is punching above its weight, with 9% of the world's uber-rich.
Asset price rises - from property markets and stock markets to luxury collectibles, all helped to boost the fortunes of the super wealthy.
Get stories like this in our newsletters.