Affordable renovations for an energy efficient home
It may feel like a distant memory as we head into spring, but less than three months ago parts of the country were experiencing their coldest start to winter in decades.
While those chilly days were unusual, they did reveal that many Australian homes aren't particularly effective at dealing with cold weather - a fact that has been made more apparent by the resulting energy bills.
Homes that require less energy usage and have a lower carbon footprint are in demand, though. Research by the CSIRO has found that, when given the choice, two-thirds of prospective buyers prefer energy-efficient homes.
Adding to that, the Domain Sustainability in Property Report 2022 found that units and houses with energy-efficient features not only sold at higher prices, but also spent less time on the market. Domain's analysis revealed that, so far this year, sustainable houses have fetched 17% more than those that don't have energy-efficient features - a premium equivalent to $125,000.
While many homeowners may like the idea of making upgrades to reduce their bills or overall footprint, there is the matter of cost.
The good news is that there is a range of energy-efficient improvements that can be made on budgets big and small - some of which can even pay for themselves over time.
Budget: Under $10,000
Dayne Thompson, chief executive of EnergyFit Homes, is adamant that if you're working with a smaller budget, gap-sealing will provide the best bang for your buck.
It's an energy-efficient measure that even renters can utilise, depending on their landlord.
"Just putting weather stripping under your doors, sealing around your main front door and fixing any seals that have popped off your windows is going to save you money on heating and make you more comfortable. It's also really cheap, especially if you do it yourself."
After gap-sealing, another cost-effective improvement is putting in LED lighting.
"Just do the LEDs straightaway," says Thompson. "If you've got compact fluorescent lamps, leave them in until they blow, that's okay, but if you've got incandescent or halogen lights get them out and put in LEDs."
Beyond the smaller solutions, Thompson recommends that homeowners look at their hot water systems, because they are typically responsible for about a quarter of the average household's energy bill.
"If you're looking for one-off ideas, moving to a heat pump hot water system is a good one, but avoid the really expensive models, because if the heat pump is over $4000, you're probably not getting bang for your buck anymore. They are more efficient, yes, but once you've already reduced your hot water costs by, say, 70%-80% with a standard heat pump, it's probably not worth spending an extra $1000."
When it comes to water efficiency, Tracie Ellis, chief executive of Renovators Directory, says households should look at installing a rainwater tank. Depending on the model and the labour needs, a tank will cost a few thousand dollars, and there are even space-efficient tanks that can sit under houses.
"A great way to reduce your water consumption and bills is by using rainwater to flush toilets or water the garden, and all you need is a handy plumber and an investment in a rainwater tank.
Another option is water-efficient tapware and fixtures which can help save water consumption."
Budget: $50,000
Moving up the price ladder, many households will be able to make extensive energy-efficient improvements with a budget under $50,000.
In fact, Thompson says that on average, his customers get their homes down to zero carbon emissions for just over $20,000. Plus, with the money saved on energy bills, the payback period for the initial outlay is usually as fast as four to seven years.
If you haven't already, installing rooftop solar is the place to start - largely because it can help lower your bills and reduce your reliance on the grid. Solar systems aren't necessarily cheap, though. According to the Clean Energy Council, costs can vary from $2800 for a 2kW system to $14,000 for a 10kW system.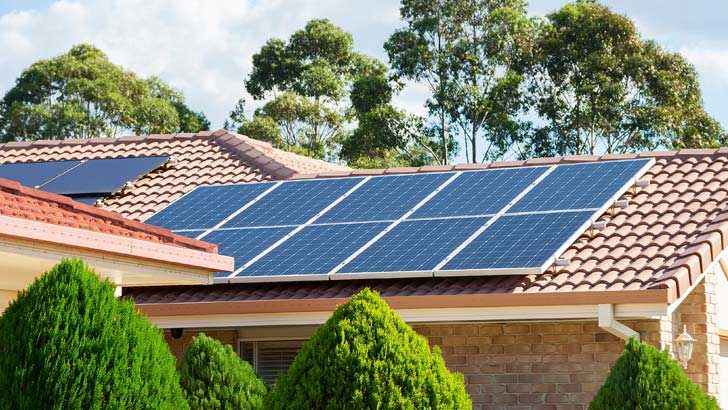 "Solar is great," says Thompson. "You should try to find the right solar system for you, which is not just what fits on your roof, but trying to match the solar system to your electricity use. A good solar installer will try to help you with that.
"If you do have solar, making sure that your big energy-using appliances can actually make use of that solar-generated electricity is really important. If half your appliances are using gas, then you're missing out on half the opportunity of solar."
Beyond heat pump hot water systems, another appliance that can make a big difference is a quality reverse-cycle air-conditioner. After all, heating and cooling typically contribute to between a quarter and half of home energy costs.
"Going from gas to reverse-cycle air conditioning, if it has a good star rating, is a no-brainer for most of our customers because they can really save money, particularly in cold climates."
What about home batteries, though? While they can certainly be a great addition, Thompson says the current $10,000 to $14,000 price range means that batteries are still too expensive to be cost-effective over their lifespan for most homes at present. For that to change, they would need to come down by between 40% to 80%.
Budget: Over $100,000
If you're building a new home or renovating your current house, then there are certainly features you may want to consider to make it more sustainable, cheaper to run and comfortable to live in over the long run.
"One key aspect, especially if you're doing a larger renovation or a knockdown and rebuild, is understanding the physical orientation of your home along with the weather cycles," says Ellis.
"This will allow you to design a space that is comfortable to be in throughout the year and reduce the need to heat or cool it.
"If you were doing an extension, for example, opening up a north-facing living room to the winter sun then allows the heating of the slab or the wall, which better captures and holds the heat."
Other elements to consider are the flow of air through the home, as well as insulation and double glazing, although given its high cost, double glazing may not be cost-effective for all households.
"Insulating your home, ceiling, walls and underflooring can help keep your interior really comfortable regardless of our extreme Australian conditions, and it can lead to savings of around 15% to 45% on your cooling and heating bill," says Ellis.
One factor worth bearing in mind for anyone building or renovating at present is the impact of supply chain issues on building materials. Given that, Ellis suggests that it may be worthwhile looking closer to home.
"Sourcing local building materials or even recycled materials is certainly a much greener choice than purchasing overseas products and you can get better answers around affordability and availability. It will require some research, though, because a lot of our product is sourced overseas."
Get stories like this in our newsletters.