'We preferenced interests of shareholders at the expense of clients': AMP
Trust in Australian big financial planning firms will never be the same after the bombshell evidence at the banking royal commission.
Not only were customers misled, overcharged and paid millions of dollars for services they never received but AMP, one of Australia's oldest and largest financial firms, misled the regulator, the Australian Securities and Investments Commission (ASIC), with at least 20 false statements.
As well it was revealed that the outgoing AMP CEO, Craig Meller, and chairman, Catherine Brenner, interfered with an independent report to ASIC.
Michael Hodge, counsel assisting the commission, shone a light on how AMP customers are largely being channelled into in-house AMP investment and insurance.
This is despite the introduction of the FOFA legislation in 2012 setting out that financial advisers have a duty to act in the best interests of their clients and banning conflicted forms of remuneration.
But every year since 2013, 70% of new customer funds were invested in in-house AMP products, even though they only make up 35% to 40% of AMP's approved product list.
Since 2013, 90% of new customers invested in one of AMP's in-house products or paid insurance premiums to AMP.
AMP lost $600 million off its share price on the Tuesday after the shocking revelations.
The banking royal commission is lifting the lid on how the regulation of financial planning has clearly failed Australian investors and questions the safety of using a financial planner.
When ASIC's Peter Kell took the stand, he told the hearing ASIC has 60 staff to investigate the conduct of 25,000 financial planners.
Kell says a recent investigation by ASIC into SMSFs found that nine out of 10 times financial advisers gave advice to SMSFs that was not in their best interests
Fees for no service by financial planning firms was summed up by Commissioner Kenneth Hayne as: "Selling what you can't deliver, selling what you won't deliver and selling what you don't deliver."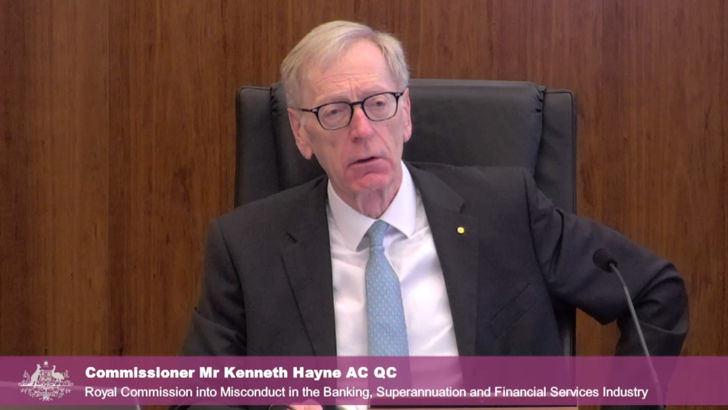 The five firms are paying out a combined $216 million in refunds to more than 300,000 customers who were charged fees for financial advice services that they never received.
AMP's group executive for advice Anthony "Jack" Regan admitted to the commission that the company had misled ASIC by presenting fee-for-no-service as a mistake, when there was a deliberate policy to charge customers fees for 90 days even though they received no advice services.
What's more AMP repeatedly ignored advice from its lawyers Clayton Utz about the correct complying behaviour. It reworked so called "independent" documents that were sent to the regulator ASIC.
"What we seem to be seeing is that a conscious decision is made to protect the profitability of AMP at the expense of complying with AMP's licence, do you agree?" asked Hodge.
"Yes, I believe that's what that shows," answered Regan.
The AMP executive then admitted that the practice of charging customers fees for 90 days when they were receiving no services showed that the customers' interests were not always put first.
"It's clear that we preferenced the interests of shareholders, in that exchange, at the expense of clients, and so that is a concern," he said.
Get stories like this in our newsletters.