How we had a big, beautiful wedding for less than $5000
I've just got married to amazing man. And it was an amazing day that our 200 or so guests enjoyed. The best part?
Because we set a budget of $5000 to begin with, after the celebrations were done we were debt free and still happy.
What was our secret?
The essential ingredient is love - when the bride and groom radiate love, the vibe is infectious.
All you really need for a wedding ceremony is a bride, a groom, two witnesses and someone to officiate. You can, as some billionaires choose to do, have an intimate backyard shindig. Anything else is just cream on top.
Being a frugalista, however, I wanted something that was unique and romantic but also had a bit of drama.
And above all I wanted to involve our family and communities in creating something that was a genuine celebration. We had both been to weddings that (while beautiful) were stiff and formal.
Instead, we wanted to have fun. And we achieved that.
Highlights included putting on my beautiful Hollywood-style satin dress (purchased in Antwerp, Belgium no less), travelling to the church in a vintage 1958 Chevy, arriving at the reception venue in a horse and buggy, and being heralded in by the Canberra town crier.
Meanwhile, guests were entertained by a magician and a country music performer. (I did say we included a touch of drama.)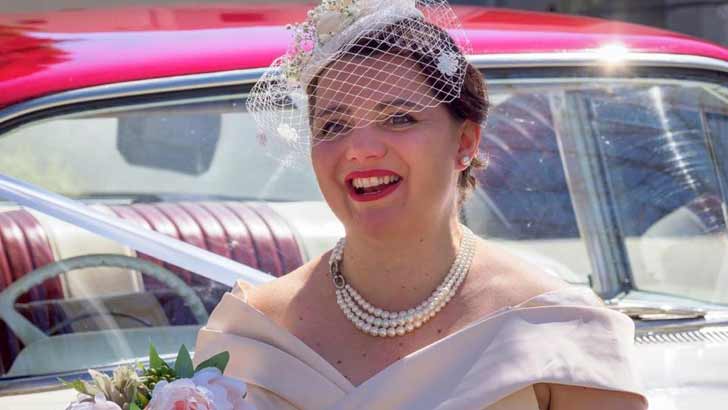 6. Making and buying cheap booze
We looked out for specials at Dan Murphy's and bought online using eWish cards (5% saving) and discounts with Cashrewards (often around 3%).
We also bought cheap alcohol through Cellarmasters, Aldi and Costco. Plus we made our own lager, ginger beer and apple cider.
At the end of the night we were surprised to find that the homemade lager (around 50c for a 750ml bottle) and the Aldi rose ($5 a bottle) had been the most popular items.
7. Going for DIY DJ
We paid for a country music singer who helped set the country mood. But after that, we relied on our own music.
My sister had prepared a fabulous Spotify list; yet we didn't even refer to it once.
Instead our MC facilitated a karaoke session and lined up songs by request - some of our guests had amazing voices, and some moments (such as my husband crooning Keith Urban's Making Memories of Us) were priceless.
8. Opting for presence rather than presents
We asked friends and family to bring a plate of food to the event, or contribute in another way, rather than buy a gift.
And what a feast we had: a giant pan of Spanish paella, home-made wontons, Sri Lankan curry, chicken pad Thai, sausage rolls, arancini balls, steak, homemade sausages, quinoa salad, cheesecake, tiramisu and banoffee pie were just some of the offerings. There was something for everyone.
9. Asking friends to take our wedding photos
Two close friends took photos, and another friend videoed the event.
Another friend took photos of food and guests, and two friends used a drone. Some of these friends are semi-professional photographers, and their photos were unique. We also encouraged guests to share photos via a hashtag.
That meant we received some photos in real time or soon after the event. And they were beautiful and spontaneous - our friends knew us well and their love for us was reflected in the photos that they took.
10. Being chauffeured in borrowed style
We accepted with gratitude offers of transport that had a bit of pizzazz.
One of my husband's friends chauffeured me to the church in a lovingly restored Chevy Bisque car that had been in his wife's family for over 50 years.
Then we arrived at the church venue, courtesy of my husband's uncle, in a buggy pulled by two horses - with the town crier ringing a bell in front. Talk about making an entrance!
Our wedding budget
And the price tag? I am still decreasing our overall spend by selling items but so far we only $3200 out of pocket. My dad contributed $1100 and my mum around $120 for flowers - well within our budget.
Get stories like this in our newsletters.