How to boost your super balance by shopping at Kmart
How much you have in your superannuation fund depends on your savings. But it can depend on your spending too. In a new shop and save feature SUPERSUPER, by superannuation fund, GuildSuper, your everyday spending at certain retailers will boost your superannuation balance.
SUPERSUPER has signed up with retailers such as Coles, Woolworths, Myer, David Jones, Kmart and Target to give you a cash reward calculated on a percentage of your spending directly into your SUPERSUPER superannuation fund balance.
The move is designed to help women who have been disadvantaged by the superannuation system, explains Greg Everett, general manager of GuildSuper, referring to the fact that they tend to earn less than men and work part-time as they care for children and elderly parents.
But because women tend to be the main shoppers in the family, a retail reward program that allows them to grow their super balance each time they shop is a real and practical solution, says Everett.
"Eighty six percent of our members are female and most of them, like the majority of Australian women, will not have enough money to retire without a radical new solution. This is because they often work in low-income roles, part-time, and will typically take time off to look after family. We knew we had to do something to create a better future for them in retirement and SUPERSUPER is it."
Members who contribute additional amounts to their superannuation fund can be eligible for the government co-contribution of up to $500 per year.
Guild Super was originally set up by the Pharmacy Guild of Australia, to primarily service the pharmacy industry, but has grown to be a public offer fund that is open to anyone.
Painless ways to boost your savings are catching on. Raiz sweeps your rounded up value of a purchased item into investments and 160,000 Australians have joined up placing $200 million into funds.
How does it work?
You can purchase either eVouchers or gift cards (which are mailed out to you) from the cash you have transferred into your SUPERSUPER cash account. In future you will also be able to shop online, explains a spokesperson.
The rewards vary from retailer to retailer. Caltex Woolworths gives you a 5% reward, for every $100 spent; adding $5 to your super balance. Electrical retailers range from 5% to 8% reward, allowing members to earn between $50 and $80 reward for a $1000 purchase. The largest rewards of 30% are available with the three major cinemas.
Other retailers include Big W, JB HI-FI, The Good Guys, Rebel Sport, Hoyts, Jetstar, Flight Centre and BCF.
For example Claire is 34 years old, earns $34,000 a year, and typically works in the child care sector. Her current super balance is $18,000 and is projected to retire with just $141,000 in super. If Claire uses SUPERSUPER for her household spending, she could earn up to an extra $105,000 in super (75% more) by the time she retires.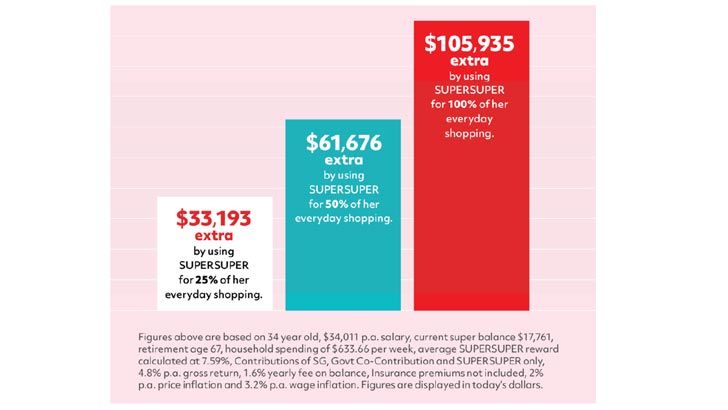 Guild Super's MySuper 'Growing" investment option (for the 40 to 55 year old age bracket) fell by 1.5% for the year until the end of October 2018 which is in line with performance of SuperRatings' median growth option, also down 1.5%.
Get stories like this in our newsletters.