How you can help as bushfires rip through NSW and Queensland
The bushfires ripping through New South Wales and south-east Queensland have and will continue to take a devastating toll on life, limb and property. Already, they've claimed three lives and destroyed 150 homes.
Watching rolling footage or reading eye-witness accounts can leave one wanting to help, but feeling helpless.
But there are a number of things you can do that will support the response and recovery efforts.
Natural disasters are wars of resources, making financial contributions to the major charities an easy and effective way to lend a hand.
Australians can donate to the Salvation Army either via its website, calling 13Salvos (13 725867), or in store at Woolworths.
St Vincent de Paul is on board. Donations can be made to its Bushfire Appeal or the Vinnies Qld Disaster Appeal.
The Red Cross has also stepped up to the plate. Donations can be made online or by phoning 1800 811 700.
Let's not forget the unsung heroes out battling the blazes. The NSW Rural Fire Service is welcoming donations on its GoFundMe page or via its website.
Where to get help if you're affected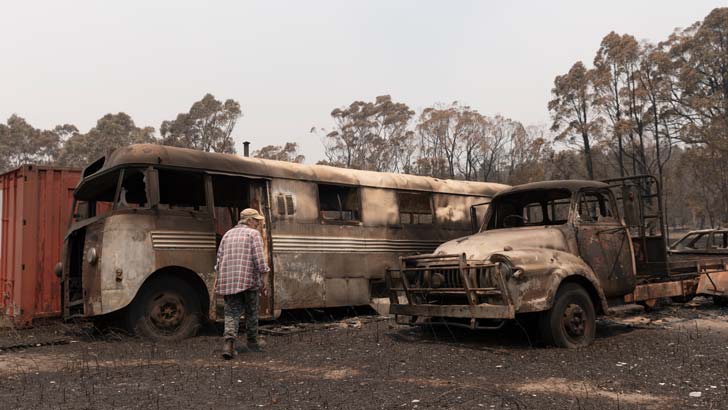 There are also a number of services available for those affected by the fires.
The Australian Government Disaster Recovery Payment and Disaster Recovery Allowance is available to those who have lost their homes to fires, with payments of $1000 for adults and $400 for children.
Fire victims can also contact Centrelink to receive 13 weeks' compensation for loss of income.
Birth, marriage or change of name certificates destroyed in the fires will also be reissued at no costs. An application form for the issue of one will need to be sent into a disaster recovery centre.
Service NSW says registration and licensing concessions and refunds will be offered to those who have lost their vehicle or relevant documentation to fires.
And the $40 tag security deposit/s on an RMS E-Toll tag will be waived if the device was damaged, lost, or destroyed by the fires.
Get stories like this in our newsletters.