Should you buy, hold or sell A2 Milk shares?
A2 Milk Company is a New Zealand-based dairy company that specialises in producing and marketing A2 Milk and related products.
The company was founded in 2000 by Dr Corran McLachlan who discovered the connection between A1 beta casein protein and digestive discomfort. The company has developed partnerships with dairy farmers in different countries to ensure a consistent supply of A2 Milk with stringent standards of milk sourced from cows that naturally produce the A2 protein.
A2 Milk today is now better known for its infant formula as it expanded into the Asian market. Their A2 Platinum infant formula is available in different stages tailored to the specific nutritional needs of infants as they grow.
A2 Milk Company (A2M) has experienced significant growth over the years as it captured the hearts and minds of the Asian consumer. Its infant formula products have been purchased through most channels including direct online, daigou (where Chinese students and tourists purchase the product from Australia or New Zealand and sending back to China) as well as in physical shops in China.
A2M is one of very few international companies that holds a license to produce infant formula in a Chinese label.
The opportunity
After a period of rapid expansion and growth, like many companies A2M was severely impacted by the pandemic.
Hard lockdowns in China and border closures meant that most of A2M's distribution channels were shut, and consumers were unable to purchase its products. Blessed with a strong balance sheet, A2M was able to work through this difficult time and continue to invest in its business.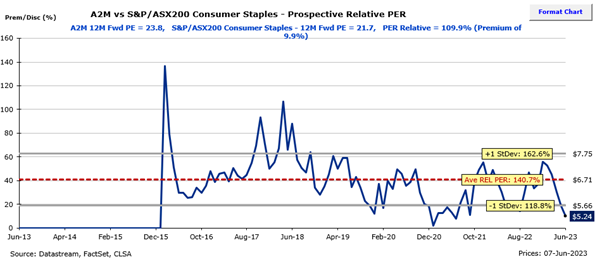 Now with headwinds such as COVID and its restrictions unwinding, we believe that soon we will see meaningful improvement in its earnings underpinned by the border reopening in China and the return of the daigou channel (driven by students and tourists) as well as significant improvements in the mother and baby stores as the Chinese economy reopens.
In addition, we expect better birth rates in China as its economy reopens and significant government stimulus for births. This should lead to meaningful uplift in demand for infant formula in the coming years.
Further, our channel checks indicate that A2M continues to take share in China, which has allowed for growth despite a falling birth rate.
At the current share price, A2M is extremely cheap, trading 15x adjusted FY24 earnings (adjusting for cash), given a material growth runway with forecasted earnings compounding at 25%/21% in FY24/25.
This value is further evident when observing A2M relative to the ASX200 consumer staples, where it trades at a premium of less than 10% versus its historical premium of more than 40%, near all-time lows relative to the index, despite a materially better growth profile.
Recommendation
A2 Milk Company is a strong buy.