Should you buy, hold or sell GrainCorp shares?
As a leading agribusiness and processing company, GrainCorp is at the forefront of several topical investment trends including the growing demand for food and decarbonisation.
Founded in 1916, GrainCorp connects Australian grain growers and producers to the domestic and international markets.
It has established an impressive grain handling operations infrastructure that is primarily based on the east coast of Australia, with over 160 grain receival sites and 7 bulk import and export terminals, as well offshore operations in Canada and New Zealand. It has established a client base of over 10,000 growers.
The business is split into two units, agribusiness and processing.
The agribusiness is further subdivided into East Coast Australia which is the storage and handling network of the business. Grain receival sites are connected to ports for the import and export of grains (wheat, barley sorghum and corn) and other bulk materials such as cement, woodchips and fertiliser.
The International business sources grains and oilseeds for trade to customers globally whilst the Foods Fats and Oils business manufactures animal feed solutions for Australian farmers and suppliers. GrainCorp is also a leading supplier of tallow (animal fat) and an upcycler of used cooking oil (turning oil into fuel).
The processing business is a leading crusher and refiner of oilseeds producing canola oil and meal for international markets. These are key components for cooking oil, spreads, prepared foods and feedstock for renewable fuel manufacturing.
The below chart shows the EBITDA (earnings before interest, tax, depreciation, and amortisation) split of the business.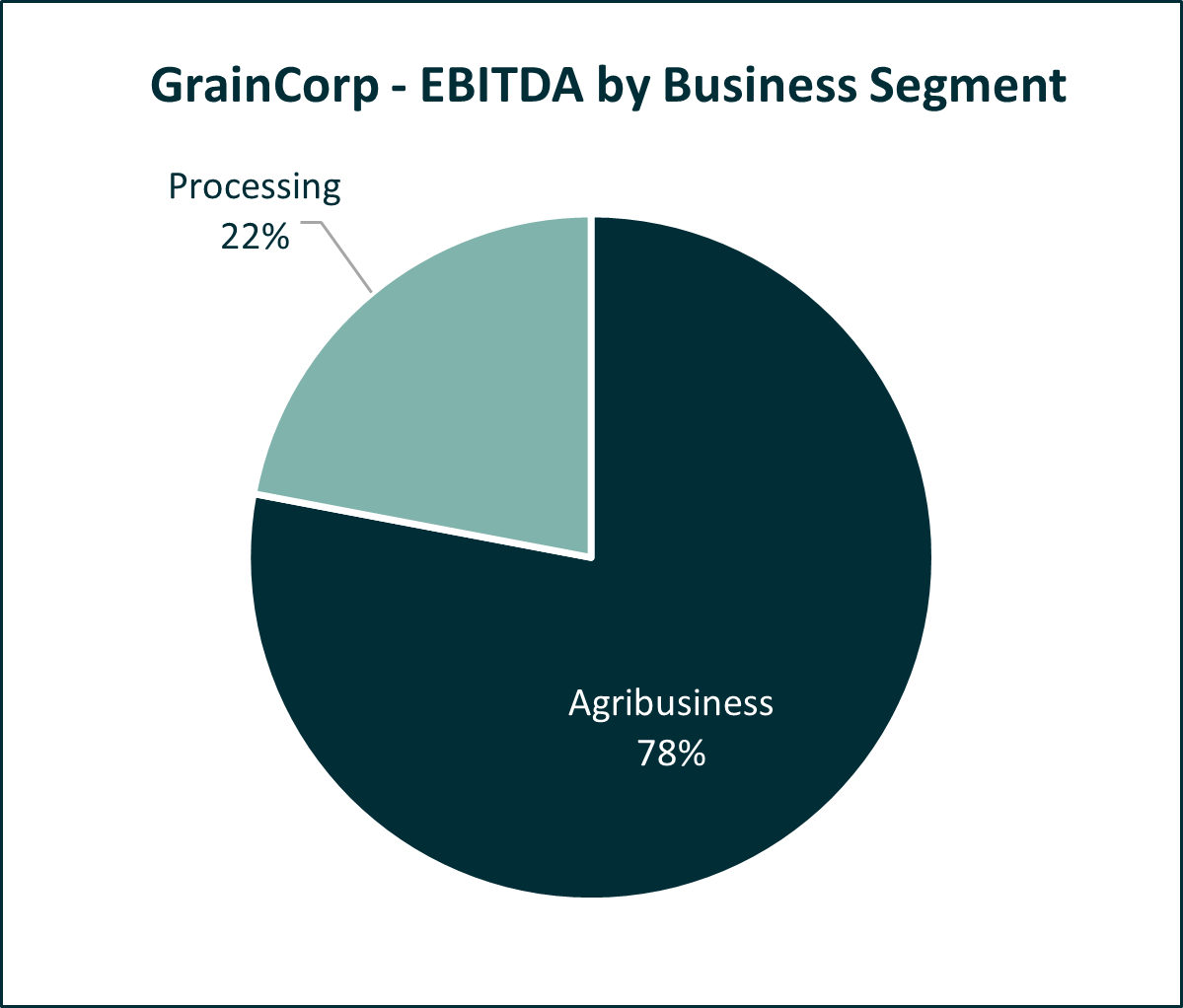 GrainCorp demerged its malts business into a separately listed company, United Malts Group, in March 2020. This has allowed it to concentrate on its grains and oils businesses and look to the future of the agriculture industry by adopting a strategy that targets several interesting growth opportunities.
Alternative Protein - as the global demand for protein increases, alternative proteins will play an increasingly important role. GrainCorp partners with plant-based producers and research institutions to develop new products from oils such as canola.
Animal Nutrition - the Intergovernmental Panel on Climate Change (IPCC) has identified methane, which is released by livestock during the digestive process, as a major contributor to global warming. Animal feed additives can reduce methane emissions and GrainCorp has invested in companies such as FutureFeed to develop these initiatives.
Agricultural Technology - GrainCorp uses its extensive supply chain data and large grower network to improve efficiencies as well as make investments in relevant start-up firms to test grains, soil and crop samples which enable growers to make better data driven decisions.
Returns
GrainCorp's share price has returned 6.3% annually over the past 10 years. This compares to the S&P/ ASX200 which has returned 10.95% annualised. GrainCorp's earnings are greatly influenced by the volume of grain produced in Eastern Australia and the prices which growers receive on international markets.
The performance reflects a difficult period for wheat growers in the earlier years of the 2010's decade where volatile weather, including drought-affected grain volumes.
This has changed somewhat in recent years as grain volumes have reached record highs at a time when international grain prices also increased significantly due to global weather events and supply issues from key global exporters such as Russia and Ukraine. Indeed, GrainCorp's earnings for the 2022 financial year are expected to almost triple (vs 2021) when it reports in the last quarter of 2022.
Currently GrainCorp pays a fully franked dividend yielding 4.4%, (6.3% including the franking credits). This includes a special dividend, paid to investors in July 2022 because of the recent favourable conditions. In addition, the company is also using excess capital to buyback its own shares (on-market) until November.
GrainCorp has been the target of two takeover approaches in recent years, once in 2013 when competitor Archer Daniels Midland offered $13.20 per share, only for the proposal to be rejected by the Australian Government on foreign ownership grounds, and again by Long Term Asset Partners for $10.42 in 2018 which was eventually cancelled as GrainCorp announced the demerger of the Malts business.
ESG considerations
Our Environment, Governance and Social scoring places GrainCorp in line with industry peers. This should improve as the relatively new management team improves its disclosure and strategic focus.
GrainCorp as a facilitator of food production and distribution, plays a key role in to one of the United Nations Sustainable Development Goals - No. 2 - Zero Hunger.
Climate change is also an important ESG element for GrainCorp given the breadth of its business across the supply chain. The company is yet to divulge its Scope 3 carbon emissions (those that originate from its supply chain) but has committed to net zero by 2050. GrainCorp's growth strategy is heavily linked to carbon reduction solutions.
Outlook
We currently rate GrainCorp a Buy. Ultimately, GrainCorp is a cyclical business, and its earnings are heavily influenced by events outside of its control. No doubt the business is currently benefitting from these conditions as volumes and prices remain high and earnings momentum continues.
Even though these conditions can't last forever, the business should continue to benefit from a strong market share in east coast operations and the strategic plans that the management team have put in place.
GrainCorp is trading at a reasonable valuation, and we highly rate its earnings growth potential, a result of operational efficiencies that have been put in place in recent years. The company has a strong balance sheet and its improved profitability should allow it to improve returns for investors by taking advantage of its identified growth prospects whilst returning capital to shareholders.
Get stories like this in our newsletters.