What the COVID-19 vaccine could mean for investors
As the world eagerly awaits the rollout of the coronavirus vaccine, Cameron Gleeson from BetaShares discusses the positive long-term outlook for global healthcare beyond the pandemic.
At the time of writing, the largest immunisation programme in history is underway, with the UK, USA, Canada, Russia and China the first movers, and across the globe, other countries are at various stages of planning, approval and implementation for their own vaccination programs.
Logistical challenges mean these rollouts will be staggered and we do not expect to see a dramatic reduction in coronavirus case numbers instantaneously, in fact, many expect to see further escalations.
However, equity markets have rallied on positive vaccine news throughout the year, and investors seeking to introduce a COVID recovery element to their portfolio may consider doing so via the global healthcare sector.
Despite a global health crisis, healthcare has lagged
Healthcare rallied strongly post-March 23, 2020, as the sector mobilised to combat the coronavirus, however, it still underperformed the market in the lead up to the U.S. election with the prospect of a Democrat clean-sweep (the S&P 500 Healthcare Index underperformed the S&P 500 Index by 10% from March 23-November 3, 2020).
Vaccine announcements from Pfizer, Moderna and AstraZeneca in November triggered a rebound of the pharmaceutical companies involved in developing these treatments, and also other beaten-down sectors such as travel and hospitality.
Now, heading into 2021 with the U.S. election results all but settled, this upward momentum for healthcare could have staying power. There are many positive drivers for the sector that should support strong growth over the next few years.
Growth drivers extend beyond today's vaccine headlines
There's no denying the implications from COVID-19 will be wide-ranging and felt for years, if not decades, to come:
Equity analysts have projected Pfizer and Moderna will generate US$32 billion in COVID-19 vaccine revenue in 2021 alone. Vaccine revenue streams could last well beyond next year, given the uncertainty of vaccine effectiveness or how long immunity lasts.
Some of the vaccines developed to fight COVID-19 use new biotechnology, namely a genetic material called messenger RNA (mRNA), which is used to effectively transform the body's own cells into vaccine factories. mRNA may open up a whole new field of medicine and have applications in treating cancer, heart disease and a range of viruses that have evaded conventional approaches.
The World Health Organisation has observed that pandemics have become more common over the past 20 years due to the increased movement of people around the globe. Governments are expected to retain elevated healthcare spending, and now recognise the importance of being able to produce protective equipment, drugs and devices such as ventilators domestically rather than having to rely on international trade and diplomacy at a time of crisis.
U.S. election outcome has (finally) stabilised
A Republican win in the Senate shields the healthcare industry from any sweeping reforms and protects product margins. While there are two final run-off votes for Senate seats to be decided in early 2021, the Republican candidates are widely expected to win, hence healthcare becomes the standout winner from a likely gridlock scenario in Congress.
Valuations look attractive
On the back of U.S. election uncertainty, healthcare has underperformed all year despite the pandemic and is at near-record lows on a relative basis. The chart below shows the ratio of the U.S. healthcare sector price-earnings (PE) versus US market overall PE.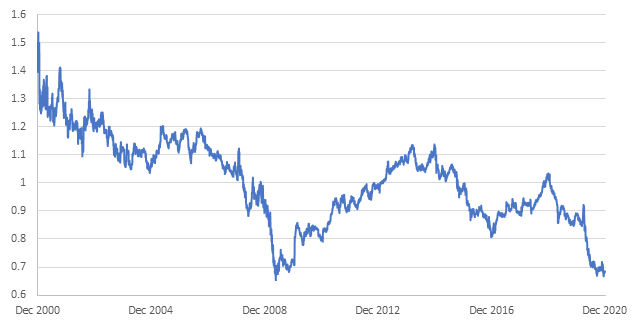 Attractive valuations combined with technological advances and near-zero interest rates could lead to an uptick in merger and acquisition activity in the sector, especially as many large-cap pharmaceutical and biotechnology firms suffer from ageing drug franchises that face looming generic competition.
Strong longer-term healthcare expenditure trends
Even before COVID-19, the Organisation for Economic Co-operation and Development (OECD) was forecasting health expenditure would outpace GDP growth over the next 15 years in almost every OECD country. Health spending per capita was predicted to grow at an average annual rate of 2.7% across the OECD and reach 10.2% of GDP by 2030, according to the OECD's Health at a Glance 2019: OECD Indicators report.
Emerging market countries such as China have been slow to invest in healthcare but are now racing to catch up as their populations are rapidly ageing. As life expectancy rises, so does the strain placed on domestic healthcare services. Across emerging markets, the percentage of people 65 years or older will likely reach 15% by 2030 and 25% by 2060, according to UN forecasts. China alone already has approximately 260 million citizens that are 60 or above.
Access global healthcare via the ASX
Investors interested in gaining investment exposure to healthcare have a number of options at their disposal.
For starters, investors can readily invest in one or more of a handful of Australian-listed health care stocks, such as ResMed or CSL. The problem with this approach, however, is that it can expose investors to the undue country and stock-specific risk given the highly competitive and dynamic nature of the global healthcare industry.
Another approach is via exchange-traded funds (ETFs), which provide investors with an easy and transparent way to gain investment exposure to some of the world's leading healthcare companies outside of Australia, via the ASX.
Get stories like this in our newsletters.