The high price of Dexus' billion-dollar buying spree
Robust demand and lagging supply has seen vacancy rates for office space in Melbourne and Sydney fall to decade lows.
That's led to stellar results for office property trusts, with double-digit releasing spreads (the difference between old and new rent on the same space) seemingly the norm. The party doesn't appear to be over yet; more supply will come online by 2021 but rents are expected to grow briskly until then.
Dexus is betting that this bull market has legs yet.
Just two months after purchasing GPT's share of A-grade office tower MLC Centre for $800m, the trust has gobbled up Melbourne's 80 Collins Street precinct.
The sale price of $1.5bn represents a 5.3% yield and will be split 75/25 between Dexus and its managed wholesale property fund.
It's an attractive asset. Located at the 'Paris end' of Collins Street, the precinct currently houses a 47-level A-grade office tower. However, construction is underway on a retail podium, a 250-room boutique hotel and an additional 35 levels of premium office space.
Given its prime location, the trust should have no problem attracting quality tenants. And the purchase will give Dexus greater exposure to Australia's fastest-growing city.
But it's hard to see how this isn't just run-of-the-mill empire building.
After tapping institutions for $900m (and a token share purchase plan of $50m), the purchase is expected to add around 1% to distributable profit per share - and that's not until 2021.
The 8% targeted rate of return also means there's scant margin of safety. Despite the current boomtime conditions, office is and will remain a cyclical industry. Should the economy take a hit - housing-related or otherwise - returns on the purchase could be lousy.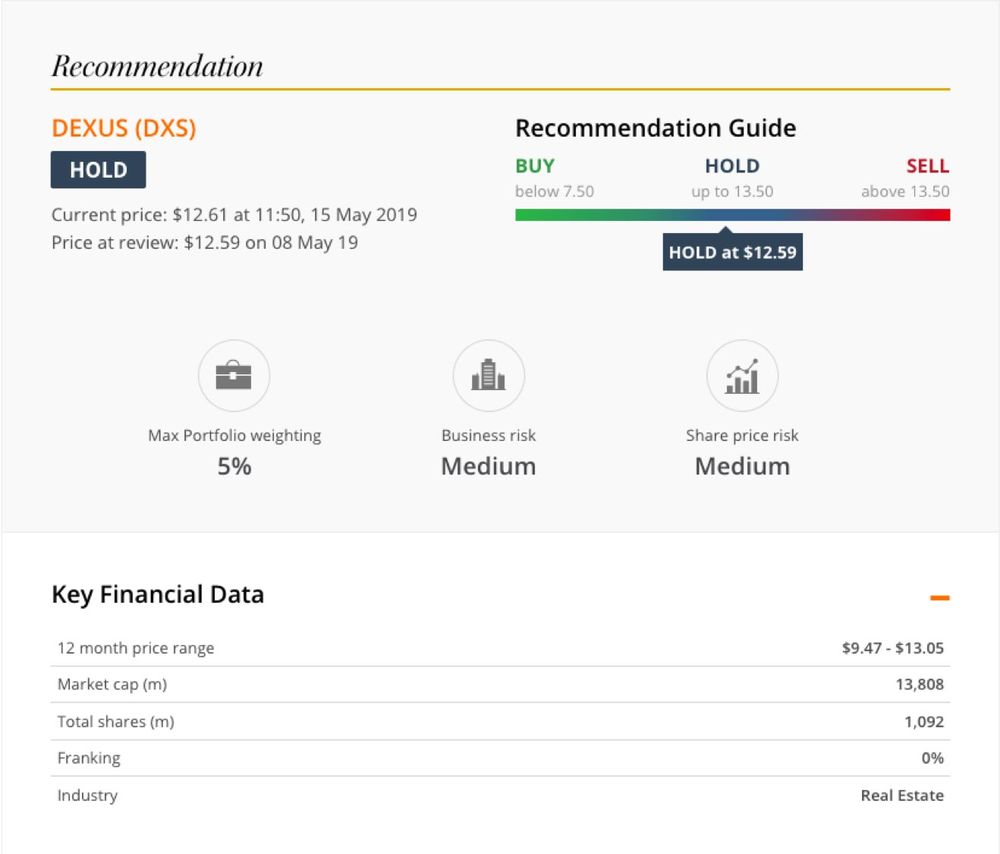 The share purchase plan gives holders the option to apply for up to $15,000 in new shares at a price of $12.10, roughly 3% below the current price.
There may be an arbitrage opportunity available for interested members, depending on personal circumstances (not least tax).
But we're growing more concerned by management's pursuit of expensive acquisitions.
And with the stock trading on a forward distribution yield of 4.3%, we're receiving little compensation for the risks.
On that basis, and with the skinny discount, for most people it's probably best to ignore the share purchase plan. HOLD.
Get stories like this in our newsletters.