Looking good while paying less: a stylist shares her top five tips
When people hear "style on a budget" they instantly assume it's about spending less so they can buy more.
I think the two biggest misconceptions around dressing beautifully on a budget are: one, you need a lot of clothes and, two, you need to spend a lot of money.
I prefer to flip that ideology. I think the key to dressing with style is to buy less but aim for the very best quality your budget allows. As I always tell my clients, it's not about having a lot of clothes, it's about having clothes you can wear in a lot of ways.
I'll use myself as an example. My designer shoes are almost always the talking point. As a shoe lover I generally keep my outfit simple and classic and let my shoes do the talking - as well as the walking.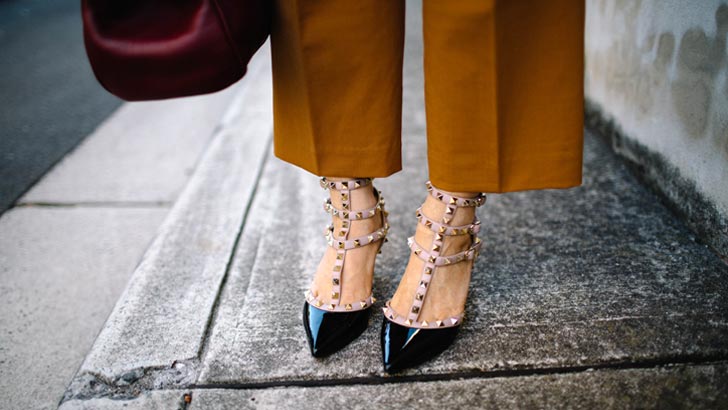 And when they do become the talking point, nothing pleases me more than disclosing how much I paid for them - not to brag about how expensive they were but the contrary!
With over a decade's experience as a personal stylist, I have perfected the art of nabbing designer pieces at almost bargain-basement prices - one of my best purchases to date is a pair of YSL "Tribute" heels for $375, a whopping 70% off. Still style on a budget but a very different way of thinking about it.
I truly believe there's no need to compromise on quality when it comes to dressing on a budget. So how do you build a strong classic wardrobe that will help you nail effortless style without breaking the bank?
Here are my top five tips:
1. Buy during sales
Delayed gratification is key to building a great wardrobe on a budget, especially when it comes to designer pieces.
Biding your time and shopping for big-ticket items (think designer bags and shoes) and wardrobe staples (denim, blazers, shirting, suiting and leather jackets and pants) only during sale season will make the budget stretch further.
My advice when it comes to shoes and bags is to try to save up and invest in one or two classic designer pieces each year.
Adding a designer shoe or bag to more inexpensive chainstore buys will always elevate your outfit to the next level.
2. Invest in classic pieces, not trends
We are constantly bombarded with the latest trends and "must have" pieces, especially with the rise of social media. It's quite easy to feel as if you need to buy into every trend, then realise you have a wardrobe full of pieces that don't actually work together.
My advice is to build a classic core wardrobe that can you can mix-and-match for work, weekend and play. Prioritise classic staple pieces like the white shirt, tailored trousers and the little black dress, to name a few, over "hot right now" buys. With just 20 pieces, you could create over 120 outfit combinations.
3. Buy the best quality fabrics you can afford
When buying wardrobe staples, be willing to pay a little more and invest in good-quality fabrics like wool, leather, silk, linen and cotton. They will last much longer, especially when cared for properly.
Likewise, stick to colours such as white, black, grey, nude, navy and red. They all work together and don't date easily.
4. Inject some vintage into your style
You know that old saying "everything old is new again"? Well, it really is true! I look to the runway and street style for a lot of my own personal style inspiration. When I see something I really love, the first place I look to add a touch of that vibe to my own outfit is vintage stores.
I particularly love to buy finishing touches such as jewellery, scarves, bags and belts second-hand. It's often all you need to update a simple ensemble. Vintage shops are also a great place to look for authentic designer goods, so if you are looking for something in particular let the store owner know and ask them to contact you when something comes in.
5. Shop mindfully and with intention
One of the biggest problems I see with my clients is "fashion overwhelm". They have so many one-off, trend-driven pieces in their wardrobe that getting dressed leaves them feeling deflated because nothing works as an outfit, or the pieces might be on trend but they're ill-fitting. Listen up. Stop impulse buying one-off pieces - instead save a little more and buy a complete look.
I always suggest that before you commit to buying something new, think about three different ways you can style your new items with your existing wardrobe. I also understand that this ability to visualise ways that pieces can come together does not come naturally to everyone, so it might be money well spent to work with a professional personal stylist who can help you create a style identity and guide you in choosing the best pieces for your shape that can be worn in multiple ways.
Dressing beautifully on a budget is less about buying cheap and fast but more about shopping smart and with intention. You don't need to try every trend; you just need to get clear on your style identity.
Get stories like this in our newsletters.