The first-home buyer concession that could drive up prices 16%
The "Home First, Super Second" proposal championed by Liberal MP Tim Wilson would allow couples to withdraw $40,000 of their super to buy property, but Industry Super Australia warns this could result in an 8-16% median increase in capital city property prices.
The effect would be felt most strongly in Sydney, where Industry Super Australia predicts a $134,000 boost to prices. The super fund estimates that the price hikes would wipe out the loss to retirement savings in all cities except for Hobart.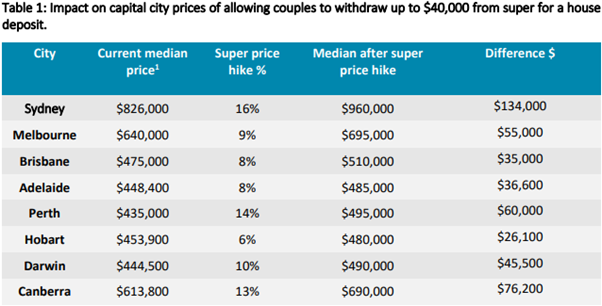 "This just confirms what experts have been saying for ages; that throwing super into the housing market would be like throwing petrol on a bonfire - it will jack up prices, inflate young people's mortgages and add billions to the aged pension, which taxpayers will have to pay for," says Industry Super Australia CEO Bernie Dean.
"Politicians who own multiple investment properties and pocket 15% super might think price hikes are a secondary consideration. They don't care about locking young people into hugely inflated mortgages and a bleak future with hardly any savings to fall back on."
The proposal has failed to win support from across the aisle.
"Once you undermine the compulsory elements of superannuation and the whole basis of it being for an income during retirement, then you end up opening it up for this," opposition leader Anthony Albanese told the ABC in November.
Even his own party's superannuation minister, Senator Jane Hume, distanced herself from it.
"At this stage, there is no plan to allow Australians to access a deposit for their home through superannuation," she told Sky News this week.
But a variation of the proposal, which would allow withdrawals for low-income earners, has the backing of former Reserve Bank of Australia chair governor Bernie Fraser.
"I just think, particularly as house prices are going up and rent prices are going up, the opportunity for some modest-income people to have a house would be a very good investment."
Get stories like this in our newsletters.