Hell and high water: how to insure your home against natural disasters
It's a tragic irony that some of the country's most beautiful areas to live are often the same ones most exposed to disaster. For many this is a risk worth taking, and it's a risk that can be mitigated with the right insurance plan.
The bushfires that raged in summer underscore the need to not only have home insurance but to have the right home insurance.
Like all insurance, the cost and level of home cover is directly related to the risk the policy poses to the insurer. Knowing the finer details of bushfire insurance can help you pick up the pieces and rebuild without shouldering an undue financial burden.
How the risk is rated
In 2009, following the Black Saturday fires in Victoria, the building code was changed to better protect at-risk property.
The risk to your home is now calculated using bushfire attack level (BAL) ratings, which measure the severity of a building's potential exposure to ember attack, radiant heat and direct flame contact (see table).
The ratings also dictate the required construction standards for your home. The higher the rating, the more resistant to bushfire the construction needs to be.
The most common way to establish the BAL rating involves four components:
The fire danger index (FDI), which factors in the chance of fire, its rate of spread and the difficulty of its suppression.
The type and density of vegetation around the site.
Distance of the building site from the vegetation.
The slope of the ground under the vegetation in relation to the building site.
Properties with a BAL-Low rating don't need to meet a higher construction standard than those in urban areas, and thus it doesn't add anything to the rebuilding cost. But insurer AAMI predicts that the BAL-FZ rating would add between $65,000 and $277,000 to rebuilding.
This has to be taken into account when insuring your home, since rebuilding after a fire needs to meet the standards. If your home was built before the standards were introduced, it may need to be rebuilt to a higher standard than it was previously. This affects floors, external walls, doors and windows, roofs, verandas and attached carports.
All home and contents insurance policies cover you for bushfire. However, the extent of that cover differs among policies, so it's important to read the product disclosure statement (PDS). Policies may cover:
Repairing or replacing the home.
Demolition and removal of debris.
Temporary accommodation.
Professional fees.
What constitutes "fire damage" can be vague, too. The sometimes opaque definitions are likely designed that way, providing insurers with leverage to avoid a payout.
According to research by consumer group CHOICE:
AAMI, APIA and GIO all have confusing exclusions. If heat from a passing bushfire affects part of your building or contents but doesn't ignite a burning building within 10 metres, you won't be covered.
For Coles, flames have to be present for your cover to kick in.
Youi doesn't cover scorching, melting or smouldering unless there are flames. Cover is different for buildings and contents.
Budget Direct, Virgin Money and ING won't cover you for "smoke or soot when no damage from fire has occurred".
QBE "won't cover damage caused by charring, melting or scorching as a result of fire without the presence of flames".
Take out cover early
While in most cases you'll be covered 48 to 72 hours after you take out a policy, this typically won't apply once a fire is already burning. For this reason, most insurers will have an embargo or no-claims period for anyone in an area likely to be affected by fire.
The good news is you won't be excluded from insurance because you live in a high-risk area; you'll be able to get cover, but you will probably pay a higher premium.
If you have sum-insured cover, your policy will cover you up to an agreed amount, which will be stated on your certificate of insurance. For example, it may say you're covered for "up to $500,000 for the building and $30,000 for contents".
With replacement cover, the policy will cover the cost to replace or repair the contents to their pre-fire condition. For either, you may also be entitled to additional benefits.
The Insurance Council of Australia warns that as many as 80% of homeowners are underinsured. This is a common problem associated with natural disasters, where the homeowner is left covering the difference between the amount paid out and the actual cost of rebuilding. This can stem from a failure to account for the added cost of building to new BAL standards, or even because of increased demand for, and cost of, materials and labour after a fire.
One way to avoid underinsurance is to opt for total replacement cover. If your home is destroyed, it will be rebuilt to its previous state (or better, if it didn't previously meet the construction standard required by the BAL ratings).
However, total replacement cover isn't the norm, with only two insurers offering it - ANZ and AAMI. These policies typically carry a higher premium compared with sum-insured policies, but they eliminate the possibility of out-of-pocket expenses.
Document your contents
Proving what your contents are worth will be much easier if you keep receipts or take photographs of just what you own.
"It is a good idea to go around your home and take photos of all items that would be covered and note replacement cost of everything on a spreadsheet," says financial planner James Gerrard. "This includes the major items like TVs and fridges, but also includes the smaller items such as laptops and jewellery. For contents insurance, it is important to read the fine print as there may be caps on what you can claim under different item categories that may leave you underinsured."
Taking photos after a fire can also be a good idea to demonstrate what was damaged or destroyed.
Flood versus water
Flood damage and water damage are not the same as far as insurers are concerned. The damage to your property may be indistinguishable, but the cover is different.
It all has to do with where the water comes from. For instance, if your house is "flooded" because of a broken water pipe, water damage cover will sort you out. And it's standard in all home and contents policies.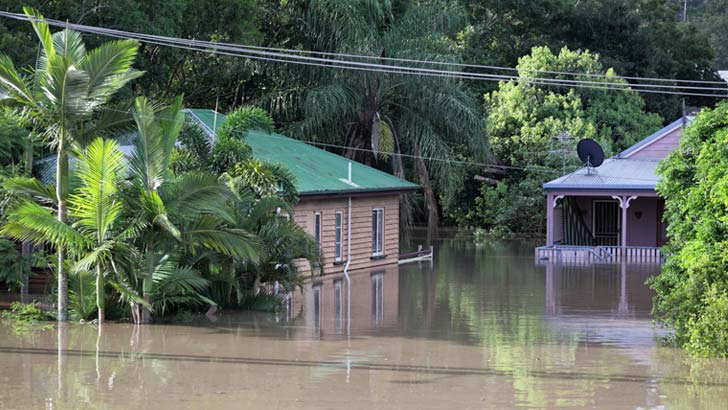 Floods, on the other hand, occur when water breaks the boundaries of a watercourse, such as a river or dam. Westpac and St.George also classify tsunamis as floods.
Flood damage is standard in some policies and an optional extra in others, so it's important to read the PDS or ask your insurer.
If you live in an elevated location with little to no chance of flooding, you don't need flood cover. But if you live in a flood-prone area, it's a good idea.
There are also some exclusions to watch out for. Moneycare, the Salvation Army's counselling service, notes that most policies exclude:
Actions of the sea, such as storm surges, high tides and king tides.
Floodwater combined with run-off or rainwater.
Flood not caused by rainfall, for example a landslide caused by a storm.
Flood as a result of a blocked or broken stormwater drain, water pipe or gutter.
Damage to gates, fences, retaining walls and driveways.
Rainwater entering your home due to a structural defect, faulty design or poor maintenance.
Wind, rainwater, hail or snow entering your home through an open window or door.
Making a claim
If you are affected by bushfire or flood, the first thing to do is contact your insurer. If you don't know who your insurer is, phone the Insurance Council of Australia's 24-hour hotline on 1800 734 621.
Under the general insurance code of practice, insurers should respond to your claim within 10 business days. In cases of demonstrated urgent financial need, an advance payment can be made within five business days.
From here, the best thing to do is to document damage with photos or video, of both the property and the damaged items.
If further information is required, the insurer must tell you: what details it needs; if a loss assessor/adjuster needs to be appointed; and how long it estimates it will take to make a decision.
After this, the insurer must update you on the claim within 20 business days.
It's best not to start the repairs at this time, since the insurer will want to assess the damage and approve repairers or builders.
Know your policy
Insurance is a unique product. You pay for it in the hope you never have to use it. But the low chance of using it is not an excuse for insufficient research.
You can only be covered for a natural disaster if you know the finer details or your policy. Doing this homework early will save you avoidable heartache when the time comes to make a claim.
Get stories like this in our newsletters.