How to save on postage this Christmas
Two weeks ago, I received my first Christmas card. Receiving a card in mid-November was surprising, but even more surprising is that people are still sending them.
There's no getting around it; while the COVID days of not being able to get together have (mostly) gone, many of us are still geographically separated from loved ones. And that means sending things - and it also means spending money. Often, postage costs aren't budgeted for. And it usually takes us by surprise when we are at the post office.
So here are some of my tips for reducing the cost of spending your money on sending items.
Send on time
Many people shop big for their Christmas presents during the November sales. And for a good reason. Not only is it often cheaper, but you can also avoid missing sending cut-off dates.
How early are the cut-off dates? Earlier than you might think. And if you miss the dates, you will probably need to pay extra to ensure it is delivered on time.
If you plan to send items to families overseas, the deadline for standard post passed on December 2, so you will need to send gifts by parcel express.
For sending items domestically, Australia Post advises you to send parcels by December 12 - unless you are sending to Western Australia or the Northern Territory, in which case you should aim to ship by December 7. Otherwise, Australia Post advises you send via Express Post to avoid delay. For cards and letters, aim to send them by 19 December for the same state or December 15 for interstate.
Think small
If you do want to send something personal, try to pick something small and lightweight.
Be strategic when you choose gifts; smaller is better. And if an item is likely to be high value (such as jewellery), consider adding in insurance.
Membership programs
Many large online retailers and marketplaces have membership deals, including free shipping on many items. While many offer a preferential rate for a year's membership, you can often cancel after being a member for only a month.
So if you only plan to use them for Christmas shopping, shop until you drop and then withdraw in January.
The most well-known, and arguably the market leader, is Amazon Prime. For $6.99 a month (or $59/year), members receive prioritised and free shipping on many items, special deals and even access to a free streaming service (Prime Video), music and podcasts (Amazon music) and eBooks (Prime reading).
Another example is Kogan FIRST, which provides free shipping, Kogan rewards, reduced pricing and other priority specials for $79 a year. If you are buying large and bulky items from Kogan, such as televisions or computer parts, the membership may be worth it just for the free shipping.
Or you could try the membership 14 days for free. And membership for free with a Kogan Money Credit Card (Visa).
Catch.com.au offers an affordable OnePass at Catch program. For $4 a month or $40 a year, members can enjoy free delivery on items and exclusive access deals. It also offers free collect on eligible orders from Target, Kmart and KHub stores. Catch.com.au is currently offering free membership for 30 days.
Other sending options
It's not just Australia Post that sends items. There is a range of courier services and private providers.
One recent startup is Sendle, which claims that it is 15% cheaper on average than Australia Post. Even better: they will collect from your home or office.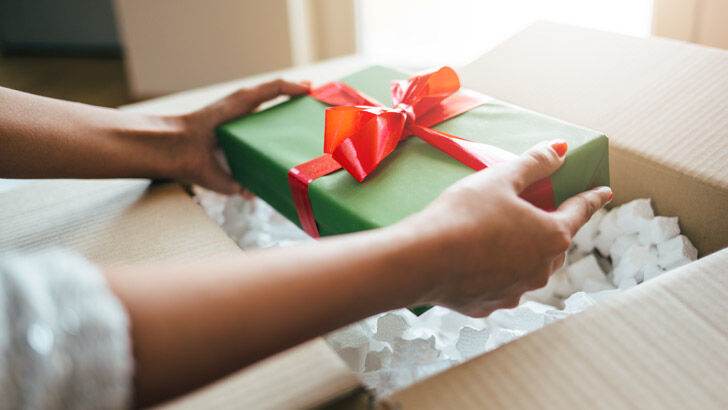 What about those Christmas cards?
My late Nana loved sending Christmas cards. And she loved receiving them. She may or may not have gotten a bit competitive about the number of cards she received in return. She certainly took pride in displaying them all.
For many years, I held onto this tradition. I started writing cards on December 1: I'd put on Handel's Messiah or Christmas carols and spend the afternoon writing cards to friends and family. I even had stickers made up with our return address for the back of the envelopes and other Christmas stickers to match.
But after looking at piles and piles of leftover Christmas cards, I began to rethink this practice. On a global scale, around 1 billion Christmas cards are thrown out each year after the festive season is over. And while I do try to craft with some, most I cannot reuse.
If you do enjoy sending Christmas cards, and at a time when many people are still recovering from the trauma of COVID and natural disasters, the good news is that stamps for Christmas cards are only 65c (rather than $1.10, which goes up to $1.20 in January) between November and December.
You can even get special Christmas stamps. And if you hold a Federal Government concession card, you may be eligible to apply for a My Post concession card, which enables holders to send letters for 60c.
If you decide to forego physical Christmas cards, you don't need to be the Christmas grinch and avoid any festive communication whatsoever. There are ways to keep the spirit of Christmas cards while reducing cost and waste.
You could create your own eCard. This is easy to design yourself using programs such as Canva. Or you could choose from online eCard providers such as Paperless Post.
And then there are animated eCards. My sister likes to create hilarious, personalised eCards with JibJab: you upload photos of people you love and insert them into animated videos. (Do you know someone who needs to be featured in the Ugly Sweater Song?)
And my personal favourite is Jacqui Lawson, an artist based in the south of the UK whose team creates beautiful, animated eCards. She also has a range of online advent calendars that will bring joy to each day of the festive season.
In 2013, the Holderness Family became famous when they released their XMAS Jammies video. With many of us now owning smartphones, it's become easier to make your own videos. You don't have to lip sync or dance like Tik Tok stars (although if that's your talent, I would love to see what creativity you come up with). But any heartfelt message about joy at the festive season told in your own words, is likely to resonate more than a simple 'Merry Christmas' on a generic card.
New technology, and the sustainability imperative, are creating change in our Christmas traditions. But the good news is that by being smart, we can even save money while helping the environment. Happy Christmas!
Get stories like this in our newsletters.