IPOs have outperformed the ASX for the fourth time in five years
2019 was another bumper year for the Initial Public Offering (IPO) market, returning a whopping 35.2%. But there's a catch - gaining exposure to them is tough.
The result shows how under-priced IPOs are compared to their trading prices in the secondary market.
This was the fourth time in five years IPOs outperformed the ASX. By year's end, they returned an average of 16.8% more than the market.
This comes off the back of a disappointing year in 2018, when IPOs were almost 15% in the red.
IPOs in defensive sectors performed best. Utilities had an average three-month return of 284%, while health care returned 104.6%. By contrast, financials and materials returned 25.7% and -4.3% respectively.
Gaining exposure to IPO's is difficult for retail investors - access is largely restricted to big institutional investors.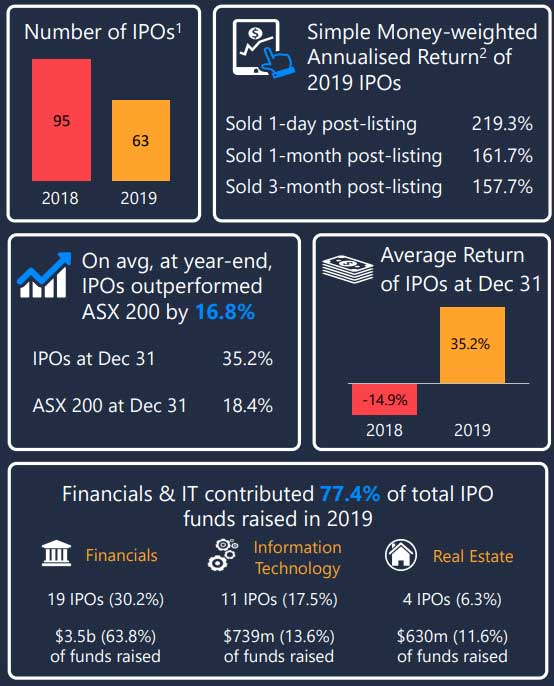 Your best hope is to either develop a relationship with a broker or sign up to a company which crowdfunds money to invest in companies hoping to list.
One such company is OnMarket.
OnMarket CEO Ben Bucknell says that investors who took a one-day or a one-month holding period for every IPO achieved money-weighted annualised returns of 219% and 161% respectively.
However, investing in IPOs can be a risky bet.
"Candy Club Holdings was the worst performer of the year, losing two thirds of its value by year-end," notes Bucknell, while "the best performer was Uniti Wireless, which was up 530% on its issue price as at December 31, 2019".
Retail investors can only invest up to $10,000 per company each year through crowdfunding platforms.
Get stories like this in our newsletters.