How to renovate your home without blowing the budget
Renovating your home can be both an exciting and daunting process - fulfilling your dream of an improved quality of life, increased resale value or even simply updated aesthetics. The biggest hurdle when embarking on the renovation challenge is controlling the costs.
With so many homeowners renovating, demand for tradies is at an all-time high and their margins are higher than ever before. So how do you know you have made the right decision when quotes can vary considerably?
So many factors contribute to the overall cost of your renovation. Most fall across labour and sourcing of materials. Price ranges can be enormous, and that is simply because no two renovations are the same.
Taking the time to carefully research and plan, and make well-considered choices will ensure no major renovation blowouts occur.
Location
This can determine how cost-effective or expensive your project will be.
Hourly rates can vary from state to state, suburb to suburb.
Size
Renovating a one-bedroom apartment obviously will cost considerably less than a four- or five-bedroom house.
One consideration that can make a small renovation substantially more expensive is the fact that less product is being purchased, pushing dollar-per-square metre rates sky high - the opposite of economies of scale.
Materials
Making decisions on the run can be risky.
Contractors allow an estimate to cover labour and materials that are not specifically detailed at the time of quoting, as standard practice. However, where a homeowner comes unstuck is making choices midway through a renovation.
Take flooring, for example. Completing your research upfront and making product selections ensures you are not enticed to "upgrade" to a more premium product that is not within your budget.
This also makes it easier when comparing quotes as you will generally just be comparing labour costs when all contractors have been given the same specifications.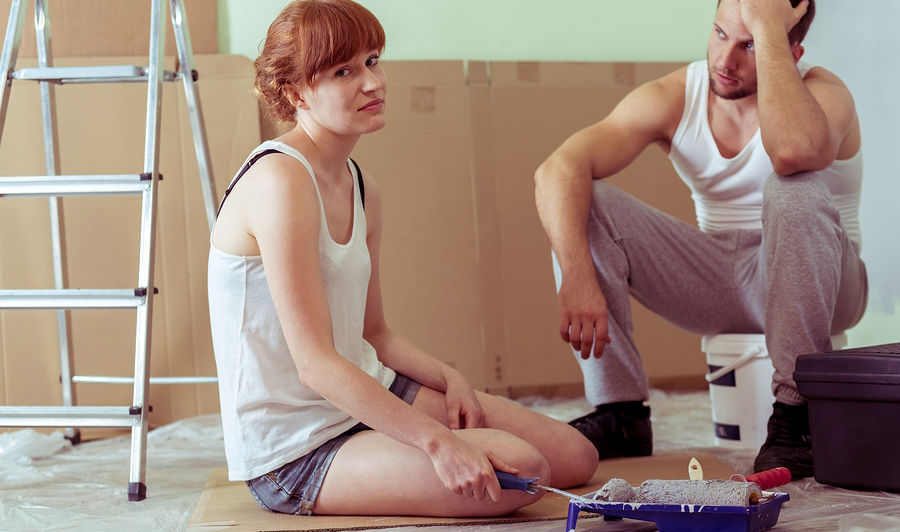 Kitchen/bathroom
Known to be costly areas to renovate, these rooms have different ways they can be tackled. Engaging a builder or kitchen/bathroom specialist will see you pay twice the margins - one to the business you have engaged and another to its tradies.
Running the project yourself will enable you to cut out one set of margins but if/when problems arise, they sit firmly on your shoulders.
Each tradie is only responsible for their part of the project - the electrician, plumber, waterproofer, cabinet maker, painter - and will stay within their own scope of works.
You will then have to think on your feet to solve whatever has gone wrong. Sometimes that is why it is easier to engage an overriding contractor, so the buck stops with them. Remember - mistakes are always costly.
Living room
This is one of the highest-traffic areas of your home, and where most of your guests will spend time when visiting. It usually flows from your kitchen. So often you hear homeowners say "we are just doing the kitchen".
However, a key consideration for your kitchen upgrade is continuity of flow. Investing in a top-quality kitchen that adjoins an unimpressive living room can leave you wondering if your glass if half full or half empty! If the budget permits, discussing both areas with your contractors to be upgraded at the same time is a smart move.
At a minimum, flooring must work between these two areas. If you are upgrading the flooring in your kitchen, you will only be purchasing product for a small area, therefore your dollars per square metre will be higher.
Obtaining quotes for both your kitchen and living room flooring will generally result in a lower dollars per square metre rate, and it may just be achievable with your budget.
Outdoors
Engaging a landscape architect who can specify every detail can make obtaining quotes a little easier. You will have your vision down on paper and can be clear on which components of the project you can make savings.
For example, you may wish to tell your landscaper that you are going to save some money by removing all existing gardens yourself and provide a clean slate for the rollout of the new outdoor space.
Once again, product selections are essential and you need to take the time to research everything. That includes grass and plant options, paving material and anything else that has been included in the design. Making selections on the run generally leads to cost blowouts.
Contractor selection
Selecting contractors is one of the hardest parts of renovating. It can be mind-boggling how some contractors can be wildly apart in rates for the same project.
It is always tempting to go straight for the cheapest quote, but this should be considered with absolute caution.
The last thing you need is to end up with a disaster on your hands, or to lose your "too good to be true" contractor midway through your renovation. More often than not, paying a little more for experienced contractors who come with a fantastic reputation is 100% worth it. You get peace of mind.
Research will pay off
Home renovations can cost tens of thousands of dollars, but when executed well can add significant value. A key consideration when investing in renovations is whether the property is going to be "flipped", is a long-term investment or is your own home. You may get away with selecting cheap product when flipping a property. However, this will come back to haunt you if your vision is for the long term where good quality finishes are essential.
Take the time to budget wisely and research, research, research your products before commencing. Giving a detailed list of your product selections to your contractors will allow them to provide you with a tighter quote. You will then succeed in transforming your property into a dream home and keep costs within your budget.
Get stories like this in our newsletters.