Mackenzie Arnold on money, Matildas, and making that save
When Matildas goalkeeper Mackenzie Arnold escaped from playing soccer with the boys at age 12, she tried out for her local Gold Coast-based Burleigh Bulldogs as a fullback.
"They said I was not going to make it at that position, but they did need a goalkeeper," she recalls. "I was like: 'Absolutely not'. That wasn't on at all. It was never going to happen."
Sometimes, fate intervenes. Thank goodness.
The black jersey
Arnold is now at the top of the game. Who could have missed her, dressed in an intimidating black strip (jersey) while guarding the goals for the Matildas at the recent FIFA Women's World Cup tournament in Australia.
Crouching, menacing, shoulders spread, knees always ready to pounce and eyes fixed on just one thing - the ball. She pulled off some spectacular saves, giving her team every chance to win. Her stoic performance included nerve-wracking penalty shots.
Arnold, now 29, held her shoulders and arms wide, swaying her body and making her black goalie jumper seem much larger than it was.
She was the epitome of concentration and intimidation, daunting to even the best opposition striker.
Her match-winning performance during the quarter final penalty shoot-out against France was the most memorable. Despite being the underdog, the Matildas won and Arnold was the star.
"I wanted to get it done for the girls," she explains. "It was such a big sporting moment, not only for us but for Australia as a country.
"I went inside myself, saying that I just wanted to get it done. That was my job.
"I had been in penalty shoot-outs before. I wouldn't say that I am successful at them, but I don't hate them. I welcome the pressure.
"It's a 50-50 chance. Being able to go inside myself, making myself aware of doing the job, makes it easier to handle the pressure."
Karma comes into it too.
"I don't like practising too much, because if three or four all go in, it can really get to you. Also, when you are practising against the same people, you pick up each other's tactics or their movements, and then you mess with each other's heads.
"The mental aspect of how you play probably has the biggest impact. If you make a mistake early on in a game, it all comes down to how you handle that. Are you able to let that go and play well for the remaining minutes left?
"A lot about being a goalkeeper is the mental side more than the physical side. Sometimes, we don't touch the ball for 20 minutes and then, all of a sudden, we have a shot coming at us. It takes strong mentality to be a goalkeeper."
What helps Arnold with this aspect of the game is to remain switched on and sustain concentration when the ball is at the other end of the field.
Football family
Perhaps it helps that Arnold was born into a rugby league family.
"We were always watching, and my brother played the game when he was growing up," she recalls. "I would be catching the ball or using a ball with my hands. I picked it up and ran with it."
But she admits now to feeling the pressure whenever a goal goes through. "For every one that goes in, I think: 'Could you have done better? Is that your fault?' It was worse when I was younger."
Does a goalie have the worst position on the team?
"I wouldn't say that. I don't think that, but pressure comes with every job. It's the way you handle it. Our mistakes are put on show a lot more. It's more obvious when we make a mistake."
Demand for Arnold's goalie jersey
How has the World Cup impacted her career?
Well, for one thing, sales of jumpers have gone through the roof and Arnold's black number one is one of the most popular.
But fans couldn't buy her jumper during the tournament because goalies' shirts were not being sold by their makers, Nike and Adidas. Now they are, but fans eager to buy the strip during the tournament might have moved on.
Sales, however, are reportedly strong.
"FIFA [the soccer's governing body] chooses the colour we wear every game," explains Arnold.
"It depends on what the ref and other team wear. I love the black because, for some reason, we played very well when I was wearing it."
West Ham United captain
She says that, since the tournament, she will no longer be able to stay in the shadows, minding her own business. "It was the first tournament like that I had played in. The publicity has changed things for me."
When it comes to her immediate playing future, however, Arnold has already signed on for another year at England's West Ham United and was recently made team captain. The season started in October, and at the moment that's what she's worried about.
"The next big tournament is the Olympics. I wasn't really involved in the previous one. I was left out of the team but, going into the next one, I want to take the current form. It could be a big tournament for us."
She aspires to play in the Champions League, which features the top teams from around Europe. Arnold said that would be the next goal in football, from a club point of view.
Pay equity in football
While women now play for leading world clubs and have their own World Cup, pay still has a long way to go to catch up to male footballers.
"It's better, for sure," she says. "But that is not something that has happened overnight, and it won't happen quickly.
"It will still take five to 10 years before we get equal pay - or what we deserve."
Her career has already seen her play at senior levels in Brisbane, Norway, Chicago and London. She was due back on Australian soil at the end of October for the Asian Olympic qualifiers in Perth.
Credit they deserve
Do goalkeepers receive the credit they deserve, or are they too often blamed for mistakes?
"Times have changed," says Arnold. "Defenders, as well as goalkeepers, go under the radar a little.
"Of the two, however, I think it's harder for defenders because goalkeepers can still make a mark on the game and have their big moments. I wouldn't say that we are blamed unfairly.
"Goal scorers get the most attention, everyone knows that. But it might be harder for defenders, who just have to do their job and do it well.
"None of them really sticks out, they don't get any assists or goals. They have it harder than goalkeepers. But everyone has their job."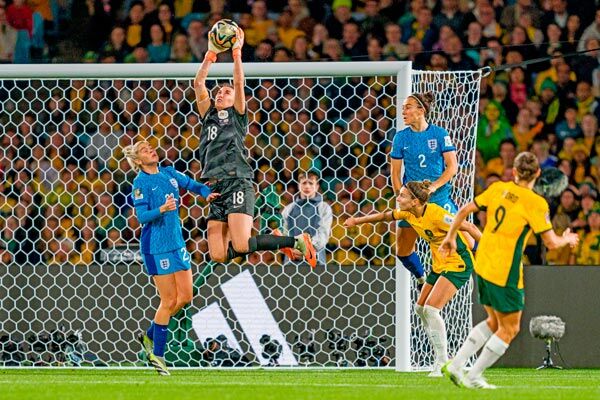 Advice for young keepers
What advice does she have for young goalkeepers?
"Never lose hope about what you could be. I've been in the national team for 10 years now, and its only in the last six months that I've really taken [hold] of that position and had successes.
Looking back, I never thought this could have happened [to me].
"In the last couple of years, I started to think: 'Maybe this is how it is going to end. It's just going to fade out, being a second or third goalkeeper.'
"But I never lost hope. I always believed I could be a starting goalkeeper, and now that has happened.
"I would like people to see that it's never too late. Never lose hope in what you want. I'm 29 now, and this is when my success has started to come."
The next World Cup
She came into the Matildas team last February, in the Cup of Nations. It is held every year in Australia and this time the hosts won.
"I got player of the tournament," says Arnold. "I thought that meant they had to play me in the next game, because I didn't give them any reason to drop me. I know that every single game I have to play well to keep my spot.
"I never really thought about the World Cup until just before the first game. We were playing France, and all I wanted was to make sure I played well and not give them a reason to drop me. That's what helps in the long run.
Focusing on one game at a time, getting to the World Cup in the starting position, because I've never really held that down."
Where does her career go to from here?
"That's the million-dollar question. I have no idea. As a player, I could go for five more years, maybe one more World Cup. But you've got to take it month by month."
Get stories like this in our newsletters.