Public v private: How to plan to afford school fees
Tash, a friend, had no intention of sending her three kids to a private school for a whole host of reasons. First, there was the cost. But then there was the ideological issue of private versus public. She hadn't gone to a private school and had done well.
Tash argued that she lived in a good area with plenty of aspiring residents who cared passionately about their kids' education. Her son, Finn, was a high achiever: sporty, academic and school captain in his last year at his public primary school.
Finn didn't have special needs or any considerations that would change her mind about public schooling for her son, but the public high school didn't work out.
After a problematic and unhappy first year, she switched him to a private school.
It was a big financial adjustment for the family.
She went back to working full-time. Her husband already worked full-time. They used some of the funds in their mortgage offset account to help pay the fees. Home renovations won't be happening anytime soon, and their retirement plans have been pushed back.
Her two primary school kids had to stay in aftercare until 6pm most days. When COVID meant she had to work from home, she really valued the flexibility that she didn't have when she worked in the office.
She will send the other two kids (both girls) to a Catholic high school that isn't as expensive as her son's school.
While many people choose the private school route from the start, others realise their kids have special needs that may not be met in the public system.
I know one family that has their three kids at separate high schools because they have diverse needs, best catered for at different schools. For example, one goes to a co-ed private school, another to an all-girls school and another to a public high school.
How much does a private school cost?
Just how much private schools cost is a shock for most people.
It depends on where you live, with Sydney school fees about 10% above the national average.
For a child starting school in 2021, a faith-based private school in a capital city will cost $140,433 for 13 years of education. It is more than double ($340,882) for an independent private school, according to Futurity Investment Group (FIG), formerly Australian Scholarship Group, an education savings company.
A government school costs around $81,823. The FIG figures include tuition fees and levies, extracurricular activities, clothing, books and stationery, travel and computer equipment, including the internet.
Where should I put aside money for school fees?
If you know your kids are likely to be better served by a private school, it is best to start saving early.
Automating savings from your salary into a special education account is an effective method. Instead of presents, ask grandparents and relatives for money towards it. But don't raid it for any other purposes.
A lot of parents don't want to take risks with the money set aside for school fees. But keeping it in cash, with interest rates so low, is frustrating. If you have a mortgage, you can put it in the offset account and draw it down when you need it.
The credit balance of the transaction account is offset daily against the outstanding loan balance on the cheaper mortgage loan, reducing the interest payable against the loan.
Cashed-up parents or generous grandparents might consider paying fees in advance. Some schools offer discounts if you pay ahead.
For example, an elite private school in Sydney is offering discounts on fees if paid in advance: 3% on the next year's rate when fees are paid one year in advance, 6% on the second year's fees paid two years in advance and 9% on the third year's fees paid three years in advance.
Check whether paying in advance safeguards against the inevitable fee rises. Some schools factor in future tuition fee increases but cap them at a certain level that could be lower than the actual increase.
There are a number of specialist education loans for paying school fees. Always compare the interest rates and conditions, such as the length of the loan, with other loans available.
Should I move near a good public school?
One way to save some serious money is to live in the right catchment area for a good, highly ranked public school.
Schooling can often dictate where families buy or rent property. This means that if you plan to move into the school zone, you need to buy or rent a property within the boundary and have proof you have been living in the catchment area for a certain period before the school year begins.
The most straightforward way to enrol your child in a good public school is to buy a home in the catchment zone.
But there's a catch: often good schools are in well-established suburbs with high property prices and a higher socio-demographic population. This means that properties are well out of most people's price range and competition is cut-throat.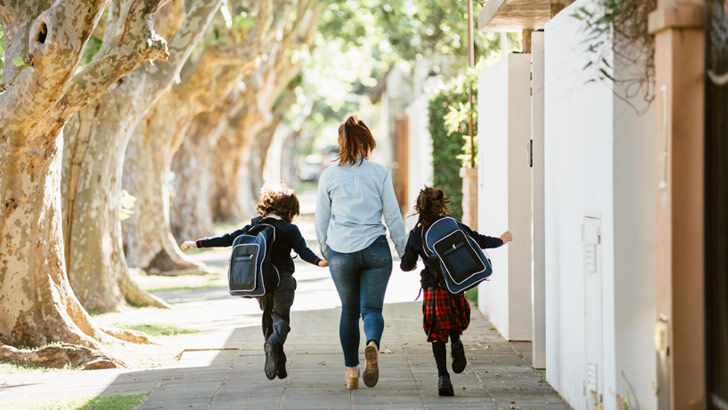 Often good schools in the New South Wales, Victoria, Tasmania and Queensland capital cities tend to be in high-value locations with finite land to subdivide. The zoning is restricted and prices have soared on a shortage of supply.
Typically there is fierce competition between families buying into the area as well as cashed-up expat families returning to Australia.
Public schools that have strong academic results or have a selective or a gifted and talented stream, languages or the internationally recognised International Baccalaureate push up property prices.
There is also strong demand for elite private schools - though you don't have to live in such a tight boundary area - as well as niche religious schools, such as Muslim or Jewish, because they are scarce.
Also there are schools catering to expats such as a French-speaking school or ones that follow a unique education philosophy such as Montessori.
A recent report by data provider CoreLogic shows that property prices in popular school zones in every capital have outstripped the median price growth over one and three years.
Homes in Sydney's top-performing school zones have gone up by 50% over the past three years - 30% higher than the increase for greater Sydney, according to CoreLogic. In Perth the premium is 10% and in Melbourne 15% and Brisbane 9%.
You may have to rent instead of buying, or rentvest - rent where you want to live but still invest in a property elsewhere for your financial future.
For example, if you buy in a location where the mortgage repayments are $3500 a month, yet you could rent a similar property in the same location for $2500, you would have a spare $1000 a month to finance a property outside the school area.
It may be a better property than what you rent in a more reasonably priced area. It is the best of both worlds: you would get to live in the area with good schools that could be invaluable for your kids, but still have a secure future post-school when young adult children might need more space.
What if we live outside a school's catchment zone?
Research by the Department of Education shows that a high number of students do live outside the catchment zones. If the schools have spaces left
over after the local kids are accepted, then some allow more out-of-the-area applications.
But highly sought-after schools are cracking down on out-of-area applications. Increasingly the state education departments are giving each school a cap on the number of enrolments allowed.
Don't try to falsify your address to appear to live in the school zone by using the address of a friend or relatives. Schools typically require documentation including driver's licences and electoral enrolment registrations.
Some parents buy a one-bedroom apartment in the area to use the address to appear to live in the school catchment zone, even though they live elsewhere. This can be nerve-racking if the other parents or the school finds out.
Get stories like this in our newsletters.