Hiking super payments would cost Aussies' quality of life now
Lifting the super guarantee would mean more superannuation in retirement but lower wages today, according to the findings of the long-awaited Retirement Income Review.
The report found that lifting the super guarantee (SG) rate to 12% would lead to super balances at retirement 14-15% higher for middle and high-income earners and 16-18% higher for low-income earners.
But this would come at the expense of Aussies' current quality of life.
The report estimates that, over the long term, holding the SG at the current rate of 9.5% would result in wages 2% higher than they would be at 12%. For the median income household pulling in $88,695 a year, that 2% difference would mean unrealised wages of $1774 a year.
The report also found that the net effect on savings loses potency as the super guarantee increases.
With each additional dollar of compulsory contributions would lift savings by 60-80 cents because households would sell down other assets. In addition, it found that holding the super guarantee at 9.5% would result in higher salary sacrifice contributions than increasing the rate to 12%.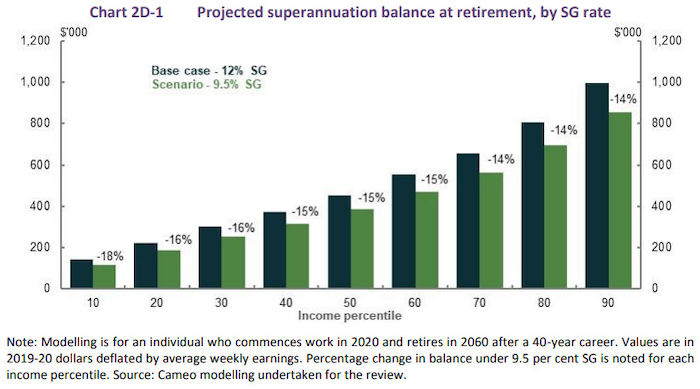 It's also worth noting what a change to SG would mean for replacement rates, which is basically a measure of how well a retirement income system balanced living standards during the working year with living standards during retirement (expressed as a ratio of retirement income/working income).
The report projects that while replacement rates would be lower if SG was held at 9.5%, they would still reach or exceed the target ratio of 65-75%.
"A rate of compulsory superannuation that would result in people having an increase in their living standards in retirement may involve an unacceptable reduction in living standards prior to retirement, particularly for lower-income earners," the report states.
"If the SG remained at 9.5%, and retirement savings were used more efficiently, most people would achieve 65-75% replacement rates. Most would also achieve higher replacement rates than with the SG at 12% and drawing down balances at the legislated minimum rate."
As it stands, the SG rate is set to increase to 10% on July 1 next year and then to 12% on July 1, 2025. No announcement was made by Treasurer Josh Frydenberg about whether next year's scheduled increase will or won't go ahead.
Get stories like this in our newsletters.