How I save $10,000 a year on rent by living in a tiny home
I opened up the letter and felt my chest tighten with anxiety.
"Another bill," I muttered.
I was a single mum living in a 4-bedroom house in the suburbs of Perth. It wasn't easy paying the $430 a week rent on the money I got from my job cleaning houses.
I was keen to downsize, but with two boys, Charlie, nine, and Ollie, seven, I knew they needed space to run around and burn off energy.
Not long afterwards, my estate agent rang with a bombshell.
"Your landlord's selling up, you're going to have to move out," she said.
At first I felt like crying but then I realised it was the push I needed. So I dragged the boys around to various viewings at little apartments for rent.
They were more affordable but tiny! Without any outdoor living space, we'd be treading on each other's toes.
A few days later I went to visit a friend who lived at a caravan park.
We sat on her porch, watching our kids playing in the grounds and I realised that's what I wanted.
I started researching buying caravans and my dad Peter had an idea.
"What about a bus?" he said. He'd seen a TV show about a family living in a converted school bus.
At first, I wasn't convinced but then I started googling it and the idea grew on me.
In a bus, I'd be able to take the kids on adventures all around Australia.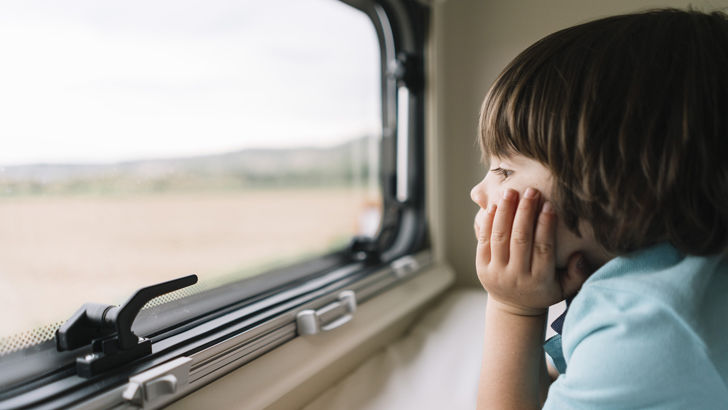 After a bit of digging I found one for sale on Gumtree that was already converted. The boys and I went to see it.
"It's so old!" Ollie remarked.
It was a bit dated but I could immediately see past that. It just needed a bit of love.
Family members kindly loaned me the $28,000 I needed to buy it and I parked it outside my parents' home in Pinjarra, WA.
Mum, Dad and I worked tirelessly each evening and on weekends to get it ready over the summer holidays.
I wanted to move in before the kids started school.
We finished it in the nick of time and I drove it over to the same campsite where my friend lived.
On the first night, I hardly slept. Have I done the right thing? I worried.
But the boys were so excited. They couldn't wait to tell their friends that we now lived in a bus. And I soon found out it was the best thing to happen to our little family.
I'm less stressed because my bills have come down so much. I just need to pay the fees for the campsite which are $245 a week and includes electricity and water.
The boys are in heaven because they have a pool and playpark on tap.
Every afternoon they can run off to play with their friends without me having to check on them all the time.
I thought I'd find it cramped, but I don't. We've even survived our first winter here without hiccup.
We've had to get rid of a lot of our "stuff" to adapt to life on the bus but I think that's healthy. An uncluttered home makes for an uncluttered mind.
We haven't taken the bus on a trip yet but one day we will.
For now we're enjoying the freedom living on a bus affords us.
I only wish I'd done it sooner.
As told to Candice Habershon. First published in Take 5.
Get stories like this in our newsletters.