The sorry tale of the ASX top 10 highlights an important lesson
The blue chips in the ASX top 10 have proved to be a resilient bunch, even despite this week's sell-off.
In the 12 years since the GFC, six of the top 10 stocks are still there and Westfield only disappeared after a series of restructures and a takeover.
Apart from CSL, the top 10's share prices have barely budged and in some cases, they've dropped like anchors.
Shareholders may have done much better being invested in smaller sized companies where there is more room for growth.
In this same period, the S&P/ASX 200 Accumulation Index (which includes dividends) has increased about 5.5% p.a.
Yet over the same period the MVIS Australia Equal Weight Index, which equally weights its constituents (so has less exposure to the top 10), returned 6.5% p.a.
Over 12 years, 1% p.a. compounded can be significant and the above indicates there was more growth in stocks outside the top 10 while the prices of some of Australia's largest companies went backwards or stagnated.
Take National Australia Bank for example. NAB's current share price around $28 pales in comparison to its pre-GFC glory, when its price hit $41 late in 2007. It was $25 eleven years ago in August 2008.
Now with NAB and the big four banks generally facing significant earnings challenges - as demand for mortgages drops with the housing market correction - NAB's share price may struggle to get above $30.
Telstra too has been a nightmare for some shareholders and currently sits below its 2008 levels. As the telco hovers under $4, shareholders might be wondering if it will ever increase above that.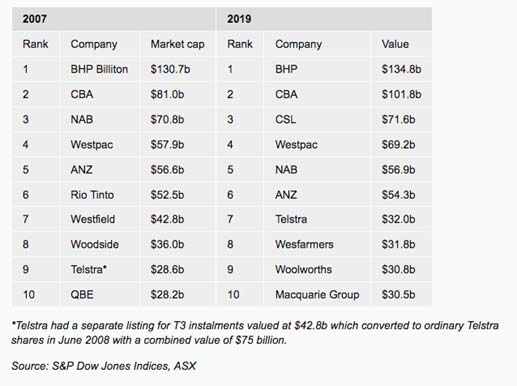 Its turn of the century high around $8 is a distant memory and shareholders who bought just before the GFC in August 2008 when it was around $4.20 will be hoping to celebrate getting even.
There can be no other reason for a party.
Another reason for heartburn could be Woodside, which traded at a lofty high of $65 in June 2008, just before the GFC washout. It's now trading at half that value around $33.
With a global rush towards renewable energy, Woodside may limp over $40 - or it might not.
While liquefied natural gas (LNG) may benefit, clearly WPL's major export, oil, won't benefit from a movement towards greener energy as climate change forces change in oil-hungry energy habits.
As for the big Australian, BHP Billiton, shareholders have fared better. They've just broken even at around $37, and recently jumped over $40, up from their $36 level in August 2008.
BHP shares have jumped this year, spurred on by a dam disaster in Brazil which ironically led to higher iron ore prices due to reduced supply.
But as iron ore supply resumes, and a global economic slowdown takes hold, BHP's days above $40 could be limited.
The exception to top 10 lacklustre performance has been CSL. In August 2015 it was the 15th largest stock on ASX. CSL is now Australia's third largest company.
In August 2008, it was $41. Now, it's quoted at around $217 and shareholders have enjoyed a substantial windfall. But it has been the exception and 12 years ago it was outside the top 10.
This all highlights the importance of avoiding concentration risks and being diversified beyond the ASX top 10.
While no one knows which stocks will be star performers in the future, statistical analysis has shown that the over the longer term, the strongest gainers are usually not the mega-caps.
That's why it is wise to hold a portfolio that is well-diversified from both size and sector perspectives.
It's also why an ETF that tracks a well-designed equal weight index will deliver diversification.
Funds indexed to the S&P/ASX 200 will be over-exposed to the returns of the companies in the top 10, which because of their size dominate returns.
VanEck currently offers the VanEck Vectors Australian Equal Weight ETF (ASX: MVW).
Get stories like this in our newsletters.