Tax office targeting crypto investors this tax time
Crypto in tax office crosshairs, one city tops investors' pick for 2022, and a surprise bank tops customer satisfaction scores. Here are five things you may have missed this week.
ATO names top tax time priorities
With just weeks remaining until the 2021/22 financial year wraps up, the Australian Taxation Office (ATO) has announced four key focus areas for tax time 2022.
This year the tax man will shine a spotlight on:
record-keeping
work-related expenses
rental property income and deductions, and
capital gains from crypto assets, property, and shares.
Tax Office Assistant Commissioner Tim Loh explains, "The ATO is targeting problem areas where we see people making mistakes."
The ATO is warning that tax payers who disposed of an asset such as property, shares, or a crypto asset, including non-fungible tokens (NFTs) this financial year, will need to record the capital gain or loss in their tax return.
"Crypto is a popular type of asset and we expect to see more capital gains or capital losses reported in tax returns this year," says Loh.
He adds a note of caution that crypto losses cannot be offset against wage and salary income.
In a reminder of the ATO's formidable data collection capabilities, Loh points out, "We know many Aussies are buying, selling or exchanging digital coins and assets, so it's important people understand what this means for their tax obligations."
You have been warned.
Perth takes top spot as preferred city for investors
A national survey by property advisory firm Momentum Wealth confirms two in five (40%) "active" investors - those planning to buy a property in the next 12 months, have their sights set on Perth, making it the go-to city for investors in 2022.
Brisbane ranked in second place, with one in three (32%) active investors planning to buy a property in the Queensland capital.
The annual survey found investors are cooling on Australia's two largest cities, Sydney and Melbourne, which attracted just 11% and 7% of the vote respectively.
Momentum's survey reflects similar findings to NAB's Residential Property Survey, with WA voted by property professionals as the leading state for housing market confidence in the next 12 months, while sentiment was lowest in Victoria.Affordability was the key point of appeal of both Perth and Brisbane. One in five investors who favoured Brisbane, said the city hosting the 2032 Olympic Games was behind their preference.
Small banks score highest customer satisfaction ratings
The big four banks may dominate Australia's financial market, but the latest Roy Morgan survey shows it is the smaller banks that come up trumps for customer satisfaction.
Bendigo Bank took out the top spot for satisfaction, achieving what Roy Morgan described as an "excellent" score of 91.2% among its home loan customers.
ING (89.6%) and Macquarie (86.4%) rounded out the top three.
The Commonwealth Bank scored highest (77.8%) among the big four banks though none of the majors made the top five.
Customer satisfaction ratings of home loan banking customers - March 2021-22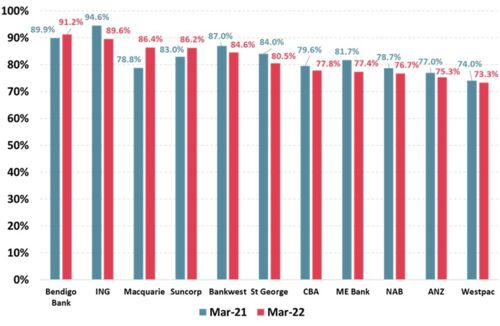 Vale 86 400
"Smart" bank 86 400 - so named for the number of seconds in a day, has called time on being an entity in its own right.
After being acquired by NAB in 2021, the fintech lender has now fully merged with NAB's digital arm - Ubank.
In the very slightest of brand tweaks, the newly combined bank is known as ubank (lower case 'u' in case you didn't spot the difference).
Online enquiries to the 86 400 website now automatically default to ubank.
The benefit for consumers is that 86 400 has always had a strong broker network, while Ubank did not.
It means a low rate online loan available through the newly formed ubank should now be an option through over 8,000 mortgage brokers.
CBA launches Kit money app for kids
A 2020 review by investment regulator ASIC delivered a far from glowing endorsement of school banking programs.
ASIC described young children as "vulnerable consumers" who are "exposed to sophisticated advertising and marketing tactics by school banking program providers".
As a result, school banking is no longer supported in a number of states including NSW and Victoria.
The review ultimately led to the Commonwealth Bank ditching its long-running Dollarmites school banking program.
This week, however, the Commonwealth Bank launched Kit, a money app and digital information tool for kids, aimed at helping them learn about money, how to save, how to budget and how to manage their spending.
The idea is that with their own Kit account and prepaid card, youngsters can manage their earnings (presumably pocket money), saving, and spending through what CommBank describes as "fun, experiential learning".
Parents can set spending limits and PIN protections, which can be tailored to each child in the family.
Get stories like this in our newsletters.