How to keep your money safe while travelling
The airline tickets are booked, accommodation is sorted - now it's time to think about how you'll pay for everything while travelling.
If you're jet-setting internationally it always makes sense to carry a small amount of local currency but it's unwise to carry large sums, especially as travel insurance may only cover you for a limited amount if your wallet is lost or stolen.
Traveller's cheques were once a widely used form of travel money but they're going the way of the dinosaur, says Finder. Thankfully there are still plenty of travel money options that combine wide acceptance, security and convenience.
We've got all the travel tips you'll need this summer, from phone bills to accessing your cash overseas! #9Today https://t.co/kNIjVHCWMu

- The Today Show (@TheTodayShow) November 3, 2016
The best option will depend on your holiday destination as well as how you plan to use the card, says Finder. Prepaid travel cards, credit cards and debit cards all have their uses but the differences lie in their features and fees.
The key is to maximise features while minimising unwanted costs, and a simple way to do this is by mixing and matching the options to enjoy the best of all worlds.
BEST TRAVEL TRANSACTION ACCOUNTS

An everyday bank account should form the central hub of your holiday finances. A good account will provide as much value while you're travelling as it does here in Australia.
"As transaction accounts are your go-to everyday banking product, it's important you can use the account as needed without being charged through the nose for doing so," says Bessie Hassan, money expert at Finder.
"When using your account's debit card overseas, for example, you should be able to access your money for the lowest cost per withdrawal."
Most transaction accounts come with a free debit card - look for Visa or MasterCard branded cards, which are widely accepted at ATMs and through EFTPOS globally. High fees can apply when using an ATM outside Australia, and this is an important point of difference with our winner in this category - the Citibank Plus Transaction Account.
As a global bank with an international customer base it stands to reason that Citibank offers a good deal for travellers. "Citibank Plus charges zero account fees and transaction fees, and here in Australia Citibank Plus account holders can access any Citibank, Westpac, St.George, Bank of Melbourne or BankSA ATM free of charge," says Janine Copelin, head of retail at Citibank. "While you're travelling you'll pay zero Citibank fees for using any overseas ATM or making in-store transactions, and enjoy free, instant money transfers to Citibank accounts, in selected countries, via Citibank Global Transfers."
As a bonus, if you're celebrating the start (or commiserating the end) of your vacation, Citibank's Dining Program entitles you to a free bottle of wine when you dine at a Citibank partner restaurant here in Australia and pay with a Citibank Plus Account Visa debit card.
BEST TRAVEL CREDIT CARD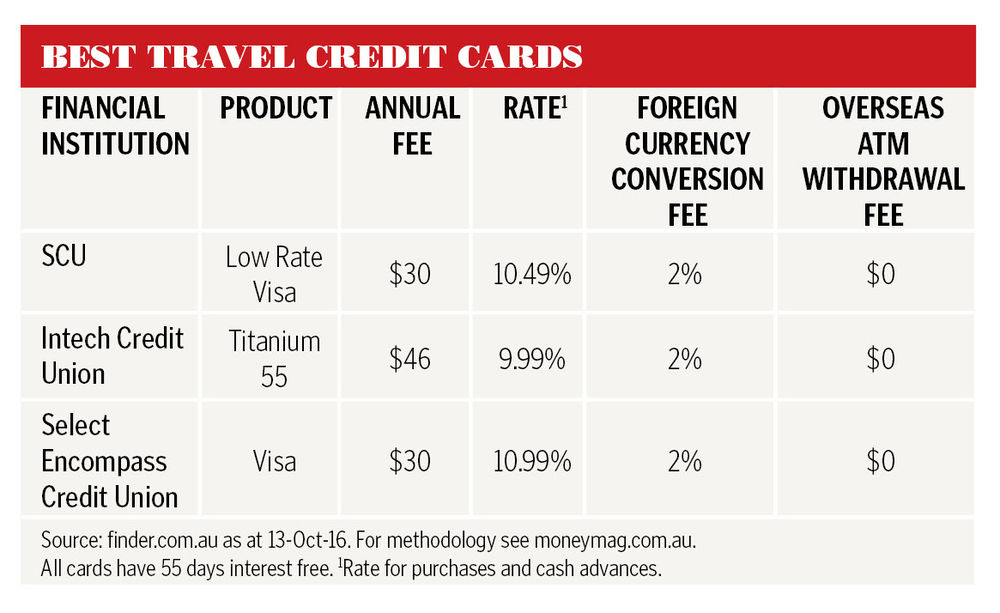 A credit card isn't just a handy back-up for travellers. It can also let you make big-ticket buys, so if you fall in love with a diamond ring in Paris you're free to take advantage of that once-in-a-lifetime opportunity.
Nonetheless it's important to look for a card that won't add unwanted fees to your holiday purchases.
"Overseas ATM fees are less of an issue for credit cards as most people will use a transaction account or travel card for cash withdrawals," says Finder's Bessie Hassan. Instead, she recommends focusing on a card's foreign currency conversion fee - that's the fee the card issuer charges above the daily exchange rate.
Of course, the basics still apply. It makes financial sense to look for a card with a low rate and low annual fees.
SCU's Low Rate Visa credit card ticks plenty of boxes with an annual fee of $30 and a purchase rate of 10.49%, which also applies to cash advances - handy if you run out of the folding stuff while overseas. With the backing of Visa, the SCU card is accepted at over 24 million locations worldwide, and the currency conversion rate is just 2%.
BEST TRAVEL MONEY CARD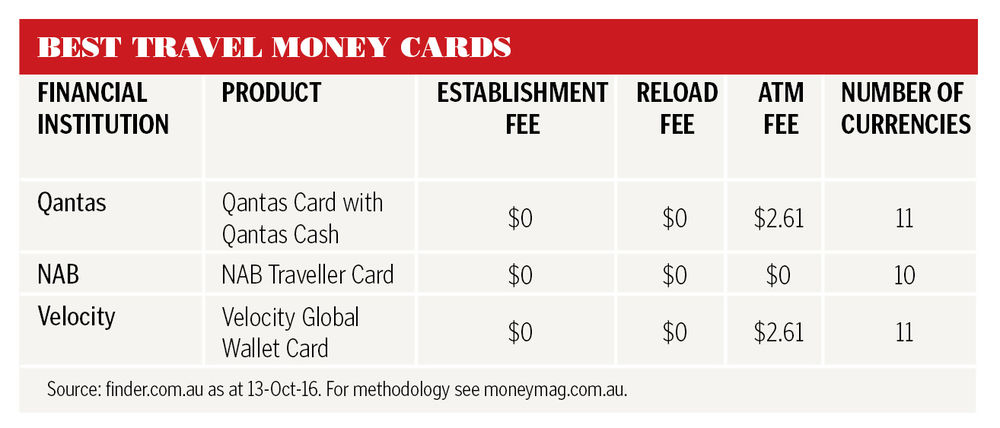 Prepaid money cards have become the must-have for travellers. The idea is that you load the card with foreign currency before heading off, locking in the exchange rate without the expense of currency conversion fees while you're overseas.
Most cards can be loaded with multiple currencies. Even better, the pre-loaded funds are normally treated as a single pool of cash so if you run out of one currency part of the balance can usually be converted into the currency you need - though at the cost of a conversion fee. The card can normally be topped up while you're travelling using BPAY or electronic funds transfer.
Travel cards are a standalone product and while this offers travellers the freedom to select a card from any provider the balance on the card won't earn interest.
"The most important feature of any travel card is the ability to withdraw funds at a low rate while overseas and still be sure you're getting a good exchange rate," says Finder's Bessie Hassan. The only way to know if you're getting a decent exchange rate is by trawling the websites of card providers. Finder has done the hard yards and found Qantas Cash comes up trumps.
The Qantas card has a number of pluses. It can be loaded with 11 currencies at any time and can be used at millions of locations worldwide. It costs nothing to purchase the card whereas some providers charge an establishment fee of $15 or more. And if you're not already a Qantas Frequent Flyer member, applying for the
Cash card provides automatic membership - a saving of $89.50 on the regular joining fee.
Qantas Loyalty CEO Lesley Grant points out the benefits: "Qantas Cash rewards people with Qantas points when they spend in Australia and overseas, helping them increase their points balance and get a step closer to their next holiday before they've even arrived home. Being rewarded for your purchases makes the post-holiday blues a bit easier to manage."
BEST GLOBAL ROAMING SERVICE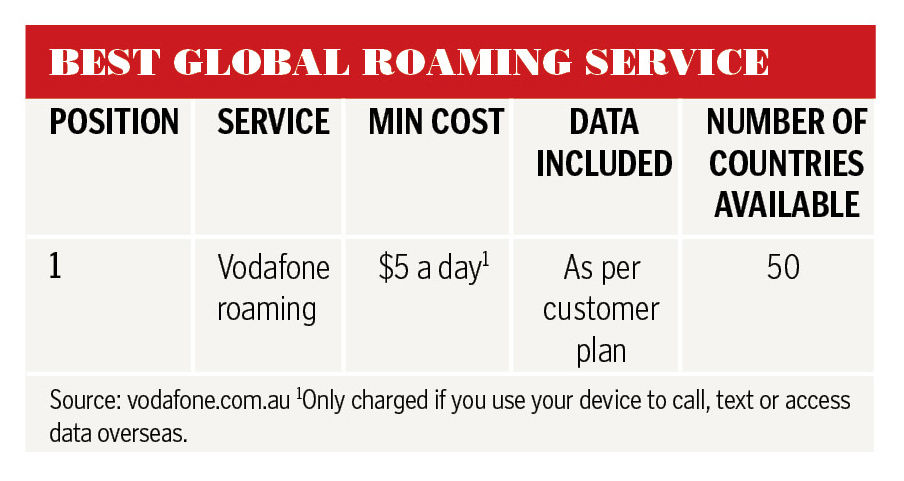 Swapping your current SIM with a SIM you pick up at your destination can provide big savings on data. The downside is that you'll have to switch SIMs for each country you visit, which can soon become tedious if you're travelling to multiple destinations.
An easier and potentially more budget-friendly alternative is offered by our winner in this category, Maxroam's global 1GB plan, which costs €45 (around $70) for 1GB of data over 30 days.
To use Maxroam simply replace your ordinary SIM with a Maxroam SIM while overseas. It lets you roam making and receiving calls, sending texts and accessing the internet and emails - all with the same SIM. Your account is managed online so you can recharge with a credit card at any time, and if you're worried about missing calls while you're away, forward your usual mobile number to your Maxroam SIM.
"Data is the key requirement for most roaming travellers, and at $7/100MB, this is the cheapest general purpose bundle we could find," says Finder's Hassan. "Maxroam's rates for SMS and calls are also competitive across the major regions we looked at - New Zealand, South-East Asia, US and Europe.
"There are no particularly close competitors for Maxroam for a multi-country SIM in terms of general data rates so no runner-up places were awarded."
According to the Maxroam website, the Maxroam SIM is compatible with most unlocked regular or micro SIM handsets, smartphones, laptops and tablets, including the Apple iPhone 4 and 4S. Nano SIMs are available for the iPhone 5 and iPad Mini. Your phone needs to be unlocked and generally less than five years old to use Maxroam.
BEST INTERNATIONAL TRAVEL INSURANCE - FAMILY
If you're taking children overseas, having travel insurance is essential. Kids can be more prone to picking up bugs, copping a few scrapes or misplacing costly items like iPads.
The good news is that family cover doesn't have to break the holiday budget.
Our winner, Tick Travel Insurance, provides free cover for any child or dependent (under 18), including grandchildren and foster children, travelling with their parent or grandparent. So they receive the same level of cover as you at no extra cost.
BEST INTERNATIONAL TRAVEL INSURANCE - FAMILY, MULTI-TRIP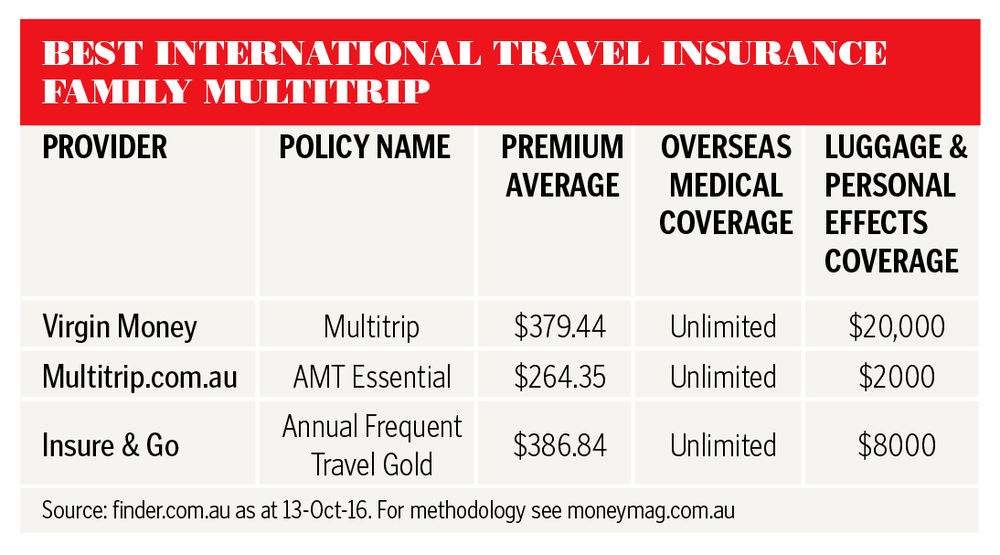 Part of the appeal of multitrip travel cover for families is the freedom to take advantage of cheap getaways when they arise without having to organise separate cover each time.
Our winner, Virgin Money's family, multitrip insurance provides cover for domestic and overseas travel, and the policy can be tailored to maximum trips of 15, 30 or 45 days. You only pay for regions you plan to visit but cover is adjustable if your travel plans change.
It's very budget-friendly for families.
Chris Sozou, general manager, wealth and insurances, at Virgin Money, says: "Two adults plus 10 dependants can be covered by the same policy, and as long as the dependants are under 25 years old they are included at no additional cost.
"Our family cover includes unlimited cover for overseas emergency assistance, overseas emergency medical expenses and cancellation fees coupled with $20,000 worth of cover for lost luggage and personal effects."
For all the winners in Money's inaugural Travel Awards, pick up the November issue.
Get stories like this in our newsletters.