Falling new car sales to drive down ARB Corporation's profits
We wondered when the sagging new vehicle market would hit ARB's bottom line. We now have our answer, and perhaps an opportunity.
ARB's track record is under threat. Earnings have grown every year since the leading manufacturer and distributer of 4WD accessories listed in 1987 but, in spite of continued sales growth this year, management's outlook at yesterday's general meeting was for profit in the first half to fall.
Unless the company can pull off a cracking second half, ARB's incredible streak will be broken.
The cause? A sagging new-vehicle market. The September quarter was particularly horrible; new vehicle sales fell 6.7%.
Compounding the issue is a weakening Aussie dollar, which helps ARB's exports but is offset by the increased cost of its Thai-based workforce. Overall, profit margins are down and growth is sluggish.
Twelve months ago, ARB looked invincible. Now it's finally being priced as if it's mortal.
It's not all bad, though. The international business is likely to pick up the slack over time.
Management noted that the company is taking market share abroad and is growing quickly in all key markets (North America, Europe, the Middle East and Asia).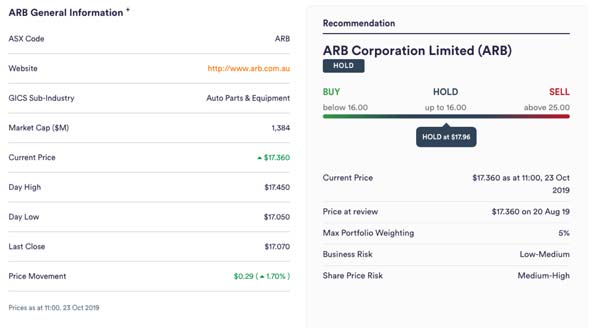 And ARB has just completed the construction of its new Thai warehouse. This will help reduce shipping and manufacturing costs and increase production capacity.
The company is investing heavily in the next generation of products and has a number of marketing initiatives up its sleeve. The completion of 15 new flagship stores over the last three years, all with reinvigorated layouts, will no doubt help.
With a fortress balance sheet, a leading brand, great management and scale advantages, ARB remains a business we'd love to own.
Given the market is worried about factors that are likely to prove temporary, we might just get our chance.
The stock trades on a next-year earnings multiple of about 24 and sits a smidge above our Buy price. We'll provide a more detailed review should a further fall prompt an official upgrade but until then, ARB remains a HOLD.
Get stories like this in our newsletters.