Aussies lose $2.6 million to 'Hi Mum' scams
Aussies hustle to boost income while CEOs earn millions, 'Hi mum' scam rakes in $2.6 million, and Tesla splits shares three for one. Here are five things you may have missed this week.
"Hi Mum" scam sees crims pocket $2.6 million
Warnings about the latest "Hi Mum" scam have been doing the rounds of social media.
But that hasn't stopped 1500 Australians being duped, with reported losses of $2.6 million.
Victims of these scams are contacted, usually through WhatsApp, with a message that begins with 'Hi mum, it's your oldest child'.
The scammer claims to have lost or damaged their phone and is making contact from a new number. After building a rapport, the scammer asks for money.
ACCC Deputy Chair Delia Rickard, says, "We have seen an explosion in the number of 'Hi Mum' scams in the past couple of months."
Women aged over 55 have been hardest hit, making up two-thirds of the victims of these 'family impersonation' scams.
Rickard is cautioning Australians to be wary of messages from unknown numbers claiming to be from someone you know.
"If you're contacted by someone claiming to be your son, daughter, relative or friend, start by calling them on the number already stored in your phone to confirm if it's no longer in use. If they pick up - you know it's a scam," says Rickard.
7 million Australians hustle for extra cash while CEOs make millions
Flatlining wages and rising living costs are seeing one in three (34%) Australians, equal to 6.8 million people, hustle to boost their incomes.
The most popular strategy - taken by 14% of income-seekers in the last three months, is selling off personal belongings like clothes and furniture according to Finder.
Close to one in 10 have taken on a second job, and a similar proportion have started a side gig.
Relief could be in sight, with a survey by recruitment firm Robert Half showing 96% of business leaders are increasing their salary budgets this financial year - by an average of 20%.
But it's unlikely to close the gap between bosses and workers.
A report by the Australian Services Union found the CEOs of Australia's top 100 listed companies now earn about 100 times average adult earnings.
To put this in perspective, the yellow bubble in the image below represents the yearly income for the average worker: $69,000, which is dwarfed by the $9.15 million average annual pay for an Australian CEO.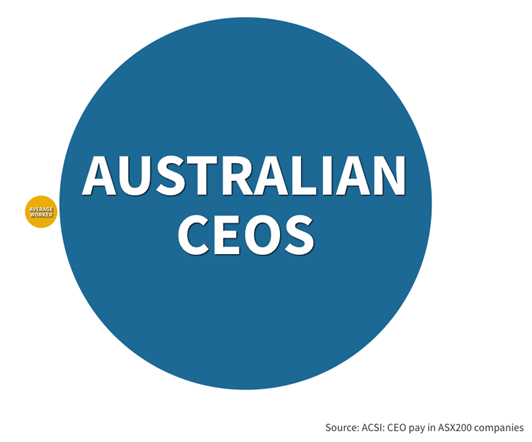 Tesla splits shares
Elon Musk's company Tesla has just conducted a three-for-one share split.
It means that for every share Tesla investors own, they now have an additional two shares.
A stock split doesn't impact a company's financial performance, but it can make the shares more affordable, encouraging retail investors and employees to buy in.
Tesla isn't alone in splitting shares. Other market heavyweights that have taken the chop to their shares this year include Amazon and Alphabet, which owns Google.
A NASDAQ study found share splits aren't necessarily a bad thing. A stock's value can rise 2.5% after announcing a split, and may still be 5% higher 12 months later.
Interested Aussie investors can buy Tesla shares directly through brokers offering access to overseas markets.
A number of exchange traded funds listed on the Aussie sharemarket also provide access to Tesla including general equity funds such as Vanguard's MSCI Index International Shares ETF (ASX: VGS), and specialist funds like the ETFS Battery Tech & Lithium ETF (ASX: ACDC).
The big date shoppers are saving for
As we head into spring, consumers could be inclined to spend less - for a few weeks at least.
A survey by Power Retail found 77% of Australian shoppers are deliberately holding off spending until the online sales kick off. And the main event that three out of five (58%) people are saving for is Black Friday.
This US-inspired sales extravaganza launches in Australia on Friday 25 November, with Monday 28 November being Cyber Monday when the bargains go online.
The Boxing Day sales - once the peak event of a bargain hunter's calendar, appear to have lost their lustre. Just 40% of shoppers say they are saving for the post-Christmas sales.
The $3.6 billion cost of dodgy advice
The misconduct in financial advice gravy train has (hopefully) come to an end, with ASIC reporting that six of Australia's largest financial institutions have paid or offered to pay a total of $3.6 billion in compensation to customers left out of pocket by non-compliant or non-existent advice.
AMP, ANZ, CBA, Macquarie, NAB and Westpac have all undertaken remediation programs to compensate affected customers. However, the scale of past misconduct is mind-boggling.
As the table below shows, more than 1.4 million Australians have been eligible for compensation, with a further 11,000 compensated for non-compliant advice.