The Australian share sectors that pay the best dividends
At a time when investors are hunting for income, you need to make sure you are in the right dividend-paying sectors on the sharemarket.
Watch out if you want income from health care or technology shares. You won't receive much in the way of dividends. Health care pays a yield of 1.7%pa while information technology pays around 1.9%.
This is significantly below what you will receive from the financial sector, which averages 5.6%, and utilities, which pay 5.2%.
The third biggest dividend-paying sector is materials, which hands out an average dividend of 4.6%pa.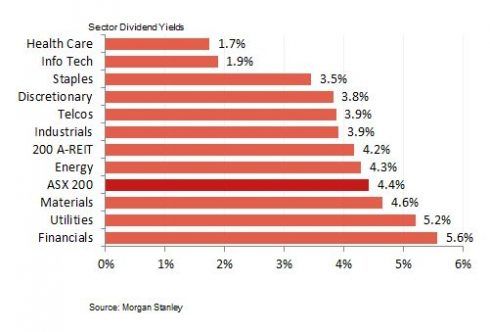 Of course, you don't have to buy sectors or individual shares to benefit from dividends.
If you buy the market through a broad-based index fund or exchange traded fund that follows an index such as the S&P/ASX 200 you can expect a healthy yield of around 4.4%pa.
The Australian sharemarket is one of the highest dividend payers in the world.
But as investors chase yield they push up share prices and Jun Bei Liu, portfolio manager of Tribeca Investment Partners, says currently the Australian sharemarket is the second most expensive in the world.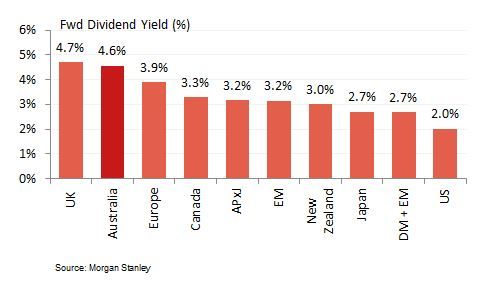 Commodity companies have helped Australian dividends grow by 5.4% in the first quarter of 2019, according to the Janus Henderson global dividend report.
While Telstra cut its dividend and Commonwealth Bank kept its payout flat, Woodside Petroleum restored its dividend after a couple of challenging years.
BHP's big special dividend and its franking credit also gave a big boost to Australian dividends.
BHP paid the second highest dividend globally for the first quarter this year, behind the global health care company Novartis. Commonwealth Bank was the seventh biggest globally.
Liu expects the Australian sharemarket to head higher in the second half of the year on the back of lower interest rates, stabilisation of housing prices, tax cuts, political stability and strong dividends - "notwithstanding expected heightened volatility around the August reporting season, when we expect to see price downside for many sectors as consensus expectations will be rebased on rich earnings multiples."
Liu says that those price weaknesses will provide buying opportunities for investors.
However, she is cautious about buying domestic cyclical shares, particularly after the strong rally going into the reporting season.
"US earners and resources are preferred as they are underpinned by strong earnings momentum."
Get stories like this in our newsletters.