Beyond Meat's share price is beefing up: is it a solid investment?
The name may sound a bit gimmicky - Beyond Meat (BYND: NASDAQ). You may even say it sounds a bit faddish amid the rising chatter about plant-based food.
However, if you suspend cynicism and look at some hard facts about the changing food preference and eating habits of people around the world, you can see why this maker of plant-based meat substitutes is attracting a lot of attention from investors.
Let's start with BYND's share price.
Within three months of the company's initial public offering on May 2, 2019, when it first traded at US$46, surging prices saw the stock hit a high of US$234.90 by late July. However, in the following months, investors lost their appetite for BYND and prices had tumbled back into the mid-US$70s by November and December.
After a period of consolidation at these levels, a surge in demand in January saw the stock lift back toward the US$130 level. As with many stocks around the world, the COVID-19 pandemic saw prices retreat again in March. Since then, however, renewed investor interest has pushed prices well above the January highs, with the stock probing back above US$160 in June.
While it has been a volatile 14 months of trading for BYND, gains achieved since mid-March have displayed a steadier series of higher highs and higher lows. This upward trend is supported by generally higher volumes of trading activity in the stock, suggesting that investor support has strengthened.
What is Beyond Meat and what does it do?
Founded in 2009 by vegetarian entrepreneur Ethan Brown, Beyond Meat describes what they do as a producer of plant-based meat substitutes. The company's products are designed to simulate the taste and texture of chicken, beef, and pork sausage.
It still counts the US as its primary and biggest market where meat-like products are sold in groceries, restaurant chains, stadiums, school cafeterias and other big venues.
Recently, the company has expanded in the Netherlands with two new facilities to produce beef alternative products. This will help Beyond Meat widen its reach in the European market.
The company has also announced a partnership agreement which will distribute its plant-based products to restaurants, hotels and wholesalers across China.
Impact of COVID-19
While Beyond Meat's restaurant business was affected by the COVID-19 pandemic - with restaurants and cafes closed in lockdown - the company still saw a 156% rise in U.S. sales in the foodservice segment, according to recent company figures.
Some industry analysts also noted that while many restaurants are struggling to keep their businesses afloat due to lockdowns, supermarkets and grocery stores are reporting strong demand for vegan and plant-based food products from people forced to stay home due to mobility restrictions. This is a definite plus for Beyond Meat's food sales.
Isn't this (plant-based food) just another fad?
You could be forgiven if you think this is one of those weight-loss diet fads that will fade in a matter of a few years. However, sources in the plant-based food industry believe otherwise.
Caroline Bushnell, a director at The Good Food Institute in the US said: "We see a steady rise in plant-based products year-on-year across regions, which indicates that this is not a bubble or a fad. What we are seeing is a real change in consumer behaviour."
Julie Emmett, a senior director at the Plant-Based Food Association (PBFA) also shared the same view. She said: "Over the last two years we saw plant-based foods as a growth engine. And that growth is fuelled by innovation in categories across the store, with retailers responding by expanding shelf space to satisfy the rapidly growing consumer base seeking more plant-based foods."
Some industry observers and analysts also highlighted that Beyond Meat itself grew product sales 190% year-over-year for the first quarter of 2020. Sales reached a peak of over 233% year-over-year during the stockpiling craze in March.
How big is the plant-based food industry?
Whether it will be another fad or not, only time will tell. But looking at some numbers, it is quite difficult to ignore the growth of this food sector.
Here are some numbers to chew on:
The U.S. market for plant-based foods hit the $5 billion mark in 2019, with year-over-year sales growth of 11.4%, according to statistics released by the Plant Based Foods Association (PBFA) and The Good Food Institute
Meat substitutes accounted for US$939 million sales in 2019 to rank among the top 10 largest plant-based food category
Refrigerated plant-based meat recorded sales growth of 63% in 2019
A recent industry report from BIS Research estimated that plant-based food market will reach US$480.43 billion by 2024
A report by Nestle showed that 87% of Americans are now including plant-based protein in their diets, which will drive further growth in this segment
Top restaurants serve plant-based fare
Another key driver in the growth of plant-based food is the restaurant chains that are either launching their own non-meat products or tapping into existing plant-based food manufacturers.
For example, some of the big-name fast-food chains in the US and Canada (including Burger King, The Impossible Burger, Tim Hortons and TGI Friday) are now serving plant-based patties.
A recent survey of fast-food restaurants in the US showed that sales of plant-based burger patties were up 10% from last year. An estimated 228 million servings in total. Encouragingly, the numbers are still rising.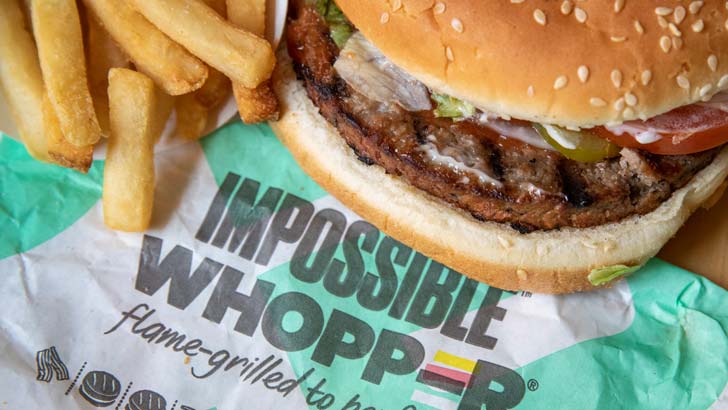 What are analysts saying about Beyond Meat?
The impressive rebound in Beyond Meat's share price has caught the attention of industry analysts who have been revising their price targets.
An analyst from Credit Suisse is the latest to upgrade his price target for BYND by a massive 71%, from US$90 to US$154 a share.
Some industry analysts also cited BYND's upcoming offering - value packs of 10 patties at a reduced price - as another driver for sales and market share. The value packs are expected to narrow the price gap with traditional beef patties.
One analyst tracking BYND recently commented: "Beyond Meat represents a unique growth opportunity due to its vast addressable market and rapidly developing brand and scale."
What's the outlook for plant-based food?
There's no doubt that plant-based food is gaining momentum across the world. With the COVID-19 pandemic forcing people to rethink their health and food sources, industry observers are keen to point out that this will be part of the new normal.
Though it may take a few years to become part of the mainstream food industry (in the way of organic food) there are signs that the big players - e.g. food manufacturers, restaurant chains and institutional investors - are taking notice and putting their money where their mouths are.
When you see the likes of Bill Gates and Tyson Foods (some of the initial investors in BYND) investing in a company, chances are there must be some meaty growth ahead.
Conclusion
Despite the corrective retreat in early March due to the COVID-19 virus and the ensuing global lockdown, we have since seen BYND's share price on a sustained recovery path. Given rising demand bolstered by changing consumer eating habits which seem to favour non-meat-based products, we believe BYND is a buy.
Get stories like this in our newsletters.