Coins, cars and crazes: meet the Aussies with a passion for collecting
In 1985, JR Walker, a real estate agent in Townsville, found himself in the Supreme Court. Years earlier, he'd forked out $3000 for an angora goat with reproductive potential.
Not wanting to see a good thing go to waste, he spent a further $2000 for a number of high-quality bucks to service the goat, which was in Victoria. He researched widely, joined his local Angora Goat Society and kept records of his income and expenses.
The operation ended up producing four offspring, which Walker promptly sold off for a loss. He then claimed his expenses against his regular taxable income as a real estate agent.
The tax department rejected the write-off, claiming Walker fit the definition of an investor, not a primary producer. The court decided otherwise and awarded Walker his tax deductions.
The case shows how little it takes to fit the definition of a business - even if the tax office doesn't think so. So understanding the fine line between a hobby and business or side hustle should be well understood by collectors looking to turn pro.
Even the most benign of activities, such as making pocket change at the Sunday market, can be considered a business in the eyes of the taxation office.
If you answer "yes" to any of the following questions, chances are you're running a small business:
Is your activity being undertaken for commercial reasons?
Do you undertake it to make a profit?
Do you regularly and repeatedly undertake your activity?
Is it planned, organised and carried out in a business-like manner?
If this is the case, you'll need to register an Australian business number (ABN) and declare your earnings through a tax return. It's not all bad news, though. As with any business, you can claim the cost deductions against the income.
If the business has revenue of $75,000 or more, you'll need to pay goods and services tax (GST) of 10%. There are some goods and services, and exports, that are GST-free. However, you can still claim GST credits on any purchases used to make your GST-free sales. The GST amounts that are reported, and their credits claimed, need to be lodged through a business activity statement (BAS) or an annual GST return.
Making money
Many hobbies that become businesses start life as collections. It's the increased trade of them - for profit - that begins to satisfy the definition of a business.
The monetary value of a collection is also often a direct reflection of the social and demographic trends of the time. One of the current lifestyle shifts is towards minimalism, which on face value might seem like an oxymoron when you're talking about "collections".
Martin Farrah, from Lawsons, an auction house in Sydney, says buyers have turned away from things that make up "clutter".
"Gone are the days of display cabinets full of collectibles," says Farrah. This means porcelain and glassware have fallen out of favour. Everyone 30 or 60 years ago would get Royal Doulton dinner sets or tea sets for their weddings, but these things are out of vogue, especially if they're overly decorative."
Victorian sideboards are also out. While they used to fetch upwards of $10,000, Farrah says sellers are now lucky to get $100 for them.
On the other hand, there's been a surge in anything made of gold, with some people even melting it down to capitalise on the higher gold price.
The growth of the Chinese middle-class has also driven up the price on cultural items. "They're intent on buying back their heritage, so there's been a big shift up in the price of Chinese ceramics," says Farrah.
Then there's artwork - the mainstay of any auction house. Pieces by Australian artists Brett Whiteley, John Olsen and Jeffrey Smart are a sure bet.
Coin collectors
Like cars, coin and note collections often start in humble places. Financial motivations come later, if at all.
"It all started with my kids, who I used to mint a coin with every year," says Wayne Corbin, president of the ACT and District Coin Club.
For Julie, a collector from the Snowy Mountains, the stories and themes that define different coins have served as a vehicle for learning about Australian history. "You could say I learned about history through coins," she says.
Coin and note collectors fall into one of three categories: long-term investors, short-term resellers and those who just love coins.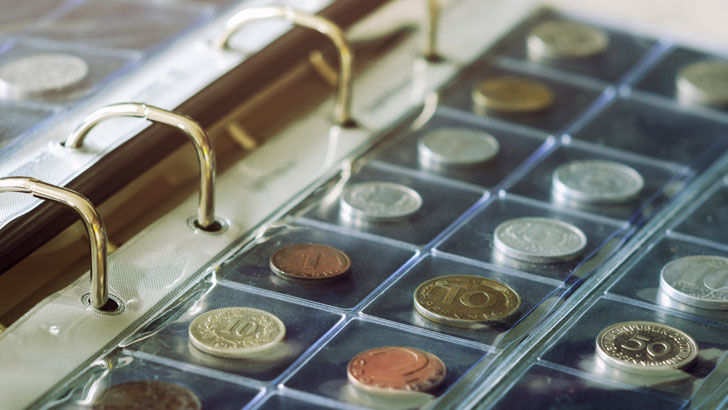 The windfalls can be large, but you have to tap into the market to realise them. That means joining clubs and going to swap meets and release events at the mint. Not only can this help you find buyers, but also educate you so you're not short-changed when it comes time to sell.
Corbin once bought a note for $8000, which he sold a few years later for more than $80,000, while Julie paid $140 for a roll of rare coins she flipped six years later for $2600.
The future of coin and note collecting is uncertain, however, as it is threatened by the rise of the cashless society.
"It will boost the value, but it won't generate new interest in collecting," says Julie. "Kids won't be motivated to collect something they don't know about."
Driven by yesteryear
In the world of classic cars, nostalgia is the driver of demand. "All old cars eventually find a fan base," says auto writer and classic car collector Byron Mathioudakis. He collects as a hobby.
"It's just a matter of identifying [the right car]. Most classic car collectors have a passion for something, but I just like all cars. They don't have to be typical classics. Eventually all classic cars find a home and rise in value."
Byron steers clear of the kinds of exotics that spring to mind when you think of classic cars, instead opting for odd models that pull at his heartstrings and take him back to a bygone era.
"I like cars under $5000 that are built from the '70s to the '80s and they haven't quite hit critical mass. Often they're cars that weren't popular back in the day."
For example, in the '80s, the Datsun Bluebird was not considered a car you'd typically drive to show off. You could pick one up just a few years ago for $500. Today a good example can fetch $5000.
"They represent a longing for an easier, simpler time of life," says Mathioudakis.
However, buying and selling isn't for the uninitiated. Mathioudakis says knowledge is essential to predict a car's future popularity, and also how much it may cost to restore. "Speak to mechanics, join car clubs and go to swap meets," he says.
If restoring, original parts are always the way to go.
"They're designed specifically for the car but also add value because it shows you care enough to pamper it and give it the best servicing possible," he says.
Then there's the matter of storage. Mathioudakis has a novel solution for the 15 cars he owns.
"I loan them out to friends and family quid pro quo. I get free storage and they get to use a great old car."
Time to offload
Liquidity is a mainstay of investing parlance. It's all about how easily you can sell and move an asset. Liquid investments or collections are easy to sell. By contrast, illiquid collections are difficult to sell. For collectors, this requires having access to a market to sell your wares - anything from eBay through to auction houses.
The collection also needs to be physically moved. A rare car is much harder and more expensive to send to a remote location than a rare coin, and this can dictate the size of a market and consequently the amount. You also have to ask whether you sell the entire collection to one individual or many.
Beware of crazes
Realising the toys you bought for the price of, well, toys are now worth in the hundreds or thousands of dollars is the stuff of dreams. But it's a fickle business, and booms and busts abound.
The 1990s saw the rise of Beanie Babies, a range of stuffed animal toys that took the world by storm. Their creator, Ty Warner, an American businessman, would "retire" certain versions, thereby driving up demand. For early investors, the windfall was in the hundreds of thousands, off a $10 initial purchase. For others reluctant to sell their investment early, the losses were huge.
Chris Robinson, an actor who played Dr Rick Webber on TV soap opera General Hospital, sunk $100,000 into more than 20,000 of the toys to fund his child's university education. He lost every cent.
Get stories like this in our newsletters.