Consumer sentiment drops but it's not all doom and gloom
Consumer sentiment has posted the biggest fall in 47 years. It's the latest data point reflecting the economic devastation wrought by COVID-19, but there's better signs ahead.
The Westpac-Melbourne Institute Consumer Sentiment Index fell 17.7% in April, now at a level of 75.6. While this remains above the low of 65 seen during the 90s recession, the pace of deterioration this time around is unprecedented.
Westpac chief economist Bill Evans says the fall is "very disturbing and reflects the large shock to jobs and spending."
While the drop in confidence this month is severe, it could well have been worse, Evans says.
"Despite the bleak and threatening backdrop, Australia's pandemic experience to date has been much less debilitating than that of the hardest hit areas abroad," he says.
The five-year outlook for the economy dropped 3.8%. And the 12-month employment expectation measure fell 8% from the previous month. The Westpac survey was based on 1200 adults across Australia in the week of April 6-11.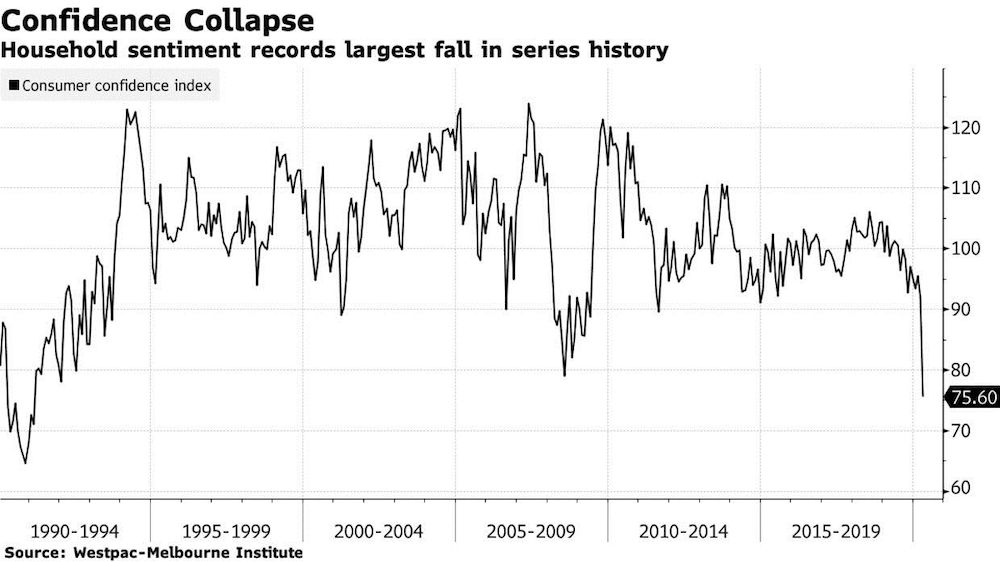 Separately, the Commonwealth Bank's credit and debit card spending analysis shows that while Australians are spending less overall during restrictions and shutdowns, they are spending more on home improvements and DIY projects.
For the week ending April 3, spending on services had declined as had spending on food and alcohol when compared with previous weeks.
CBA senior economist Kristina Clifton says that some of the spending patterns that emerged early on in the period of restrictions and lockdowns are now reversing.
"People may now feel they have enough grocery items in reserve. Spending on food fell by 12% over the week, following a 21% fall from the previous week," says Clifton.
Spending on alcohol also dropped, down 33% compared to the previous week, following two weeks of strong spending.
"Consumers may feel like they have enough alcohol stocked up and the fact that many businesses are pivoting to build digital businesses and implementing contactless delivery services may be providing further reassurance. Restrictions on activity have also been ramped up and people are no longer allowed to socialise with those that they don't live with. There will be fewer barbecues, parties and other social occasions," says Clifton.
"Some categories of spending seem less affected by the coronavirus. These included education, utilities, communications and household services."
The above results dovetail a warning by the International Monetary Fund (IMF) yesterday that Australia's economy will shrink 6.7% this year, with unemployment to reach 7.6% this year and 8.9% in 2021.
It's important to note that the IMFs assessment was made when the infection rate was significantly higher and before the government had announced the JobKeeper scheme.
And there is some positive news too. If the coronavirus is contained, the IMF forecasts growth to hit 6.1% in 2021.
Get stories like this in our newsletters.