The real reason 16% of Aussies are skipping doctor's appointments
Missing a visit to the doctor can lead to a worse condition and potentially serious health issues.
But around 16.2% of Australians say they are skipping a medical consultation because of costs.
This is a lot more than in most other OECD countries where the average is closer to 10%, according to a report for the Actuaries Institute by actuaries who specialise and work in health and medical services such as Medicare.
In comparison, only 2.6% of medical appointments are skipped in Germany, 4.2% in UK, 6.6% in Canada, 10.3% in Netherlands and 14.5% in New Zealand, according to 2016 figures.
The US was top of the list with 22.3% of medical consultations skipped due to the expense.
While there is plenty of bulk billing by doctors in Australia, an individual's out-of-pocket costs for healthcare are high at about 17% of Australia's total national healthcare costs.
The actuaries found that there are big gaps in Australia's level of funding for some medical services compared with other international health care systems. For example, mental health is an area where more than half of people with mental illness do not access medical treatment.
According to the Black Dog Institute, nearly half of all Australians are expected to experience a mental health related illness in their lifetime.
The actuaries believe that while there are several reasons for not visiting a doctor over mental health, the cost of treatment and the lack of funding are part of the reason.
"Government expenditure in this area is moderate by international standards," explain the actuaries.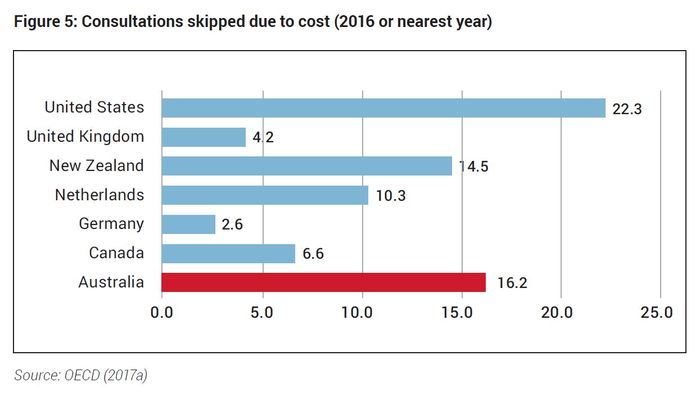 Australia's total share of healthcare costs as a percentage of gross domestic product is not expensive at 10.3%, compared with the US at 17.2%, and Switzerland, Germany and Japan at 12.4%, 11.3% and 10.9% respectively.
But Australian health care costs are rising, particularly because of an aging population as well as high levels of obesity.
Overall the actuaries found that Australians are healthy and the Australian health care system performs well by international standards such as the relatively high life expectancy that is one of the oldest in the world after Japan.
The actuaries examined health systems in 12 countries which are comparable to Australia's and found that Australia rates second in overall performance rankings, after the United Kingdom and ahead of the Netherlands.
Nonetheless there are areas for improvement, explain the actuaries. "Australia's high out-of-pocket expenses and health cost growth suggests a need to review the health system to ensure sustainability for future generations."
Get stories like this in our newsletters.