Elon Musk's Twitter takeover - what does it mean for Tesla?
As Elon Musk outlines his "secret" plans for his Twitter takeover, is the world's richest man and most famous entrepreneur in danger of stretching himself too thin?
No stranger to controversy, Musk has a long history of betting the farm on groundbreaking tech ventures. He's had a lucky streak, but has also come close to losing everything as he's aimed for the stars.
For those who have been hiding under a rock, here's a look back into what's been going on with Musk.
Launching in the dot-com boom
Musk made his first millions during the late 90s, when he sold his first startup to Compaq - making $USD22 million from the sale. The funds bankrolled his next startup, online banking company X.com, which later merged with Confinity to form PayPal. That resulted in a $USD175 million payday in 2002 when PayPal was acquired by eBay.
At this point, Musk started to follow his passions. First, he founded SpaceX, with the goal of making spaceflight cheaper and colonising Mars. Next, he invested $USD6.5 million in fledgling electric vehicle maker Tesla, joining the board as chairman. He also co-founded SolarCity, which became the second-largest provider of solar power systems in the United States before it was acquired by Tesla.
In 2008, Musk staged a boardroom coup at Tesla, establishing himself as CEO and product architect in a move that perhaps foreshadows his plans for Twitter.
A potential misfire
Musk almost went broke in 2008, with Tesla losing money and SpaceX struggling to get its Falcon1 rocket off the ground. His fortunes soon turned, with SpaceX landing a $USD1.5 billion NASA contract to deliver supplies into space and Tesla finding more outside investors.
Over the next decade the two companies went from strength to strength, while Musk bet on other moonshots like Neuralink's implantable brain-machine interface, Starlink's satellite internet constellation and The Boring Company's underground diggers paving the way for high-speed Hyperloop travel.
As Musk's bets became more ambitious, his behaviour also became increasingly erratic. Known as a "free speech absolutist", his outspoken comments on Twitter have seen him fall afoul of US regulators and even subject of a defamation trial.
Even so, Musk hasn't shied away from the spotlight: hosting Saturday Night Live, tweeting about Dogecoin, attending the Met Gala, and expressing strong views on politics and even COVID-19. With crypto investors hanging on his every word, he wields an incredible amount of power over what is already a highly volatile market.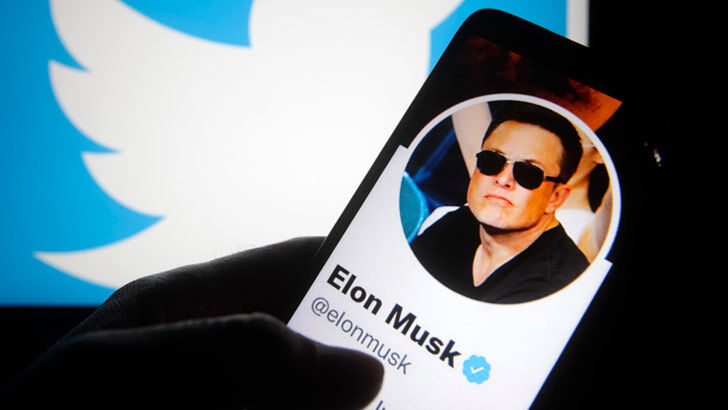 Soaring stock prices
Thanks to Tesla's stock surging more than 1500% in the last three years, today Musk has a net worth of $USD256 billion - making him the world's richest man, ahead of Bill Gates, Mark Zuckerberg and Jeff Bezos.
Now he has successfully maneuvered his most ambitious deal ever, in securing a $USD44 billion bid to take control of Twitter. It has certainly raised eyebrows with Tesla's investors, as Musk enters into yet another venture. It's clear that some investors feel the billionaire entrepreneur is once again overextending himself.
Until now, SpaceX is the venture which has taken most of Musk's time away from Tesla. Fears that Twitter may further divert his attention have rattled the market, with Tesla's shares tanking around 13% in April, after Twitter accepted his bid.
All up, Tesla's value has fallen 24% since the initial disclosure that Musk had taken a sizable stake in Twitter, a period during which the S&P 500 has only declined 10%. The value of Tesla has fallen by far more than what Musk plans to spend acquiring Twitter.
There are also questions around whether Musk's plans to apply his free speech beliefs to the social media giant are in the best interest of the platform, its users and the world at large.
Musk says he aims to "quintuple" Twitter's revenue by 2028, but keep in mind he has a history of making bold claims. Since 2016, he has insisted Tesla's Autopilot is on the verge of achieving Level 5 autonomy, yet it remains stuck at Level 2, surpassed by traditional carmakers. Musk has also revised his timeline for Mars several times, now citing 2029 as the earliest date humans might first step foot on the red planet.
The man who fell to Earth?
Ultimately, the biggest worry is that Musk may come crashing down as he is pulled in too many directions.
Although this threat impacts nothing about the fundamentals of Tesla, Musk is the lifeblood of the Tesla story and one of the many reasons so many investors are confident in the company's growth. The Twitter deal will become a headwind in the short term, but it is unlikely to change the long-term outlook for Tesla.
Since taking Tesla to one of the biggest companies in the world, Musk hasn't taken his finger off the pulse. The company continues to grow from strength to strength, beating supply chain constraints and completing record vehicle deliveries quarter-over-quarter.
Unlike his coup at Tesla, Musk is unlikely to assume the role of Twitter CEO, but rather a board position or chairman - roles which are much less time-consuming. As Musk's big bets tend to pay off, if he can remain on target, those who place their faith in him are likely to reap the rewards.
Get stories like this in our newsletters.