A designer's guide to revamping your home on a shoestring budget
Spending more time at home has given many of us the opportunity to change and refresh our homes or to fix any faults, and this includes taking on interior design projects.
Interior design can range from a deep clean, a decluttering and a lick of paint to remodelling rooms, updating wall coverings, bringing in new furnishings and much more. Starting with a budget can help define the scope of what you can achieve, and how you can get the best value for your money.
Decluttering is a cheap first step
Sally Flower, a KonMari practitioner trained by Marie Kondo, says that if you're selling a property, decluttering is the best place to start.
"It's one of the smartest things you can do, both for the costs of transportation [to a new home] and the invaluable improvement at the inspection," she says.
And whether you're ready to sell or not, it's a good tip for when you're thinking about improving the value of a property.
According to Flower, the first thing to do before embarking on your new project is to work out your idea of design.
"Understand what your palette is, what talks to you. You can get really lost if you walk into a space, even Kmart, and be caught up in what's being sold to you," she says.
"Before you purchase anything for your home, declutter anything that isn't talking to you and that is not making your home feel like where you are in life right now."
Flower says you could be holding onto things to mark a different stage of your life. "For example, if you've recently retired you might be holding onto all the things you used to take to work - cases, books, stationery. Or if your kids have moved out of home you might have a room full of excess kids' stuff that no one wants. Get rid of it before making changes and really welcome the new environment. Don't be afraid of empty space."
While culling is the name of the KonMari game, Flower says if you have a signature piece that stands out and you're not ready to let it go, don't. Consider hiding it instead.
"It could be a lamp, stool, or pot; you can hide it and then bring it back out. That way you're not buying and putting things in landfill, you're buying quality pieces you rotate around your home and can even rotate seasonally."
Minimalist Joshua Becker talks about the "convenience fallacy": the extra few seconds saved to have something accessible is not worth the visual space it takes. This means clear spaces are worth more than a handy stash of pens on the desk or remote controls on the coffee table. He suggests putting things away until they are needed.
You don't have to purchase things to make the home feel nice and fresh, and don't be afraid to move things around. Think about the flow of the home. Walk in as if you're a guest. How does it make you feel? Does it make you comfortable enough to take off your shoes and relax or is it too cluttered?
Lockdown proved to be the ideal time for people to declutter their homes and discard unwanted items.
This means the savvy bargain hunter can find plenty of treasures online through sites like eBay, Facebook Marketplace and even free "pay it forward" groups, often also found on Facebook.
Depending on your home and your taste, you might easily pick up items that are no longer in vogue for some people but perfect for you.
Roadside rubbish collections, especially in upmarket suburbs, can result in renovating gold. One friend recently found a whole outdoor setting that just needed cleaning before being put to use in her courtyard.
Working in white
Terry Kaljo, founder and chair of Contemporary Hotels, started her business designing for hotels, but now has moved into luxury holiday living.
Paint is the first place to start, she says.
"There's always Dulux Vivid White paint. I've worked on painting everything in a room white but then add a few highlights like nice light fittings, which is amazing."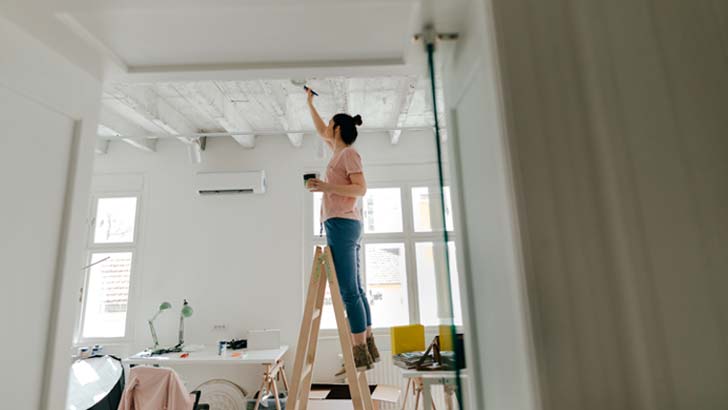 A tip for painting is to avoid anything that makes a place look small. "If you have a really fabulous big room, you could paint it black with a lot of white finishes and that would be chic, but lots of us live in smaller spaces so it's better to think lightness. I love Vivid White, and then you can add paintings and photographs and not have things match."
The next thing to add is something that creates a lot of warmth. "I like to add a softness, whether it's in fabrics, cushions or even a bit of wicker - all those things are inexpensive. Plants are a cheap fix as well."
Kaljo says minimalism is good. During COVID-19, many of us have realised we don't need a lot of items.
"If people want a really good look, it's good to clear the whole room out and have a little think. Have a look at the aspirations of design and consider your lifestyle," she says. "My husband likes a big, ugly, comfortable chair, so that has got to stay. You too will have some things that need to stay."
Once you're in decorating mode you often find you're looking for that perfect addition to your home and sometimes you pick up things when you least expect - driving through country towns or visiting
a new neighbourhood.
Sonya Vidic, director at Sonya Vidic Interiors, flips properties in Sydney's eastern suburbs and agrees that the cheapest way to start a spruce-up is by painting a room in a nice fresh white.
"New light fittings are also a great idea, and you can get them at inexpensive places like Beacon Lighting,'" she says. "As you're coming through the door, a good light fitting is important. Sometimes it's nice to put two pendants over a dining table."
In a bedroom, an easy lift is to style it with fresh bed linen, or a new throw, bedcover or cushions.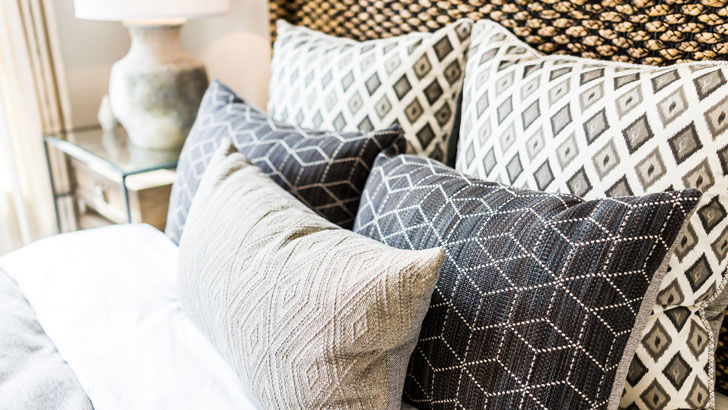 Vidic is a big fan of Ikea and chainstores where you can buy rugs, curtains and linen cheaply. She insists on good proportions in any styling.
"When I walk into a room I look at what needs to be taken out, scaled down or scaled up. I believe lampshades and lamps should be extra tall because some are so low you're not getting enough light to read and it doesn't balance the room. High lamps add a dimension to the room," she says.
Artwork is important, whether it's your kids' effort or an expensive original, and you can always double-layer frames. Go to a framer and ask for double moulding with white and brown so it adds layers and gives the artwork another dimension.
Design for DIY decorators
Perth-based designer Zoe Gilpin, who runs the DIY Decorator, shares tips online. Her service provides online design boards for DIY home decorators to achieve her vision through their own work.
Working in interior design for 14 years, she decided to start the DIY Decorator in 2015. "Everything I do now is to show everyday people on everyday budgets how to make their house fabulous," she says.
Decorating room by room is more budget friendly, she says. "Work on areas like kitchens and bathrooms first because they are the money rooms."
She always starts the process with a budget first and tries to make it a low one to keep it affordable.
"You have to work on what you can afford, depending on circumstances at the time," she says. "With areas like bathrooms and kitchens, you need to think about how long it needs to last - around 10 years,
at least."
Start by sourcing, and that's where you want to spend the most time, says Gilpin. Take at least a month to put lists and pictures together so you're prepared for the project, and the closer you stick to that, the easier it is to stick to a budget.
Spend a few hours online before going into the shops. You're likely to find bargains online before heading out, including kitchen sinks and benchtops," she says.
Then visit stores like Bunnings - each store has its own specials and clearance items and you can find great buys. A friend recently found tiles for $1 a box and managed to tile her whole kitchen for $7.
It's also a good idea to sign up for catalogues and emails from your favourite shops so you find out about sales. Gilpin says bedrooms and living rooms are her favourites to update.
"I'm constantly rearranging my own, and the majority of my clients want those rooms done as well," she says.
Current trends are autumn tones, rust and mustard, and Bohemian styling like cane and rattan, she says. And sofas and couches shouldn't be scrimped on.
"If you get a $200 couch, you'll get a year or two out of it. You're better buying good quality furniture - a good lounge costs around $3000 or more," she says.
She agrees that light fittings and lamps are important to add height to a room.
"A lot of people don't know how to fill space and feel there's something missing," she says.
"One of the things I'm most proud of at home is my kitchen. We decided not to change the layout so we spent two weekends painting (walls, tiles and cupboards) and adding a panel wall from Kmart (1.2 metre easy craft panels, for $480) to give a beach-house look. It was a cheap and easy way to decorate."
Zoe Gilpin's tips for sticking to a budget
1. "Do the painting yourself. It's less expensive and you can change the room, not just the walls," she says. "Top brand names will cost between $60-$80 for a four-litre tin. For tile paint, and paint for cupboards and doors, expect to pay extra."
2. "Use art. You can find large pieces at some retailers, or you can do your own abstract pieces that are on-trend and inexpensive."
3. "Shop at budget retailers like Kmart - you can get so much for so little, and it's simple to change decor and soft furnishings like cushions and homewares."
4. "Go back to thrifting - with Facebook Marketplace and Gumtree you can pick up amazing things. I found a dining table for $30 and after I spent a bit of time sanding it, people now come into my house and rave about it."
Get stories like this in our newsletters.