'We would have been the first rotating Twitter account in the world'
Media entrepreneurs don't pop up every day and claim that their future is healthy.
Everyone knows that traditional TV, radio, newspapers and magazines are struggling to survive in the digital age.
Few have found a solution despite persistence, self-sacrifice, talent and luck.
But Luke Pearson, founder of Twitter-based social media phenomenon IndigenousX, is one.
Pearson's success is notable partly because IndigenousX's audience of predominantly Aboriginal people doesn't fit the deep-pocketed AB demographic highly sought by advertisers and publishers.
His followers are scattered from coast to coast in small, hard-to-reach communities, big cities and country towns. But they love to tell their stories, and they want a say in shaping a modern, inclusive Australia.
When he started his own Twitter account 10 years ago and morphed it four years later into IndigenousX, Pearson hit on something.
"Our model is that we aren't just one person," he explains.
"We don't have an over-arching agenda other than spreading information and raising awareness and showcasing the diversity of Aboriginal experiences. No one agrees with every follower or every article but that's not the point.
"We want people to understand that there is far more diversity of opinion and experience than you would believe. No one speaks on behalf of all of us or has all of the answers. But everyone's individual story matters."
A single host takes control at IndigenousX for a week, with freedom to express their views.
At the time of writing, the host was Darwin chef Zach Green, who introduced his gig by claiming kinship with the many Aboriginal people who come to town from remote Northern Territory communities.
In Green's view, they enlivened his experience of living in the city in contrast to people who complain about this influx.
Green's grandmother only told her children they were of Aboriginal descent 16 years ago when he was 12. He has embraced the culture.
Pearson said initially it felt like a big risk handing over the platform to hosts.
"In those days there weren't as many indigenous people on Twitter as now. There was a big question about how long we would be able to do it.
"I had the idea about six months before we launched, and I spent time talking to people about who would be interested.
"If I had done it when I first thought of it, we would have been the first rotating account on Twitter in the world. Someone in Sweden came first.
"We spent a lot of time talking about that national dialogue and media representation, and how there was very low diversity of representation. There was something like four or five Aboriginal people who the media went to [for comment].
"There were no stories authored by people other than the likes of Warren Mundine, Noel Pearson [no relation], Marcia Langton. It was a select group."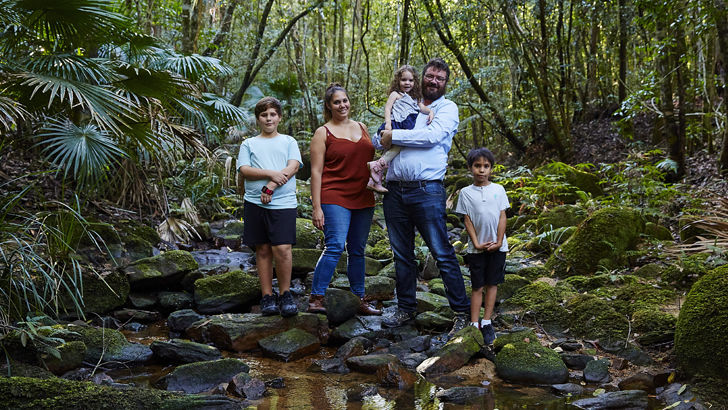 One measure of success is the growth in IndigenousX's Twitter base. From under 5000 when Pearson ceded his personal Twitter account, it now has 41,000. Perhaps the most important achievement is a recent surge in funding.
Income takes several forms - subscriptions, donations, advertising and collaborative partnerships. At the outset, Pearson dug deeply into his own pockets.
But donations and pledges via a funding platform, Patreon, are on the up. It's no surprise that coverage of controversial news issues causes large spikes in followers and causes them to ontribute.
One early campaign saw Pearson challenge Google on how its search engine responded to queries about the term "Aboriginal".
"That led to some of the most horrifically racist pages you could imagine," says Pearson.
Working as a school teacher at the time, he saw students reading those jokes.
"I wondered how could half-a-dozen kids end up on very similar, racist pages when they were supposed to be looking up the Freedom Riots about Aboriginal history, or something like that?
"I contacted Google. I said that they could run racist jokes if they liked, but when people type in the word 'Aboriginal' they shouldn't be steered to Aboriginal jokes. For a while there, if people were online and spotted something racist, they would tag IndigenousX for me and ask us to fix it. We gained a reputation for effecting change."
Another campaign involved the Macquarie Dictionary and its inclusion of the word "boong".
"It shouldn't appear [there]. Who says that anymore? The dictionary said that it was acceptable in Aboriginal English. It was something that we called each other. No, it very much is not. We took them to task. It was very much using sensational language because they thought they had found a safe, clever way to do it. Not only were they wrong but they were being provocative in a way that's disrespectful. They changed their definition."
Five years ago, IndigenousX drew the attention of The Guardian newspaper when it was setting up an Australian online edition.
"They offered a partnership. I said, 'Wow. OK.' That was a huge coup. It was our first major collaborative partnership. It let us tap into a larger audience and gave us the air of having a real presence.
"They were looking for a new way to approach [indigenous] issues and give them validity. What better way to do it?
"They have been able to access a number of indigenous people who could tell their own stories. The success of that is that the paper has gone back to those people and asked them to write more."
One of Pearson's latest campaigns led to another jump in funding, prompting him to quit his digital producer's job at the ABC to focus solely on expanding IndigenousX.
The spark came from the coverage of the Invasion Day debate and opposition to Australia Day.
"When followers support Change the Date, how do they show that?" he asks.
"We talked a lot about the issue. We had a big spike in Patreon pledges and our sixth birthday in March gave us another big boost [nearly 200 people signed up]. That gave me the confidence to know that there is enough income to run an independent media space, content wise. There are also enough people contributing now who expect us to deliver."
Pearson will need to support himself still with outside public speaking gigs and consultancy work but now there is money to pay for content, web development and other projects.
The broader indigenous community also gets to share in the success. IndigenousX backs specific crowd-funding campaigns, and Pearson says one of its greatest successes is that about $500,000 has been raised for community groups such as the Aboriginal LGBQTI suicide prevention group, Black Rainbow, and Elcho Island women who needed to develop a health retreat.
Pearson was born in Penrith on the western edge of Sydney and as a youngster moved with his family to The Rock outside Wagga Wagga, NSW.
His father Kevin, a drover and all-round handyman, was Aboriginal and his mother non-Aboriginal. When studying teaching and Aboriginal studies at university, Pearson said he gained a deeper insight into his own background.
"That was a driving force in strengthening my sense of self and my sense of justice and how much more work needed to be done. The more you know the history, the better you know the present and the clearer you can see what the future could be."
He became a primary school teacher on NSW's Central Coast but struggled in part because he believed Aboriginal studies were not handled well.
He shifted to study more and teach at university but didn't want to be a career academic.
Then Twitter came along.
"I found it to be an amazing space. I was a teacher without a classroom, and I wanted to talk about lots of issues.
"I found Twitter a great way to talk about whatever I wanted. I could be cheeky, I could be sarcastic, I could criticise. I immersed myself in that space. I didn't think it would lead to a career but I really loved that engagement with people."
People came to him to comment on Aboriginal issues, although he didn't view himself as an expert. They simply didn't know who else to ask. That is where his notion for IndigenousX grew from.
Pearson has plenty of ideas on how to maintain the momentum.
"It would be great to diversify our content. We are known for our opinion and advocacy but I would love to move into traditional journalism or into video or audio, artwork, events.
"Our philosophy is so much stronger than our business model. Our philosophy is about indigenous-driven self-determination, showcasing the diversity of experience, elevating the causes of indigenous people, then anything can happen.
"I like where I am right now. I don't stress too much or dwell too much.
"But when we started there were no social media degrees at universities. There was no road map, no template. It was trial and error, have fun, throw stuff out there and see what works and what doesn't."
Follow IndigenousX and @LukeLPearson
Get stories like this in our newsletters.