Making It Work: Tassie distillery pumped out sanitiser during crisis
Diane Rae's businesses of Grandvewe Cheeses and Hartshorn Distillery were based around sheep and sheep products. Then coronavirus struck.
Located near Woodbridge, half an hour south of Hobart, the business has been forced to closed its doors to tourists, which made up a third of the business, while distribution of its other products also suffered.
Rae moved south from Queensland 18 years ago, where she had been running a self-sufficient farm, milking cows and making cheese, intending to start a vineyard with her partner.
As vineyards don't make money for the first five years, Rae came up with the idea of generating an income by putting sheep in the vineyard.
The vines didn't survive nor did the relationship so Rae decided to use the sheep to make cheese, and sell it through on-farm tourism.
Five years ago, Rae's son Ryan joined the business, followed by her daughter, Nicole Gilliver, who had been working in the wine industry.
Wanting to do something creative, Ryan began to ferment whey, a byproduct of cheese-making, to create alcohol. This resulted in the first sheep whey vodka in the world.
In his second year, Ryan's Grandvewe Sheep Whey Vodka was named World's Best Vodka at the 2018 World Vodka Awards and has been named Best Varietal Vodka of Australia every year since.
The micro distillery then began producing vodka, gin and a vanilla whey liqueur, and Rae thought the business was diverse enough to withstand any shocks.
"Our distributor for booze goes into high-end bars and restaurants, the cheese goes into restaurants, 35% of business is tourism, then we do food shows in the slow months which is a good income for us," Rae says.
The business also had cellar door sales, an outlet in Brook Street Pier in Hobart and a stall weekly at the Salamanca markets.
However, in just five days all the distribution channels stopped.
Under pressure
When these channels disappeared, the owners realised they could last just four weeks with the staff they had. They stood down 20 employees until JobKeeper kicked in, told banks they were unable to pay interest on loans, and applied for any government money they were eligible for.
Once Jobkeeper kicked in, staff who were in manufacturing roles were re-employed. The casual staff who took care of the tourism side of the business will be rehired once the borders open, Rae says.
Learning to adapt
After days of stress, Rae says it was time to get creative to keep money coming in, so they decided to make hand sanitiser.
"We were suddenly overwhelmed with doing things and in that three-week period it took our cash flow to being out the back door in early June to, if nothing else happens, to early January," Rae says.
As coronavirus spread, demand for hand sanitiser far exceeded supply.
"There was an enormous need for sanitiser by consumers and also from hospital and medical facilities and so suddenly all the main producers of sanitiser were all taken up with providing it to hospitals.
"A significant amount was imported from China but wasn't available - containers were all held up at the wharves because they needed sanitising.
"It was an unusual situation so suddenly we had no soap on the shelves, couldn't get hold of sanitiser. That was when my daughter, Nicole, suggested we make sanitisers."
Rae says they knew it would be a short-lived process, with the big ethanol producers gearing up within a four-week period.
"We thought we'd get three weeks out of it and it was almost exactly - it was incredible how quickly it dried up and it was equivalent to sanitiser coming back on the shelf for consumers," Rae says.
"We were not silly enough to invest in equipment but we were pouring out award-winning vodka to make sanitiser."
This was only one of the difficulties in producing the sanitiser. The business had to find glycerine to act as a carrier for the sanitiser, and eventually found it through a body wash product sold in supermarkets.
Staying afloat
"There were four of us here packing and making sanitiser like there was no tomorrow, working 12- hour days, trying to get it in the post," she says.
"The sanitiser production meant we were able to get a seven- to eight-month window for our business to allow us to settle, rethink, readjust and look at where we were heading."
COVID also led the business to sell more cheese online through Cheese Therapy.
The future
For Grandvewe Cheeses and Hartshorn Distillery, it's back to normal for most of the business, except the tourism, which is expected to restart when borders open.
However, they have revisited the overall direction of the business. Rae hopes digital sales will continue to grow alongside their other distribution channels.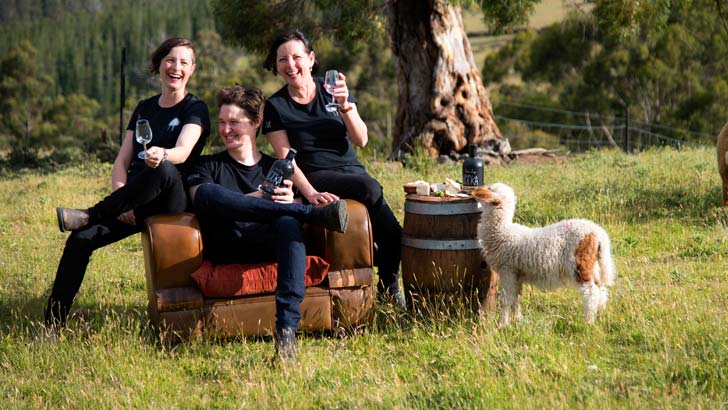 Tasmania has given small businesses free power for three months, which has allowed Rae and her team to run the stills twice a day to rebuild their inventory.
The business was chosen as an elite business with the greatest potential to grow by ANZ Bank's Growth Clinic initiative with the University of South Australia.
"Last year we had a turnover of about $1.8 million and for the next 12 months we set a target of $2.7 million because we have a target over five years of 10x growth (a 50% increase per annum in turnover).
"We've been schooled by these amazing people from the business school in techniques to do that.
"We've had a 45% reduction in turnover because of COVID so it will be an interesting target to see if we can reach it," Rae says.
"We were in the middle of a three-year growth plan and then COVID hit, now we're doing small bites of innovative changes to how we do business.
"One area is online sales - we've wanted to do it better, now we have opportunity to do it perfectly and so when out of COVID all normal channels to market will fire up and we'll have a digital market as well."
In addition to the three main lines of business - tourism, cheese and alcohol - Nicole is launching a skincare range that is sheep milk based.
"Before COVID it had been put on hold but because of COVID we've decided to do a soft launch. We have the time, why wouldn't we?" Rae says.
"We have sheep milk that isn't cheese quality, and yoghurt which didn't get sold, that we're now repurposing to skincare and offering an intensive care hand cream that comes in a ceramic pot made by local maker, and the sanitiser as a hand hygiene pack.
"We are just putting our offering out to our inner circle tribe for now because there are only 100 hand-done ceramic pots in the first release, and they will become collectors' items."
Get stories like this in our newsletters.