The super products outperforming the market during COVID-19
MySuper products are eclipsing the market during the COVID-19 downturn, research from Rainmaker Information shows.
While the market was almost 8% in the red for the 2019-2020 financial year, MySuper products have lost only 0.7% over the same period.
The losses dovetail the onslaught of COVID-19. The index rose 6% between July 2019 and January 2020, but fell 13% during February and March before climbing back 7% between April and June.
Rainmaker Information, which publishes Money, puts the muted losses down to international shares rising 5.8% in AUD terms during the financial year, Australian bond indices rising 4.3%, international bond indices rising 5.2% and cash rising about 1%.
"These upbeat results reinforce views that the 2020 Corona Financial Crisis (CFC) is different to the Global Financial Crisis (GFC) and reminds us how disconnected the real economy is from the financial markets into which many super funds invest," says Alex Dunnin, director of research and compliance at Rainmaker Information.
Unsurprisingly, funds with higher allocations to riskier growth stocks have been hit hardest, returning -0.3% over the last financial year compared to 0.7% for balanced options.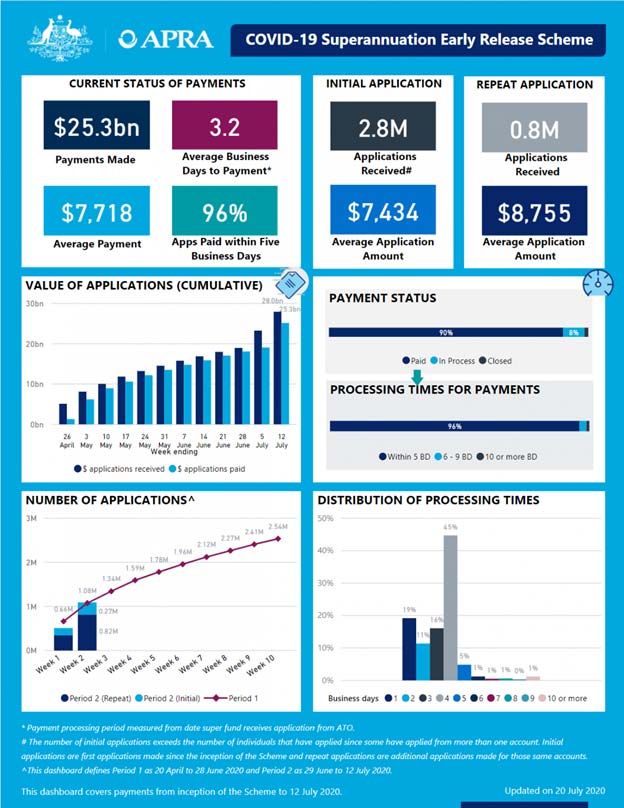 UniSuper is leading the pack in several categories. UniSuper Personal Accounts - Sustainable Balanced and UniSuper Pension - Sustainable Balanced have seemed to shun the recession entirely, returning 8.1% and 9.1% respectively.
Meanwhile, data from the Australian Prudential Regulation Authority on the early release of superannuation shows the total number of initial applications at 2.8 million and repeat applications at 0.8 million since the inception of the scheme through to the week of 12 July.
Over the same time frame, superannuation funds made about 3.3 million early release payments, bringing the total to $25.3 billion paid out since inception.