First look at Australia's new $50 note
Aussies have had their first glimpse of the new 'pineapple', with the redesigned $50 note to be released in October.
The third Australian note to be redesigned, it retains the images of inventor David Unaipon, Australia's first published Aboriginal author, and Edith Cowan, the first female member of an Australian parliament.
The note also depicts shields from Unaipon's Ngarrindjeri nation, pictures of Cowan's gumnut brooch symbolising that entry into Parliament was a 'hard nut to crack' for women, and the King Edward Memorial Hospital, a women's and maternity hospital that she helped establish.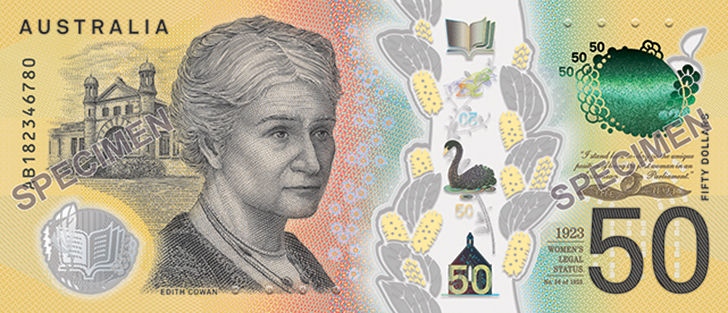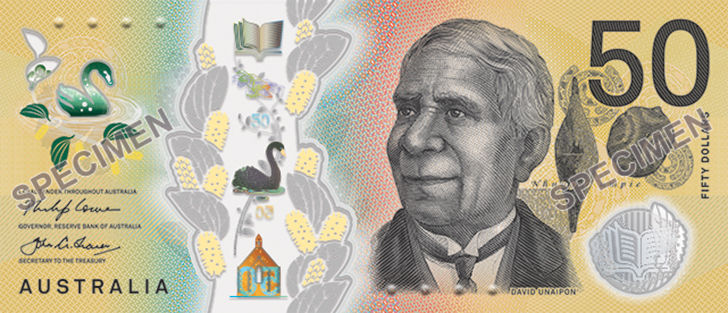 Reserve Bank Governor Philip Lowe said Unaipon and Cowan were campaigners for social change.
"The new banknote provides the opportunity to tell more of the rich story behind these distinguished Australians," he said.
New security features include a larger clear window, a patch with a rolling colour effect and microprint featuring excerpts of Unaipon's book Legendary Tales of the Australian Aborigines and Cowan's maiden speech to Western Australian parliament.
The $50 note features the Acacia humifusa and the Black Swan (Cygnus atratus), Unaipon's ngaitji, or totem, and the bird of Cowan's home state of Western Australia.
The new banknote series also has a 'tactile' feature to help the vision-impaired community distinguish between different denominations of banknotes.
Release of the redesigned bank notes began with the $5 note in September 2016, followed by the $10 note in September 2017.