Nine ways to prepare your home for winter
Before too long winter will be upon us, and that usually means an increase in the cost of running your home. Autumn presents a great opportunity to tackle some simple projects before the chill sets in.
Preparing your home for the changing seasons not only ensures you address essential jobs, but also protects you from costly repairs during the winds, rain and storms that winter brings with it.
The following projects can have a big impact on your comfort and heating expenses over the cooler months, ensuring your house is more functional and efficient without compromising on style.
1. Check your water heater
Is your hot water system operating well? If you have any concerns, don't wait for winter's arrival.
Call a plumber to check it out before the system fails and you are facing cold showers.
2. Fill those gaps
Inspecting your home for gaps and cracks that allow cool draughts to enter is time well spent. Give windows and doors a thorough wash inside and out, taking care to clean out the seals and locking functions.
Replace rubber seals and seal cracks with gap filler to eliminate draughts. Even purchasing simple door "snake stoppers", and placing them along the bottom of interior doors, is an effective way to make your home more energy efficient.
3. Mould and mildew
During the winter months, damp and dark environments can cause mould and mildew thrive. Both are harmful to your health and cause significant damage to your home.
Concentrate on bathrooms and wardrobes by cleaning the areas thoroughly with your choice of bacteria cleaning product or your homemade eco-friendly cleaner. Placing moisture-absorbing agents around your home can also help in preventing the growth and spread of mould and mildew.
Cleaning your bathroom exhaust fan is also one of the most overlooked areas. The fan removes an enormous number of particles, which build up on the blades, vents and filters. A good clean ensures it functions effectively and you reduce the risk of mould and mildew building up.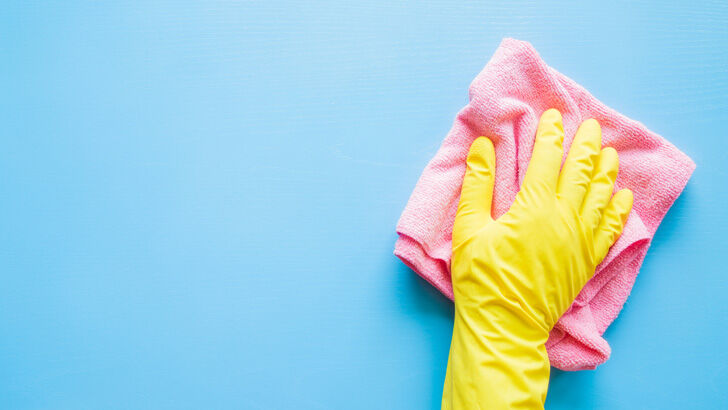 4. Assess your laundry
Autumn is a great time to regain control of your laundry. Assessing the areas that are simply dysfunctional, and coming up with a fresh layout, will make your everyday life so much easier.
Storage is the key to a perfectly functioning laundry:
• Make the most of walls and ceiling space by adding shelving or cupboard systems.
• Prioritise access to products by how regularly they are required.
• Depending on how many people live in your home, individual baskets for each person to return laundered clothes assists in laundry efficiencies.
Sorting through linen you no longer need and either selling it or donating it to charity also refreshes this space.
5. Warm up your décor
Timber, tiled and polished concrete floors during winter months benefit from the addition of a stylish floor rug or two. Not only does the textural feel underfoot add to your creature comforts, but floor rugs add to your home efficiency by insulating your floors.
Switching your light and summery bed linen to cosy winter bedding is a fun project. Adding a wool underlay followed by soft flannelette sheets and finishing with a snuggly woollen quilt ensures a comfortable night's sleep without having to crank the temperature of your heating system.
If you really feel the cold, remember that the old hot water bottle popped between your sheets is a very cost-effective way to warm your bed. Adding thick furnishings and layers to your home helps to bring your heating bill down, whether it be bedspreads, sofa throws or weighted blankets.
When was the last time you assessed your curtains?
During summer, if your curtains failed to keep the light out on a sunny morning, they will certainly fall short in keeping the cold chill of winter at bay. Adding an additional layer of lining to your curtains already in place, will go a long way to keeping the heat in and chill out!
6. Clean and store garden furniture
Garden and entertaining furniture is generally fully utilised during the warm summer months.
Assessing whether it would be best to clean and pack away your outdoor furniture to ensure longevity of your investment is worth considering. Obviously if you do not have the luxury of storage space, your hands may be tied here.
At a minimum, outdoor cushions can be packed away so they do not deteriorate over the winter months. If you have all-weather outdoor furniture and equipment, this is one item you do not need to address.
If not, consider:
• Thoroughly cleaning cooking equipment.
• Pressure clean garden furniture and covers.
• Check soft furnishings for signs of mildew before packing away.
7. Switch fan to winter mode
Now this one is something that a lot of home owners are not aware of, or simply do not think to action.
Switching your ceiling fans to winter mode is a great function that reverses the direction the blades turn. In summer, your fans direct the cool breeze down to the space below.
Switching to winter mode draws warm air up to the ceiling and returns it back down the walls to the floor, circulating warm air throughout your home.
By using your ceiling fan in conjunction with your heating system you can warm your home and distribute heat evenly. Using your fan with your air conditioner, fireplace or heater will make your room feel warmer for longer.
This in turn allows cost savings in operating your home, as you won't have to run your heating system for as long or at such high settings.
8. Air conditioning unit maintenance
Cleaning your air conditioner and keeping it in tip top share ensures the unit works efficiently and quietly, heating your home throughout the winter months.
Routine maintenance also extends the life of your air conditioner. The three areas to be checked and cleaned include the:
• Filter
• Evaporator coil
• Condenser coil
If this project seems too challenging as a DIY, the cost for an expert to carry out maintenance can range between $70 to $190.
A dirty filter slows the airflow, putting pressure on the unit, making it work much harder.
Cleaning the filter alone (a job most homeowners can handle), will instantly improve the unit's performance and efficiency, which will contribute to reducing your energy usage between 5%-18%. Wasting money on an inefficient system is something we can all do without.
Although cleaning your air conditioner is a job most homeowners can tackle, it is important to remember that it should also be serviced at least once a year by a qualified technician.
9. Fire safety
According to Fire and Rescue NSW: "Every winter, there are more than 1100 home fires, from which around 100 fire-related injuries occur. A fire can take hold in three minutes, yet it only takes seconds to prevent one."
The alarming statistics highlight the importance of addressing home fire safety measures during the cooler months when many homes throughout Australia rely on heating equipment and systems to stay warm.
Some quick items to tick off your fire safety list include:
• Is your home fitted with smoke alarms that comply with Australian standards?
• Are smoke alarms fitted in each bedroom along with the hallways leading to each bedroom?
• Have your alarms been cleaned and tested lately?
• When was the last time you changed the batteries in the smoke alarms?
• When was your entire system updated?
One particular item in your home that is a fire hazard is your clothes dryer.
Cleaning the lint filter and vents of your clothes dryer is important, and is a job that should be completed each week. It's a quick and easy task that will reduce the risk of a fire starting in your dryer and ensure it works more efficiently.
So as warm summer days and balmy nights leave us for another year, it's the right time to start implementing simple changes that will help keep your cost of living under control and ensure your home runs safely, efficiently and smoothly all winter long.
Get stories like this in our newsletters.