RBA unveils Australia's new $10 note
Australia's new $10 note has been revealed, ahead of it being issued into circulation in September.
The redesigned note features famous Australian writers Dame Mary Gilmore and AB 'Banjo' Paterson.
"Their work is recognised in several design elements on the banknote, including images of a pen nib in two of the clear windows and excerpts of their poetry in microprint," said RBA Governor Philip Lowe.
New anti-counterfeiting security features similar to those in the $5 note issued in 2016 include top-to-bottom clear window and a patch with a rolling colour effect.
The $10 note features the bramble wattle and sulphur-crested cockatoo, with each note in the new series to feature a different species of native Australian wattle and bird.
While the new $10 notes will be issued in September, the existing note can continue to be used until the new series is widely circulated.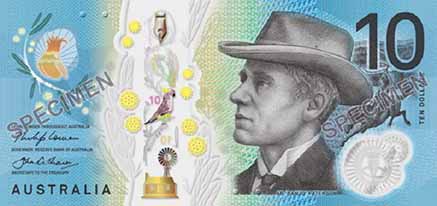 The new $5 note entered circulation in September 2016.
It featured new tactile features to help the vision-impaired community distinguish between different denominations of banknotes.
"The tactile feature will be in addition to the existing features present on our current banknote series - bright colours, large contrasting numerals and size differentials," a statement from the RBA said.
The RBA said each banknote in the new series would depict a different species of Australian wattle and a native bird within a number of the elements.
Get stories like this in our newsletters.