Reserve Bank rate hike compounds mortgage misery
Australian mortgage-holders will be bracing themselves for further hikes to their home loan rates following the Reserve Bank Board's decision to lift the cash rate by 25 basis points at its June meeting.
The decision from the RBA leaves the official cash rate perched at 4.10%, which is the first time it has edged above the 4% mark since April 2012.
In his post-meeting statement, governor Philip Lowe continued to underline the Board's desire to rein inflation back in to its target range of 2-3%.
"Inflation in Australia has passed its peak, but at 7% is still too high and it will be some time yet before it is back in the target range. This further increase in interest rates is to provide greater confidence that inflation will return to target within a reasonable timeframe.
"High inflation makes life difficult for people and damages the functioning of the economy. It erodes the value of savings, hurts family budgets, makes it harder for businesses to plan and invest, and worsens income inequality. And if high inflation were to become entrenched in people's expectations, it would be very costly to reduce later, involving even higher interest rates and a larger rise in unemployment."
Anneke Thompson, the chief economist at credit reporting agency CreditorWatch, says that although there are definite signs that the economy is slowing down, the Reserve Bank is still concerned about the level of inflation when it comes to services.
"Monthly CPI data released in late May showed that April CPI rose by 6.8% on an annual basis. This higher than expected rate was driven by housing (+ 8.9%), food and non-alcoholic beverages (+7.9%) and transport (+7.1%).
"There were one off reasons for the high inflation figure, such as the fuel excise tax being halved in April 2022, that contributed, however, overall, it would appear that inflation is not falling fast enough for the RBA to be comfortable with."
Two in five borrowers struggling with repayments
While the full effect of today's rate increase isn't likely to be felt by borrowers for another few weeks - assuming the hike is passed on by lenders - new research has brought home the cumulative financial impact of the previous 11 rate rises.
The proportion of households struggling to pay their mortgages has risen to 40%, a study conducted by Finder has revealed - up from 24% in May 2022.
The research found that women are finding it more difficult to meet their repayments than men, and younger homeowners are struggling more than their older counterparts. In fact, 49% of millennials indicated that they were having trouble paying their loan compared to 33% of those from Generation X.
Mortgage holders struggling to pay their home loan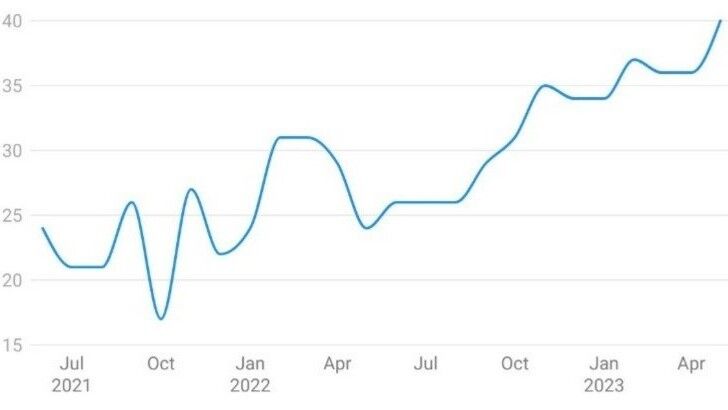 "With 11 interest rate rises over the past 12 months, and potentially another one or two on the horizon - millions of mortgagees are at the end of their tether," says Graham Cooke, Finder's head of consumer research.
"If you haven't already, try to negotiate a lower rate with your lender. If you don't get it, it might be time to refinance somewhere else."
Figures produced by the Reserve Bank showcase just how large an opportunity there is for those in a position to refinance, as the current gap between the average rates offered by lenders on outstanding loans (5.82%) compared to new loans (5.41%) is currently 41 basis points.
For a borrower with a $500,000 loan being paid off over 20 years, avoiding the loyalty tax and making the switch from a rate of 5.82% to 5.41% could save them $116 each month, or $27,926 over the life of the loan, assuming they continue to make the minimum repayments required.
The Reserve Bank Board will meet next on July 4, but in the meantime, any homeowners with a mortgage who are looking to make the switch may be interested in reading through this run through on how to refinance your home loan for a better interest rate.
Get stories like this in our newsletters.