How to save money on travel these school holidays
It's the time of year when many Aussies are daydreaming of escaping to a tropical island to avoid the winter chill, especially after the cold snap over the weekend.
But travel can be expensive, especially during the school holidays.
In fact, research by finder.com.au shows that holiday prices can be up to 41% more expensive during school holidays.
But you don't need to pay an exorbitant amount to enjoy a family trip away, and there are some ways you can reduce your spend so that you're not left with debt lag at the end.
1. Keep an eye out for "free for kids" places
There are a number of resorts that offer special deals allowing kids to stay and eat for free, which can cut down your spend by a significant amount.
They might even have a free kids club, or throw in a few hours of free babysitting so you can get some time to yourself.
Sites like TravelOnline and My Fiji have some great travel packages available, with some big brand resorts. Make sure you sign up to newsletters to keep in the loop.
2. Use coupons and make the most of EOFY sales
If you haven't already booked your flights and accommodation but you're thinking of a spontaneous trip away, make sure you compare different websites and keep an eye out for deals.
End of financial year sales are popping up all over the place, and although you might not immediately think of travel sales this time of year, we've seen some great deals available for the next school holidays.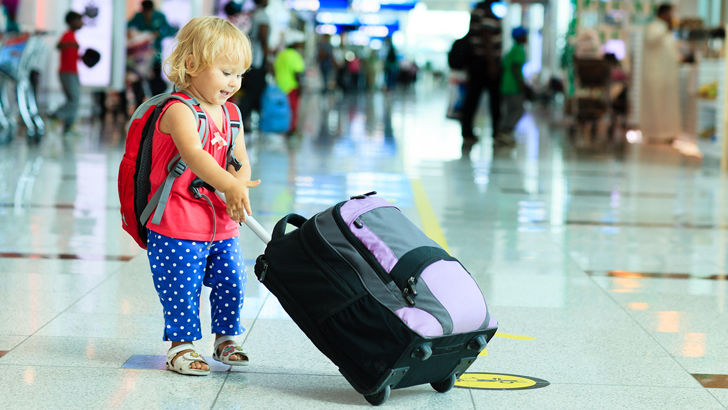 3. Self-cater where possible
If you're travelling with a family, the cost of food can really add up.
Try to limit eating out to only one or two meals a day, and opt for packed lunches or homemade breakfast in the morning. If you really want to save on food, choose accommodation that has a kitchen, like a serviced apartment or Airbnb.
Make sure you pack some snacks and a reusable water bottle in your kids' backpacks. We all know how suddenly hunger can hit, and you don't want to let a little bit of crankiness ruin the day.
4. Make the most of the free stuff
Pretty much anything you do is exciting to your kids when you're somewhere foreign, so you don't always need to fork out on expensive day trips to keep them entertained.
Do your research before you head off and find some free activities such as markets, parks or nature walks to keep everyone amused.
If you're heading off to an island such as Bali or Fiji in search of some sun, make sure you choose an accommodation option with a pool and a free kids club.
5. Invest in pocket wi-fi if you're heading overseas
No doubt your kids will want to use their devices while overseas, and it's likely you'll want to as well, but paying for hotel wi-fi can get expensive.
This is also the case if you plan on travelling between a number of destinations where you'll need to keep the kids entertained while in transit.
Instead of racking up an expensive mobile phone bill, consider purchasing a pocket wi-fi device so that all your kids' portable devices can be connected to one internet connection.
6. Opt for off peak
If you really want to save some money, make sure you book during off-peak or shoulder periods.
The weather might not be as perfect as it is during high season, but you'll avoid the crowds and the expensive prices. Parts of Thailand, such as Phuket and Ko Phi Phi, are in the low season during the July school holidays so they are perfect if you want to escape overseas.
If you plan on travelling domestically, the southern parts of Australia, that aren't ski destinations, are also in their off-peak period. Why not check out the galleries and museums in Canberra or go on an adventure in Tasmania's national parks?
Travelling with your family, especially during school holidays, is not cheap, but that doesn't mean you have to avoid a holiday altogether.
If you plan ahead and stay savvy while travelling, you'll find it's actually quite doable. Everyone deserves a holiday this time of year, so grab the kids and escape the cold weather!
Get stories like this in our newsletters.