When your solar panels are struggling under bushfire smoke and dust
If you have solar panels to cut your power costs, you could be in for a shock. Your bills could be higher than usual because the bushfire smoke and dust storms have cut down on the sunlight needed to produce power.
It can be costly to have poorly functioning solar panels. Rooftop solar has been hurt by the smoke haze, which has reduced the power output by as much as 45% on the worst days, plus a sun-blocking coating of ash and dust.
Smoke haze has cut panels' power output by 15% to 45%, according to Solar Analytics, which monitors the photovoltaic performance of 35,000 sites across Australia. For example, when Canberra was blanketed by a highly hazardous smoke haze on new year's day, the PV output plummeted by a costly 45%.
Analysis of PV sites in Sydney on December 10 showed solar panels recorded a 15% drop in power production on a cloud-free but very smoky day. On December 21, an even smokier day, it dropped by 27%.
Around two million households have solar panels. But a survey by the consumer group Choice found that 21% of people don't know if their solar panels are performing well or not.
The consequences can be costly. For example, a Victorian household with a 4kW system that isn't working properly could be losing up to $1100 a year, according to Nic Frances Gilley, the founder of DC Power Company.
Solar Analytics has explored the efficiency of different types of solar cells in hazy conditions, compared with standard silicon panels. It found that different cells - gallium arsenide, cadmium telluride and perovskite - have different spectral responses to haze, but the standard silicon panels performed the best.
Maintaining your solar panels in peak condition is important for producing your power.
With little rain to wash away a build-up of ash and dust, here are five tips for getting the most out of your solar system:
1. Keep the panels clean
You need to clean your panels so they perform effectively on smoke-free days. Dust-covered panels don't produce as much energy.
But don't climb on the roof. Most solar panels are on the roof and it isn't safe for most people to climb up and clean them. Some 11% of fatal falls in NSW are from a roof, with a further 16% involving a ladder. The main age group for fatalities is over 55-year-olds.
2. Book a cleaning and service
If you can't hose your solar panels from the ground, call in a specialist. Most solar companies offer a service to remove anything that can hamper performance such as dirt, bird droppings, salt and lichen. It costs around $200.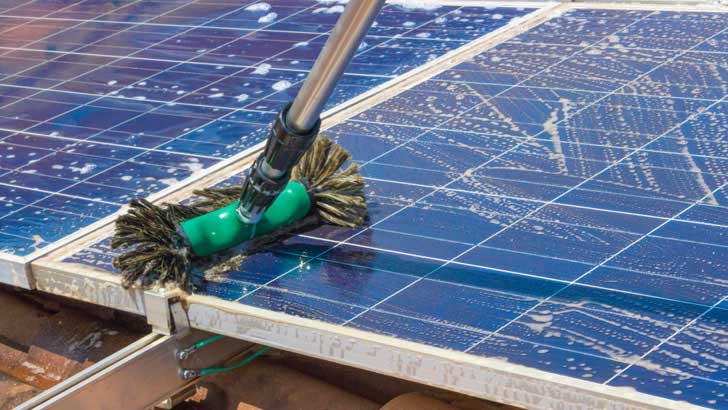 3. Check your inverter
What colour are the lights shining in the box during daylight hours when it is running? Green is good news. But it could be red or orange, indicating a problem, so check the error code. It's best to call the installer for help.
4. Understand the data
You should be receiving data from your inverter either on the inverter screen or on your computer. Online data is probably easier to read, particularly if the amount of kilowatts being supplied to your house is measured.
5. Install a third-party solar monitor
An expert third party can keep you informed about the health of your solar panels and alert you if anything goes wrong.
Get stories like this in our newsletters.