The uni courses most likely to get you hired after graduation
Pharmacy and engineering graduates are most likely to land a job after uni, while only about one in two communications and creative arts students will find employment.
The 2020 Graduate Outcomes Survey, which demonstrates the employment outcomes of higher education graduates four months after finishing their studies, found that students who undertake STEM (science, technology, engineering and mathematics) and vocational courses give them a head start in the job market.
"COVID-19 has had a major impact on the Australian labour market, including graduate employment outcomes. As could be expected, graduate employment rates have declined between 2019 and 2020," notes the report.
It found that pharmacy graduates had full-time employment rates of 96.4%, followed by engineering and science and mathematics grads with full-time employment rates of 87.6% and 81.7% respectively.
At the other end of the spectrum, the undergraduate full-time employment rate in serviced-based activities fell sharply in communications, down 7.3% to 52.8%, while creative arts saw a fall of 7.1% to 45.8% cent.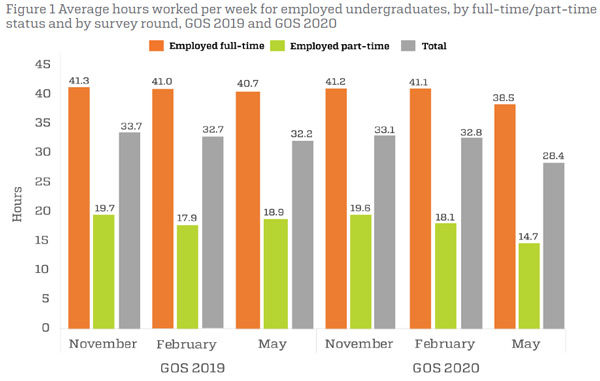 While COVID has pushed the unemployment rate to 7%, the median salary for graduates has increased to $65,000, up from $64,000 in 2019.
Graduate dentists raked in the highest salaries - $84,000 on average, down from $88,200 last year, while doctors came in second with a median salary of $75,000.
Teachers and social workers also fared well, with both earning above $70,000.
And despite having the highest employment rate, pharmacy graduates earned the least fresh out the gates, with a median salary of $49,600.
The survey results come amid a strong push by the federal government to support students in fields that are in high demand.
"Australia will need more science, technology, engineering and mathematics skilled workers to help drive our economic recovery and there will be more jobs that rely on those skills," federal minister for education Dan Tehan said last month.
"The newly created National Priorities and Industry Linkage Fund will drive universities to be more responsive to the needs of Australian businesses and to design education that helps prepare students for the jobs of the future."
In June, the government proposed changes that would see the cost of arts and law degrees increase 113% and 28% respectively, while the cost of maths and agriculture degrees would drop by up to 62%.
As reported by Money, student debt can be as much or more than what's needed for a home deposit.
The government also proposed further conditions on its financial support for students. HECS-HELP or FEE-HELP will be withdrawn once 50% of eight or more units are failed. The student will also lose their Commonwealth Supported Place, so they'll have to cough up the full fee amount in advance if they want to continue.
Get stories like this in our newsletters.